Tzatziki is a Greek sauce made of strained yogurt which is mixed with cucumbers, dill, garlic, salt and olive oil. I found about this interesting sauce recently and wanted to try it for a while.  I loved the dash of garlic in it and decided to make a Vegetable sandwich with tzatziki sauce.
The sauce is very easy to prepare. I strained the yogurt (dahi) and refrigerated the sauce overnight. It made the sauce thick and I was able to use it as a spread.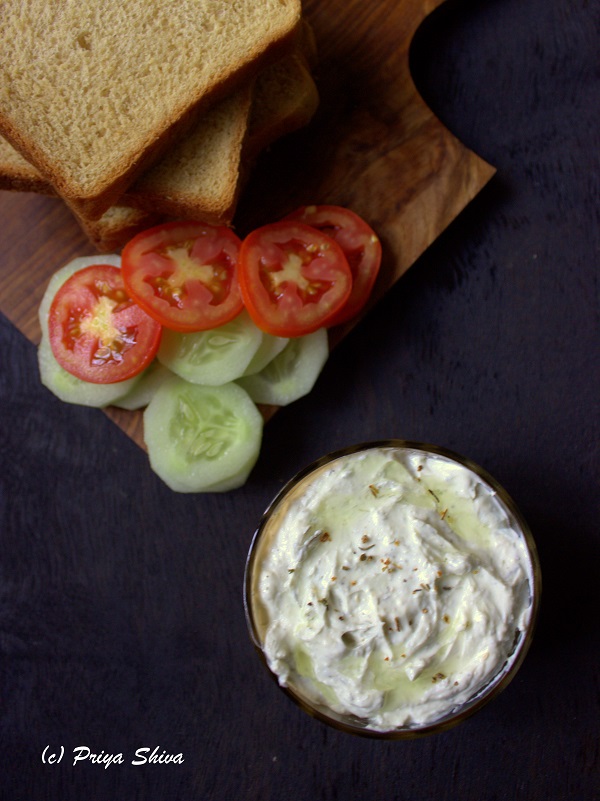 You can even add mint in place of dill as finding dill in India is not easy. Try searching by name of Soyakura leaves or you can order from Bigbasket in Bangalore. Once you have the sauce ready, you can prepare the sandwich in no time. I love sandwiches for breakfast and one of my favorite is Grilled Bombay sandwich. We use hari chutney for making that sandwich. That's why I decided to use tzatziki sauce for a sandwich. I added some slices of cucumber and tomatoes but you can even add onions, boiled potatoes etc.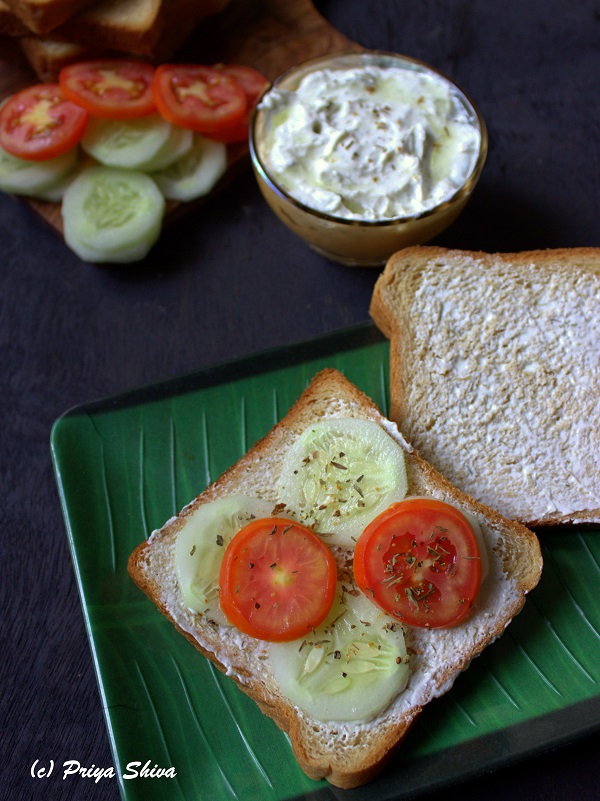 So, sharing the recipe for Vegetable sandwich with Tzatziki sauce. Try out this variation of sandwich for breakfast and I'm sure your family will love it.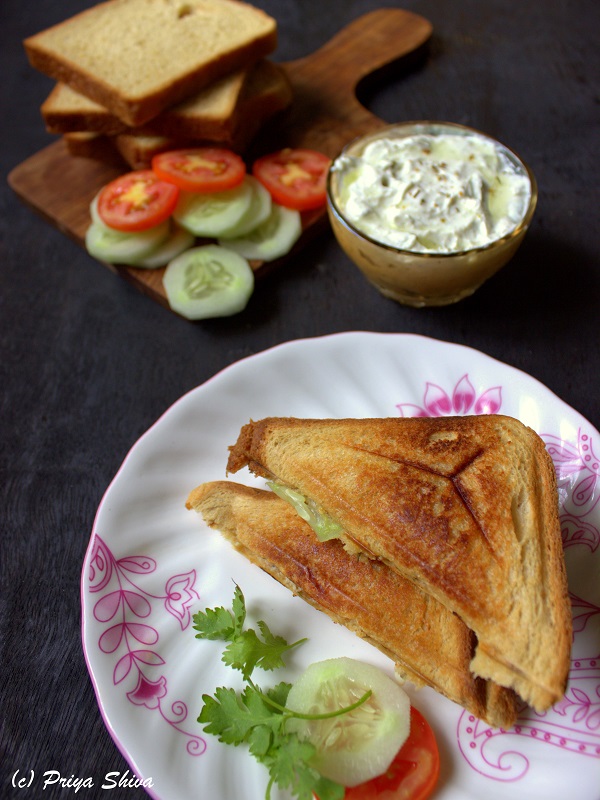 Vegetable Sandwich With Tzatziki Sauce
Author:
Prep time:
Cook time:
Total time:
Make a delicious vegetable sandwich with tzatziki sauce!
Ingredients
2 cucumber (small size)
Yogurt/dahi – 2 cups
Garlic Cloves – 3
Extra virgin olive oil – 2 tbsp
White vinegar – 1/2 tbsp
Salt – 1/2 tsp
Fresh dill leaves – 1 tbsp (minced)
Whole wheat Bread slices – 8
Oregano Seasoning – 2 tsp
1 tomato
Instructions
Grate 1 cucumber and squeeze it to separate the juice.
Tie yogurt in a muslin cloth and hang it for 30 minutes.
Combine the strained yogurt, garlic, oil, vinegar, and salt in a bowl. Cover the bowl and refrigerate overnight.
Add the grated cucumber and fresh dill to the yogurt mixture and mix it well. Again refrigerate for few hours.
Slice 1 cucumber an tomato and keep it ready.
Take a bread slice and spread tzatziki sauce on one side.
Place few cucumber and tomato slices on it. Sprinkle salt to taste and oregano seasoning over it.
Spread tzatziki sauce on another slice and place it over the cucumber slices.
Toast or grill it and serve these sandwiches for breakfast.
Notes
Use yogurt made with full cream milk for best results.
Yum