When your house is filled with the smell of frying garlic, you know that something good is getting cooked.. I prepared Dry garlic chutney today or better known as lahsun chutney in India. It is popularly used as a side dish with Vada Pav. So, now you know why why I prepared this dry garlic chutney today :)..
I'm not sharing the recipe for vada pav as yet. I know its not fair and I'm teasing you all but you all need to wait for the complete recipe of Vada Pav. I'm going to share the chutney recipe today and will ask you all to stay hooked to my blog as many new things coming up on my blog soon..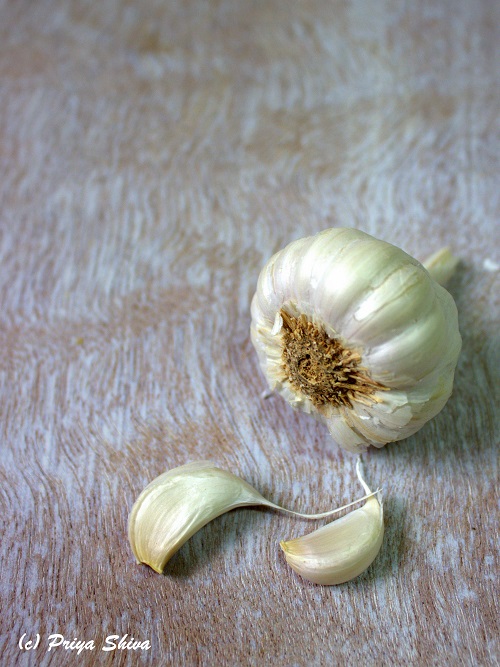 I love the smell of garlic wafting through my house. If you don't cook with garlic, you really missing something big. Just stop by a store, pick up a garlic and smell it. Isn't it heavenly? Mmmmmmm garlic….. So, here's a recipe for Dry garlic chutney. I can think of various ways to use it like in curry, mix it with idli or you can even use it as a seasoning over your pizza :)..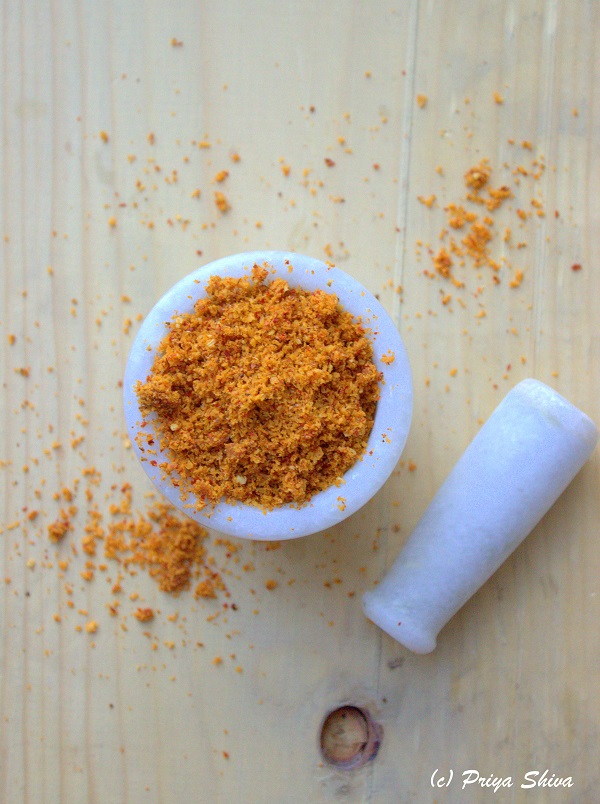 Dry Garlic Chutney / Lahsun Chutney
Author:
Prep time:
Cook time:
Total time:
Make a spicy dry chutney with flavors of garlic.
Ingredients
Garlic cloves – 1/4 cup
dry desiccated coconut – 1/2 cup
Dried Kashmiri red chillies – 10
Dried Coriander seeds : 1 tbsp
Peanuts – 1 tbsp
Salt as per taste
Vegetable oil – 1 tsp
Instructions
Dry roast peanuts on low flame for few minutes. Let it cool down and remove the skin.
Roast red chillies, coriander seeds on low flame for few minutes. Transfer in a bowl and let it cool down.
Add 1 tsp oil and fry garlic lightly. Add desiccated coconut and fry on low flame till it turns light brown.
Spread all ingredients in a plate and let it cool down completely.
Add all ingredients in your food processor and grind it to make a coarse powder. Add salt while grinding.
Spread the powder on a plate and 10 minutes.
You can store this in an air-tight container and use it as per your requirement.
Yum