I cooked this Rajma Biryani for lunch today and my family simply loved it. I'm a big fan of Rajma chawal where we cook Rajma Masala separately and serve it with steamed rice. This is a wholesome dish which you can simply serve with raita.
I usually don't prefer doing heavy cooking over the weekend and that's why you will hardly find me sharing a recipe over the weekend. I would rather spend more time with my family, shopping and relaxing over the weekend. Weekends are meant for being lazy so that you can regain energy for the coming week :)..
I was in a mood to eat rajma chawal today when I decided to make a vegetable biryani with rajma. Rajma is Hindi word for Kidney beans.  This biryani is loaded with kidney beans and aromatic spices. So, sharing the recipe for Rajma Biryani today and wish you all a great week ahead.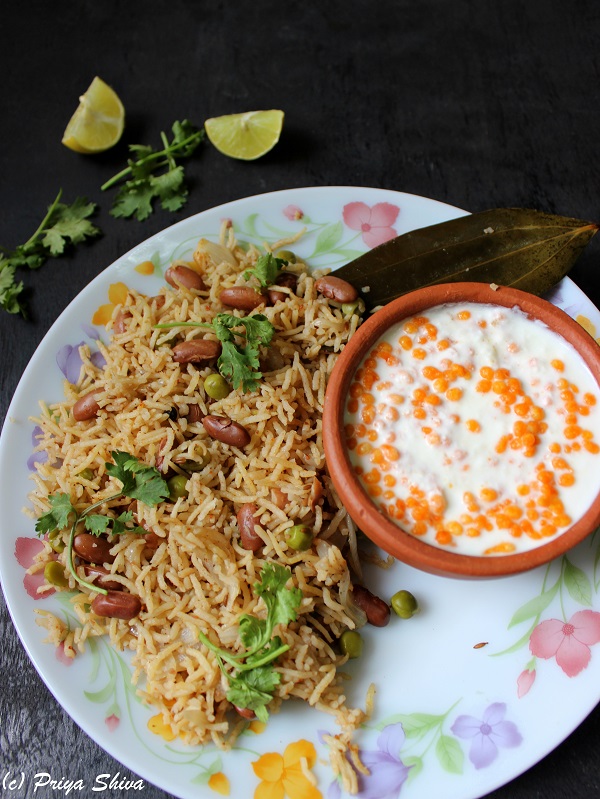 Rajma Biryani Recipe
Author:
Prep time:
Cook time:
Total time:
Make an aromatic vegetarian biryani with kidney beans and blend of spices!
Ingredients
Basmati rice – 1 cup
Kidney beans / rajma – 1/2 cup
Onion – 1 (sliced)
Green peas – 1/4 cup
Cumin seeds – 1 tsp
Ginger-garlic paste – 1 tbsp
Red chilli powder – 1 tsp
Garam masala – 1 tsp
Turmeric powder – 1/4 tsp
Black cardamom – 2
Cloves – 4
Green cardamom – 4
Bay leaves – 2
Yogurt – 1/2 cup
Lemon – 1
Coriander leaves – 2 tbsp (chopped)
mint leaves – 2 tbsp (chopped)
Salt to taste
Ghee – 3 tbsp
Instructions
Clean and soak rice in water for 20 minutes. Drain the water and keep the rice ready.
Cook rajma with 2 cups of water till its soft and you can mash it between your fingers. Drain the water and keep it ready. Do not throw away the water as we will use it as rajma stock.
Heat 2 tbsp ghee in a pan. Add cumin seeds, black cardamom, cloves, green cardamom, bay leaves and sliced onions. Fry till onion turn golden brown. Add turmeric powder, chilli powder, garam masala and mix well. Remove from the flame.
Add this mix in rice cooker along with rajma stock (1+1/2 cup), boiled rajma, green peas, mint leaves, salt to taste, yogurt and mix well.
Close the cooker and let it cook till the cooker comes on warm mode.
Juice 1 lemon and drizzle it over rice. Mix it gently. Transfer into a serving bowl, garnish coriander leaves and serve.
Yum