Ada Pradhaman is a traditional pudding from the state of Kerala, India. The key ingredients for this dessert are rice, coconut milk and jaggery. It is mainly prepared for special occasions and festivals like Onam or Vishu. So, I decided to make Ada pradhaman for Vishu today. Vishu is celebrated as new year day in Kerala and some parts of Tamil Nadu. Different customs like Vishu kani, Vishu Sadya and Vishu Paddakkam to welcome the new year with joy.
My mother was an expert in making these traditional dishes. She would get up early in the morning and start with Vishu Kani. Kani means " the first sight". She will arrange raw rice with coconut, lemon, jackfruit, banana, betel leaves, coins and a mirror in the pooja room. Each person in the family will view the mirror as soon as we get up in the morning.  An auspicious kani (first sight) at dawn on the Vishu day is supposed to be lucky for the entire year.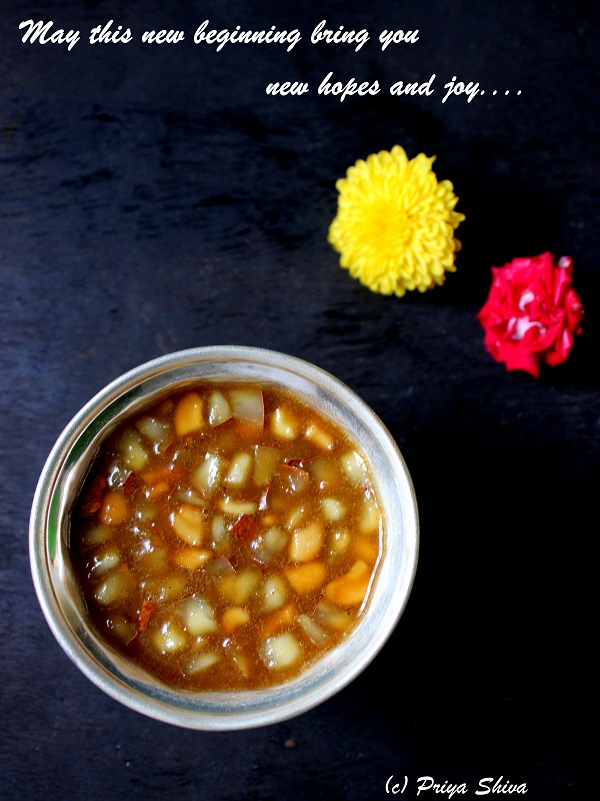 Ada pradhaman is just one of the dishes prepared for Vishu Sadhya. We start by preparing "Ada" for this dish. Ada is prepared with rice which is soaked in water and then grounded to make a smooth flowing batter. This batter is poured in banana leaves and then steamed in cooker. Once it cools down, it is cut into small pieces.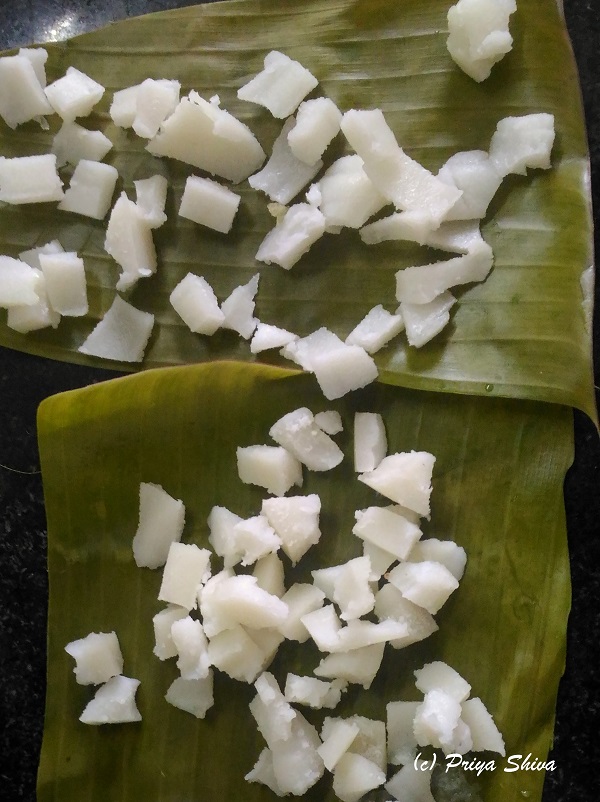 You can even enjoy some parappu vadai, manga pachadi , mixed rice varieties today. So, I'm sharing a detailed recipe to make Ada pradhaman today. Wish you all a very happy new year…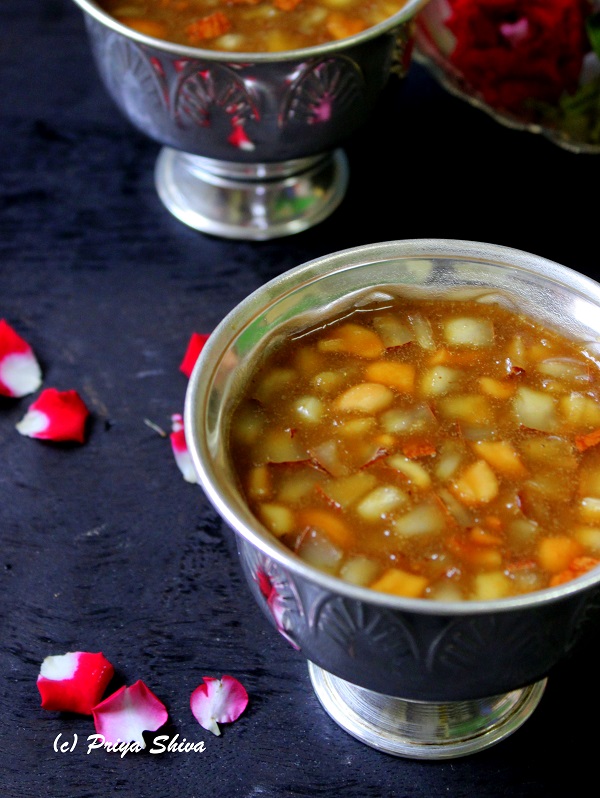 Ada Pradhaman Recipe
Author:
Prep time:
Cook time:
Total time:
Prepare a traditional pudding with rice, coconut milk and jaggery..
Ingredients
Raw Rice – 1/2 cup
Grated Jaggery – 1 cup
Coconut – 1 (medium size)
Ghee – 1 tbsp
Cashew nuts – 1 tbsp chopped
Coconut pieces – 1 tbsp chopped
Cardamom – 2 (powdered)
Salt – 1/8 tsp
Banana leaf – 2
Instructions
Soak rice in water for an hour. Drain the water and grind it with little water to make a smooth batter. The batter should be of flowing consistency. Add salt and mix well.
Divide banana leaf into 4 parts. Spread a thin layer of the batter on a banana leaf.
Place the banana leaf on a steel tray and steam it for 8-10 minutes.
Let it cool down completely and cut into small pieces. Ada is ready.
Add jaggery with 1/2 cup of water in a heavy bottom pan. Once it starts boiling and jaggery has melted, remove from the gas stove and strain the water it to remove the impurities. Keep the jaggery water aside.
Break the coconut and grate the complete coconut. Add grated coconut and 1 of warm water in your grinder and blitz it for few seconds. Strain it through a thin muslin cloth to extract the coconut milk. The first extraction will be thick milk.
Now again add the squeezed coconut with 1 cup warm water in your grinder and bltiz it and extract the second cup of coconut milk.
Heat ghee and fry cashew nuts, coconut pieces on low flame in a small frying pan till it turns light golden brown.
Add jaggery water in a pan and heat it. When it starts thickening, add coconut milk.
Lower the flame and let it simmer for few minutes.
Now add prepared ada and let it cook for another few minutes.
Add fried cashews, coconut pieces, cardamom powder and mix well.
Remove from the flame and serve.
Yum