Filter Coffee is the essence of South India. Drinking South Indian filter coffee is an experience, an emotion for any true filter coffee lover. You go to any railway station, bus-stop and you can find vendors shouting "kaapi" selling this coffee. It is also known as kaapi or Madras Kaapi in South India. If you are on a road trip especially towards Kumbakonam, you cannot miss drinking degree coffee. Coffee Making is truly an art form. Filter coffee is made using a metal device where the top part has pierced holes. The decoction is obtained with this device and mixed with boiled milk. It is usually served in metal glass called tumbler and davarah holds it. You can easily find a tumbler and davarah set in any Indian market. The mixing of decoction with milk and sugar is not done with a spoon. It is added directly in tumbler and then froth is formed by pouring back and forth in tumbler-davarah.
My whole family starts their morning with a cup of hot filter kaapi including my in-laws, my parents and hubby. I'm a tea lover but I love to occasionally indulge in a cup of filter coffee if my hubby makes it. More recently, he's been testing out the different ways you can make the perfect morning coffee using sites like Alvinology to really try and impress me. But I must say his go-to is the filter kaapi for sure. Watch this quick video to make a perfect cup of filter coffee!
Firstly, grounded coffee powder is added in the filter and then you place the press which has holes over it.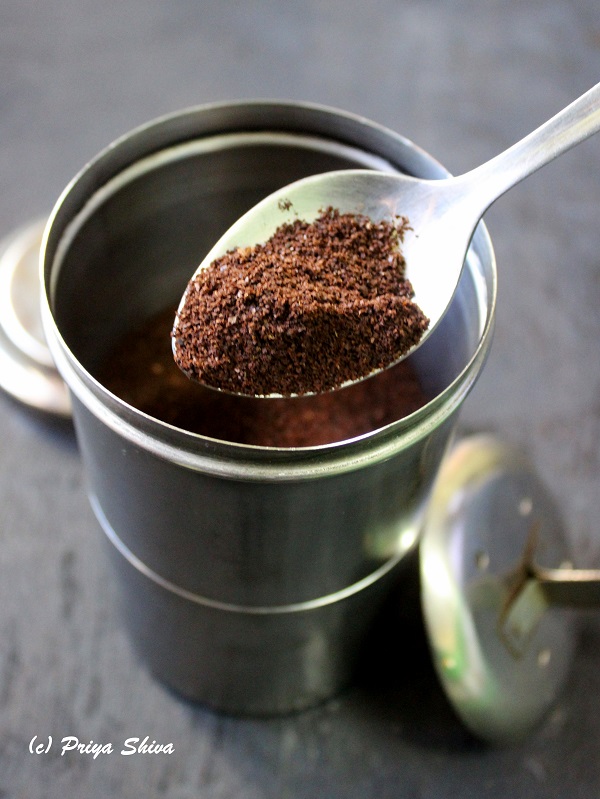 Start adding boiled water..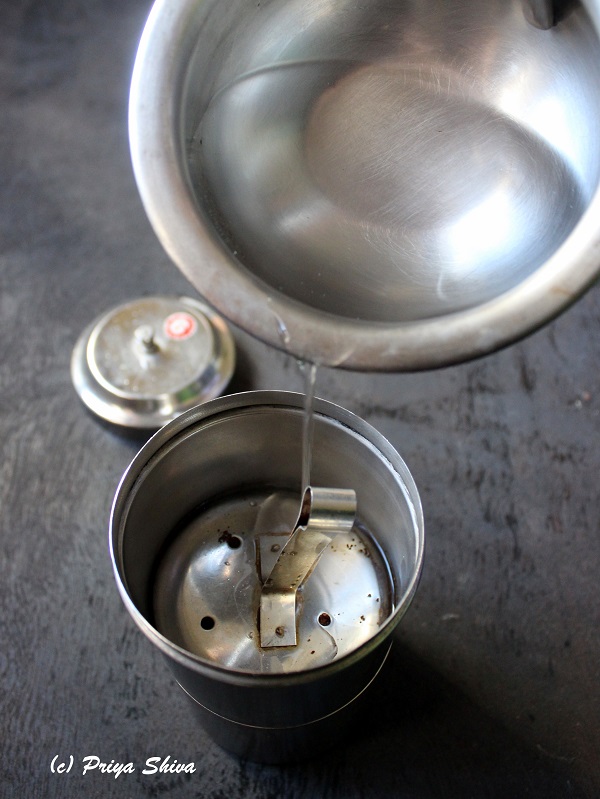 Now comes the torturous wait for the decoction to settle down..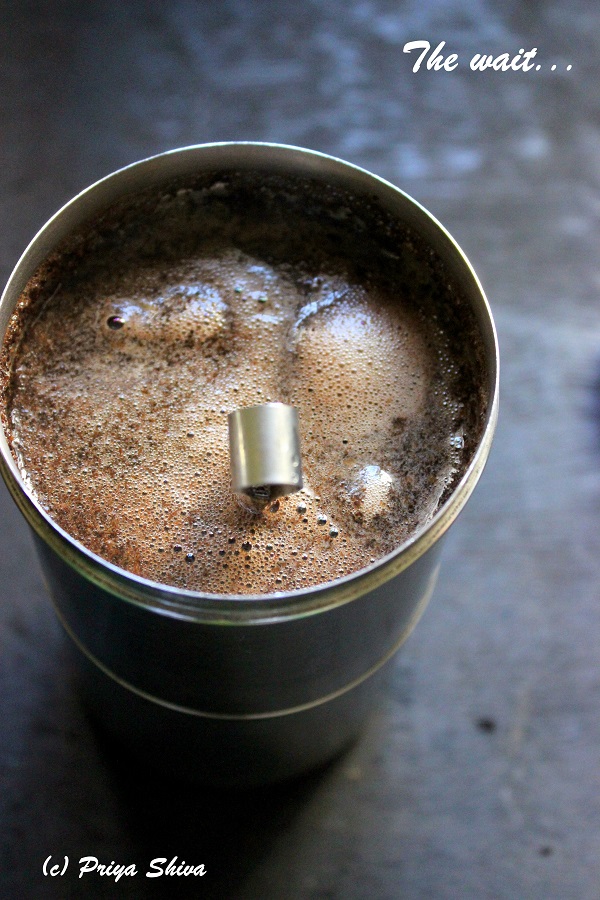 The perfect mixing with boiled milk…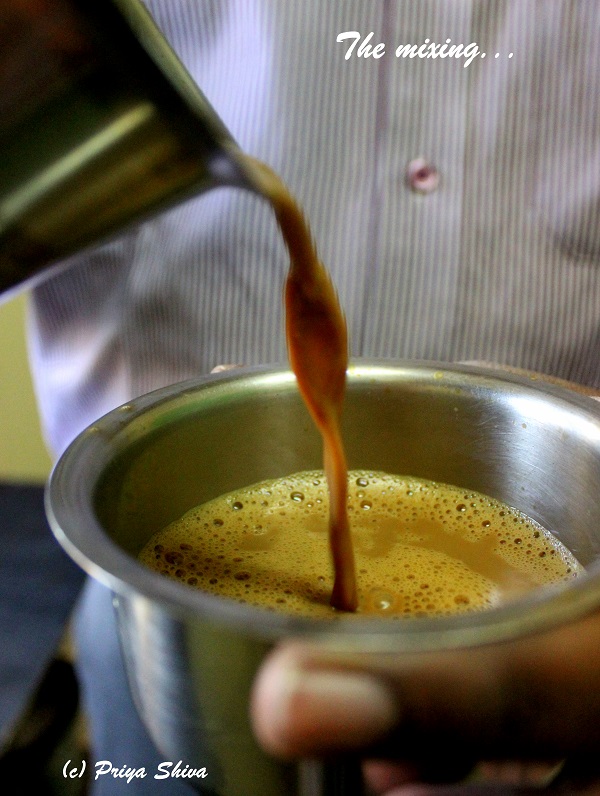 The aroma is enough to captivate you. So, do enjoy a cup of filter coffee or as any coffee lover would say experience it, love it.
Click here to try some eggless coffee muffins for breakfast.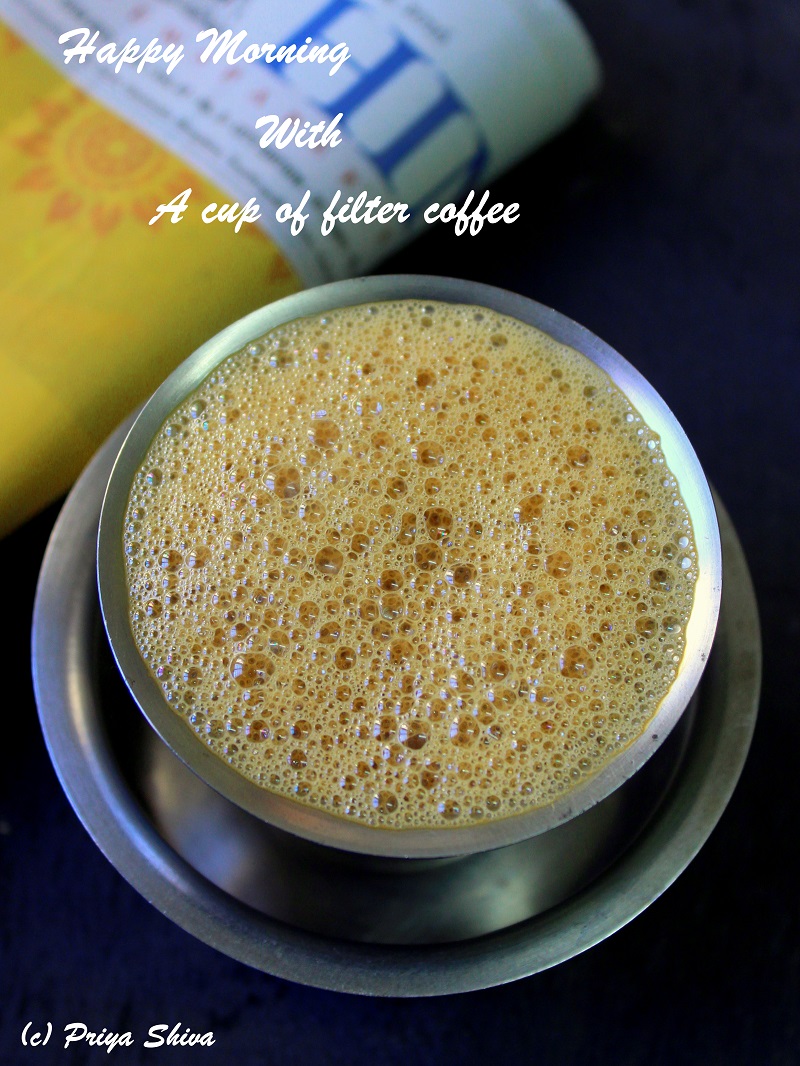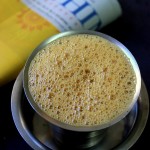 South Indian Filter Coffee
Experience the essence of South India - filter coffee!
Ingredients
4

tbsp

Coffee powder

1

cup

Water

3/4

cup

Milk

2

tsp

Sugar

adjust as per your taste
Instructions
Add coffee powder in the container, place the press and pour boiling water in it.

Cover and wait for the decoction to settle down.

When decoction has settled into the lower container, heat the milk.

Add few spoons of decoction, sugar and milk in a glass and mix well.

Serve it hot with the froth..
Recipe Notes
You can add hot water again in the filter for the second time for more decoction. Dispose the residue afterwards.
Yum