I always get excited around festivals and one of the main reason would be the sweets we make for the ocassion. I'm very fond of sweets and any ocassion for me is incomplete without making sweets or desserts. You won't believe how I was as a kid. My mom would have to even hide sugar box from me or I would open it and just enjoy spoons of sugar 🙂 🙂 ..Yes, I have a big sweet-tooth and love it! So, this time for Ganesh Chaturthi, I decided to make some mawa modak. It is an easy and quick sweet made with dried milk. 
You can try for Ganesh Chaturthi – Thengai poorna kozhukattai  
So, sharing a quick sweet recipe today on a happy note of Ganesh Chaturthi. Hope you all give it a try and enjoy!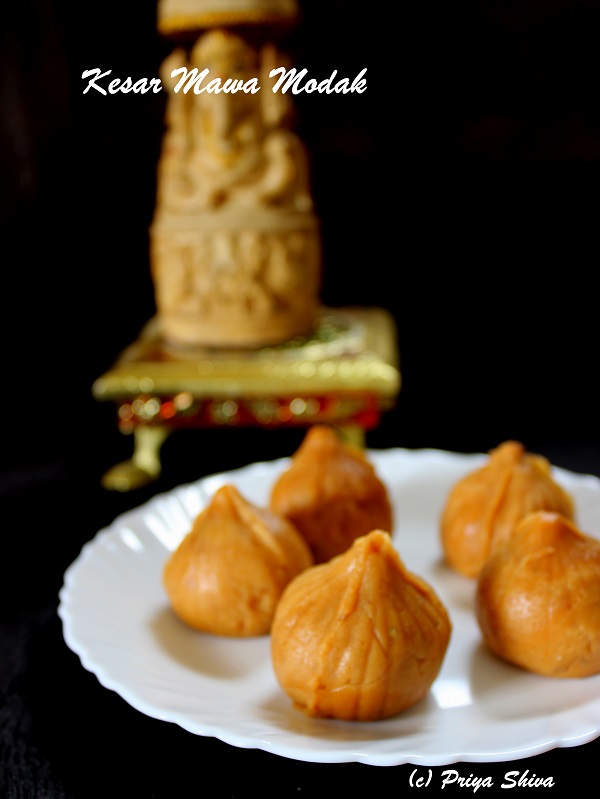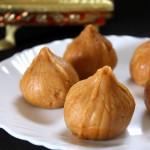 Kesar Mawa Modak
Ingredients
Mawa/dried whole milk – 1 cup

Sugar – 1/2 cup

Green Cardamom – 2 (powdered)

Kesar/saffron – few strands

Milk - 2 tbsp
Instructions
Crumble mawa and keep it ready.

Remove seeds from the cardamom pods and crush it nicely.

Add few saffron strands in warm milk and keep it aside for 20 minutes.

Add mawa, sugar, saffron milk in a pan and mix it well. Heat the pan and cook on medium heat. Keep stirring till the mixture becomes thick. Do not wait to completely dry the mix or it will harden.

Remove from the stove, add cardamom powder and mix it well.

When it cools down, taken a portion in your hand and give it a modak shape using mould.
Recipe Notes
Quick Method to make khoya/Mawa at home:
Take a pan and add 1 litre whole milk and bring it to boiling point.

Lower the flame and continue to boil. Keep stirring so that it does not stick to the pan.

Stir vigorously when milk starts to thicken. Khoya is ready when the milk stops simmering and its completely dry. Transfer it into a bowl and keep it aside to cool.
Yum