Are planning to throw a cocktail party or enjoy some fun time with your friends, try out this Pomegranate Lemon Ginger Punch. Its tangy, refreshing and you will love it!
Have you ever wondered where life is leading you? Well, I have often wondered and ended up doing things which I would rarely do. My blogging journey started with this thought but I'm so happy with the things I have learnt on my way . This reminds me of the trip I had taken with a very good friend to Massouri which is a small hill station in North India. We were having fun and relaxed time in her cottage when it suddenly struck us to make a punch with Pomegranate. We found some ginger in the fridge and decided to start by making a ginger sugar mix. I personally would have never thought of adding ginger but my friend was very insistent. Then, we made some fresh pomegranate juice and lemon juice. Pomegranates added a nice tangy flavor to the punch and lemons of course are refreshing. We really enjoyed the Pomegranate Lemon Ginger Punch and had a gala time. So, sharing the recipe with you all and wish you are a great week ahead..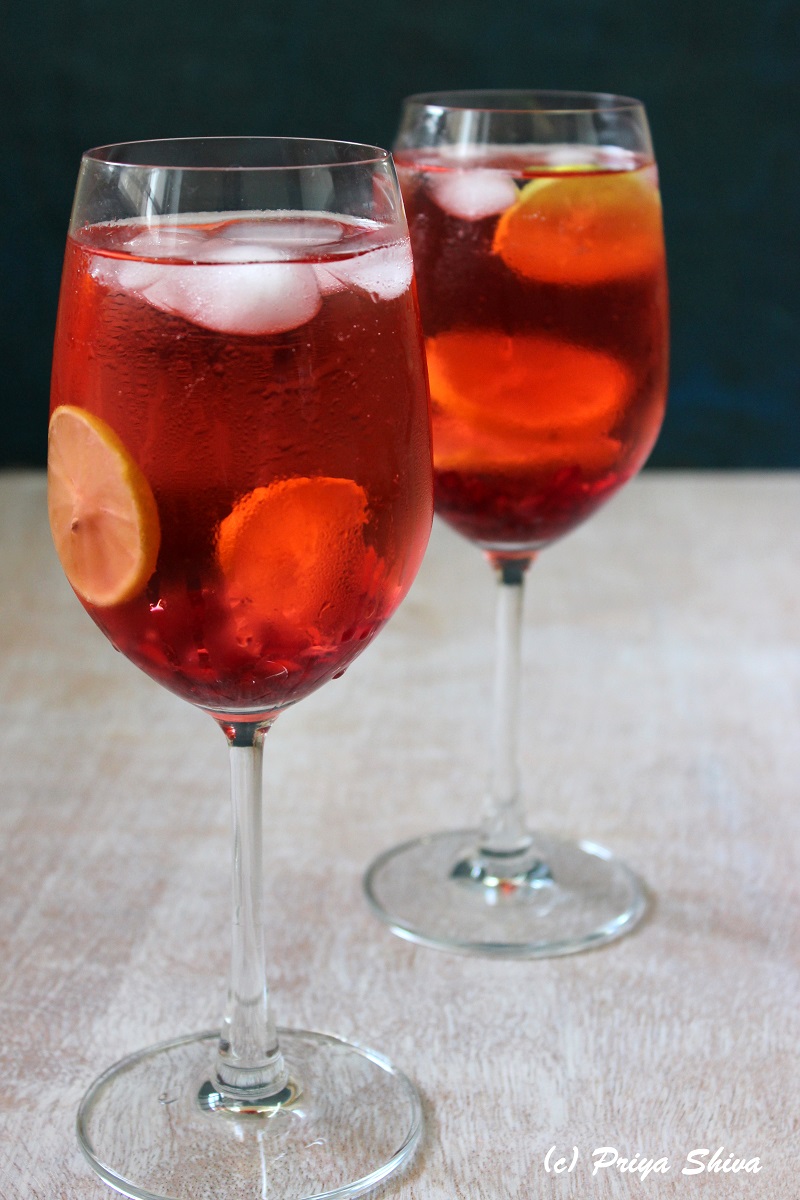 Pomegranate Lemon Ginger Punch
Author:
Prep time:
Cook time:
Total time:
A tangy, refreshing, delightful cocktail drink for your next party!
Ingredients
Fresh Pomegranate juice – 1 cup
Ginger – 2 tbsp (grated)
Fresh lemon juice – 1/2 cup
Water – 1 cup
Sugar – 1/2 cup
Vodka – 120 ml
Club soda – 1/2 liter
Lemon slices – 8-10
Pomegranate seeds – 1/4 cup
Instructions
Take a pan and add ginger, water and sugar and boil it for few minutes. Strain this ginger sugar mix and let it cool down.
In a jar filled with ice cubes, combine the Pomegranate juice, ginger sugar mix, fresh lemon juice, club soda and vodka. Stir well.
Fill 4 glasses with ice cubes and add lemon wedges and pomegranate seeds. Pour the punch over the ice cubes and serve immediately.
Notes
You can avoid adding vodka to make a non-alcoholic drink.
****Strictly above 18 to enjoy this drink****
Yum