Kuthiraivali Pal Payasam is a healthy and scrumptious pudding made with barnyard millet. The millet is cooked in millet and cardamom gives a nice aroma and flavor. Millets have become my favorite grains since I learnt their nutritional value and health benefits. Millets are high in fiber and the best part that they are lighter than white rice. They are gluten-free and easily digestible.
This is an easy pudding which you can enjoy with the benefits of barnyard millet. You can serve it as a dessert or a treat for your children. So, sharing the recipe for Kuthiraivali Pal Payasam and hope you try it out and enjoy too!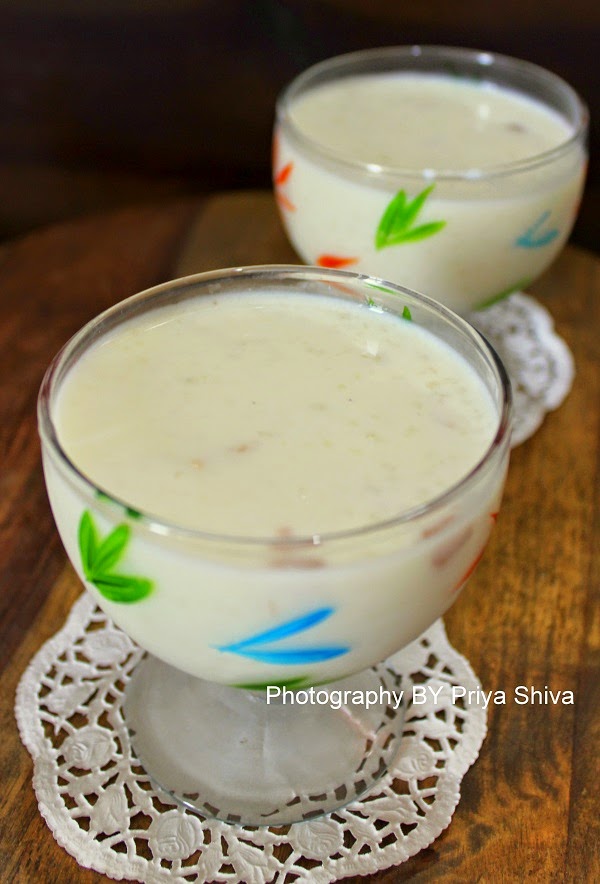 Kuthiraivali Pal Payasam
Author:
Prep time:
Cook time:
Total time:
make a delicious pudding with barnyard millet cooked in milk with cardamom flavor!
Ingredients
Barnyard millet / Kuthiraivali – 1/2 cup
Cashews/raisins – 1/2 cup
Sugar – 1 cup
Milk – 6 cups
Cardamom Powder – 1 tsp
Ghee – 1 tsp
Instructions
Clean the millet gently in water and soak for 30 minutes.
Fry some cashews and raisins in 1 tsp ghee and keep it aside.
Now add milk in an open pan and when it starts boiling, add millet and mix well.
Close the pan and let it simmer for 8-10 minutes. Keep stirring in between.
Open the pan and check if millet is cooked. If you are able to mash it between your fingers, millet is cooked.
Add sugar and mix till it gets dissolved.
Add fried cashews, raisins and cardamom powder. If you feel that pudding is too thick, add more milk and mix it well. Serve it hot or cold..
Tip: Drop a steel small plate or spoon in the pan to ensure that milk does not spill.
Yum