I made this Eggless
Lebanese Turmeric Cake
today to review Hadia's cookbook which I received recently. I always have a weakness for desserts and decided to try some Lebanese cake to write a review. I have already shared a recipe for another Lebanese dessert – 
Coconut Basbousa
 for my blog anniversary and it was loved by everyone. So, I picked up Sfouf recipe from her book which is a Lebanese turmeric cake. It is a perfect tea-time cake with goodness of turmeric and I just drizzled some chocolate sauce before serving. Looks delicious, isn't it? 🙂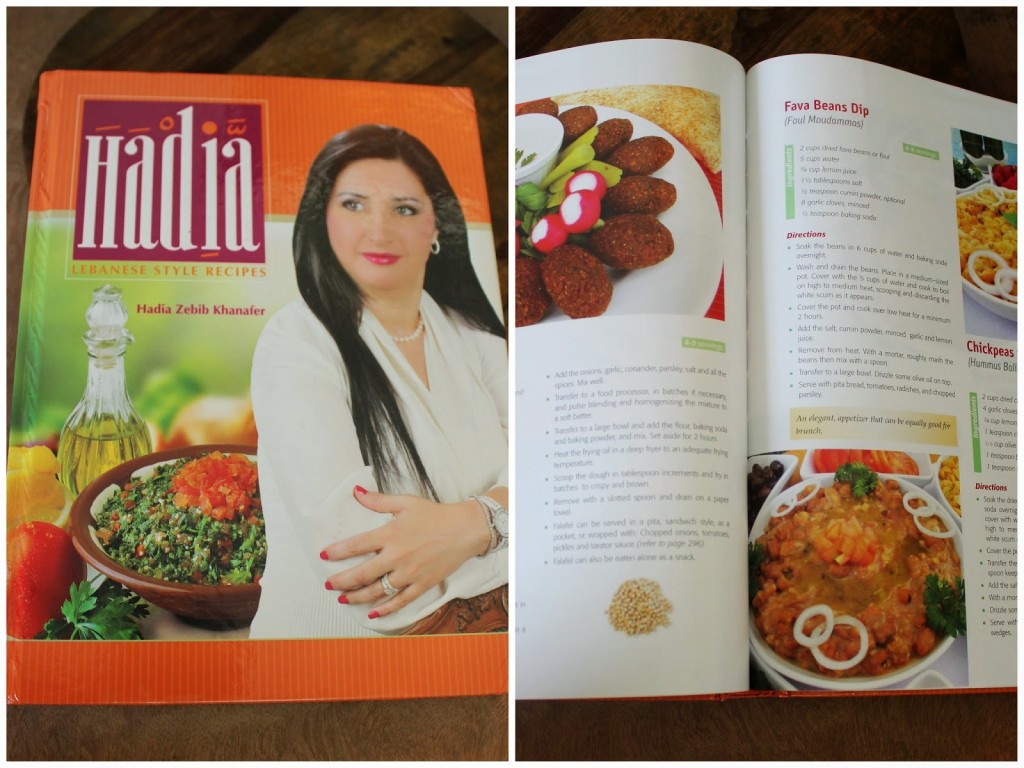 Now to Hadia, and her cook book. Hadia Zebib Khanafer needs no introduction to foodies and cook book collectors. I started following Hadia almost a year back and started drooling on the food she shares. What started as small fascination ended up being an obsession for me. A day would not be complete if I don't see what Hadia had to offer that day. Slowly from a follower of her blogs, to building a connect in social media and interacting with her, I started getting drawn to the person Hadia is and ended being a friend. I was fortunate enough to receive the copy of her "Hadia Lebanese style recipes". This is one of the most comprehensive cook book I have come across till date with over 500 recipes. The book has been categorized beautifully from soups, starters, main dishes, desserts and lovely tips. The moment you lay your hands on this book, you know the efforts behind this book must have been humongous. This book, is a must have collection on your shelf. So, sharing the recipe for Eggless Lebanese Turmeric Cake..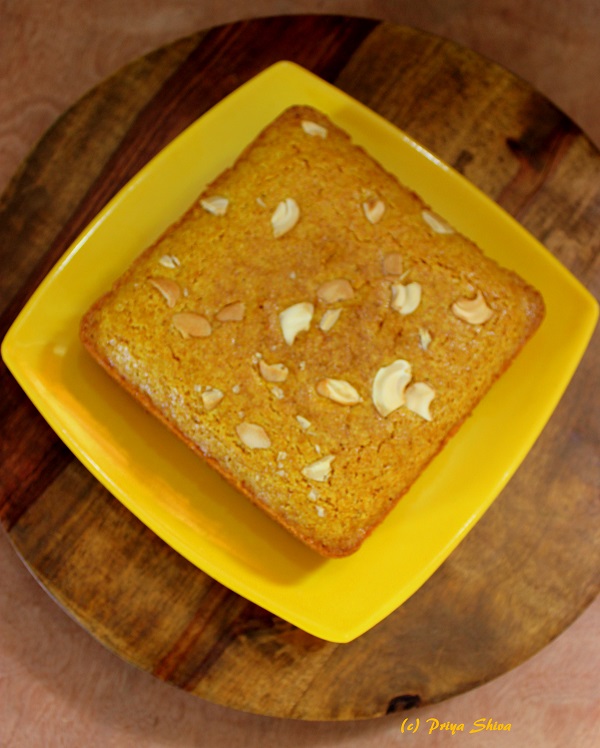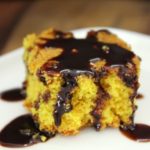 Sfouf / Eggless Lebanese Turmeric Cake
Ingredients
Farina/Fine Semolina - 1+1/2 cup

All purpose flour - 1+1/2 cup

Sugar - 1+3/4 cup

Melted Butter - 1/2 cup

Cooking Oil - 1/4 cup

I used canola oil

Turmeric Powder - 1 tbsp

Baking Powder - 2 tsp

Milk - 1+1/4 cup

Tahini - 4 tbsp

Pine nuts or cashews - 1/2 cup
Instructions
Preheat oven at 180 degree Celsius.

Add semolina, flour, turmeric powder, baking powder in a mixing bowl and combine it.

In another bowl combine sugar and milk and mix till sugar dissolves. Add oil and butter and mix it well.

Now add semolina mixture and mix well to make a smooth batter.

Grease a 15 inch round or square pan with tahini. Pour the batter evenly in the pan.

Scatter the nuts over the batter and bake at same temperature for 30-35 minutes till you get a even golden color.

Remove from the oven and let it cool down completely.

Invert the cake on a plate and cut into equal squares and enjoy with some drizzled chocolate syrup with your cup of tea/coffee.
Recipe Notes
You can use butter or oil to grease the pan if tahini is not available.
I added cashews and you can add any type of nuts or raisins of your choice.
This is a crumbly cake. So, cut the cake only once it completely cools down.
Do not overcook this cake or it tends to harden.
***I received the book but opinion shared are mine***
Yum