Merry Xmas to all my readers!!!! I always wanted to bake a traditional Christmas cake like my aunt used to do it. We always used to wait for the Christmas time to taste her awesome cookies and cakes. She will bake with no-alcohol for children and rest of the cakes will have rum, wine, brandy in it. Her house itself will smell like heaven during the Christmas season. I had to wait till I reached college to taste my first cake with some alcohol in it and the flavors still lingers on my taste buds.
Each year I got more intrigued with it and finally had the courage to ask her one day how to bake this cake. She replied by telling me how this recipe had been in her family for ages and she had learnt it from her grandmother. I was more curious and took out my notepad to note down the recipe. She took me inside her pantry and showed how they stored the soaked fruits, nuts and raisins in big glass jars. She had two big glass jars filled with rum and wine. The soaked nuts and raisins looked so beautiful.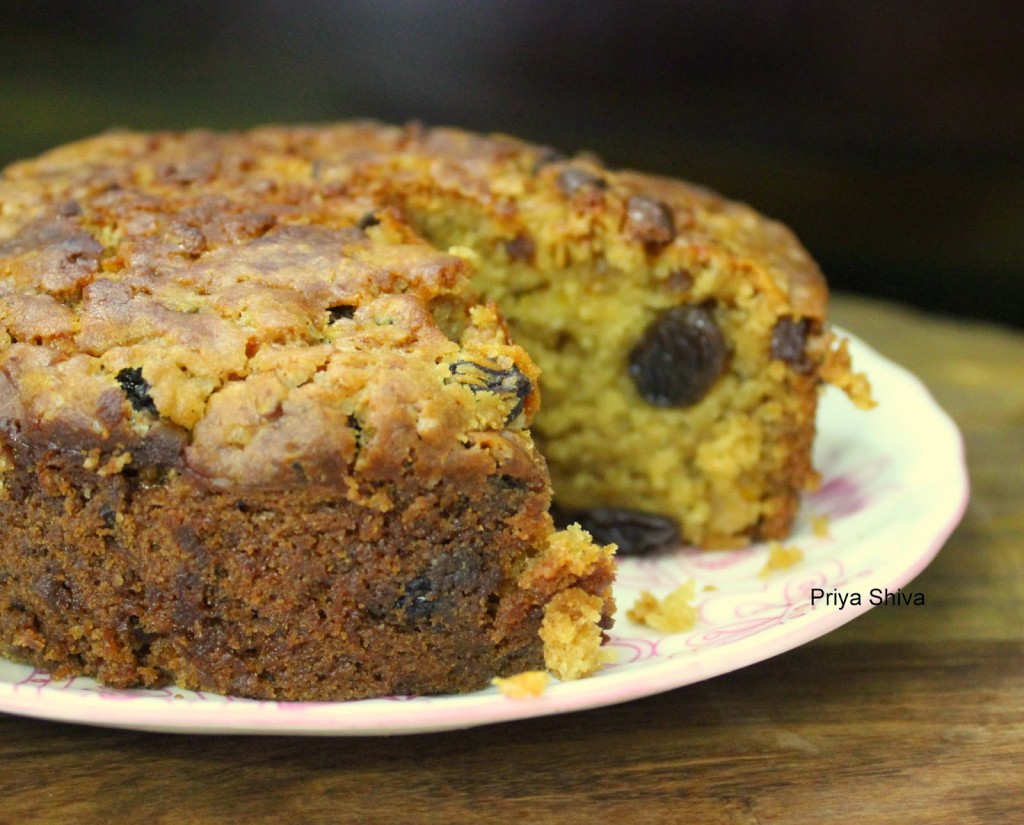 I truly wished I had my camera in those days to click pictures but I plan to visit her next year and hope to learn something new too. So, coming on to the recipe, lets learn how to soak some nuts, fruits and raisins in rum. I soaked them for 4 months but you can soak them even for an year. I'm sharing a proportion to bake a medium size cake but you can increase the quantity to bake many cakes to share with your family and friends.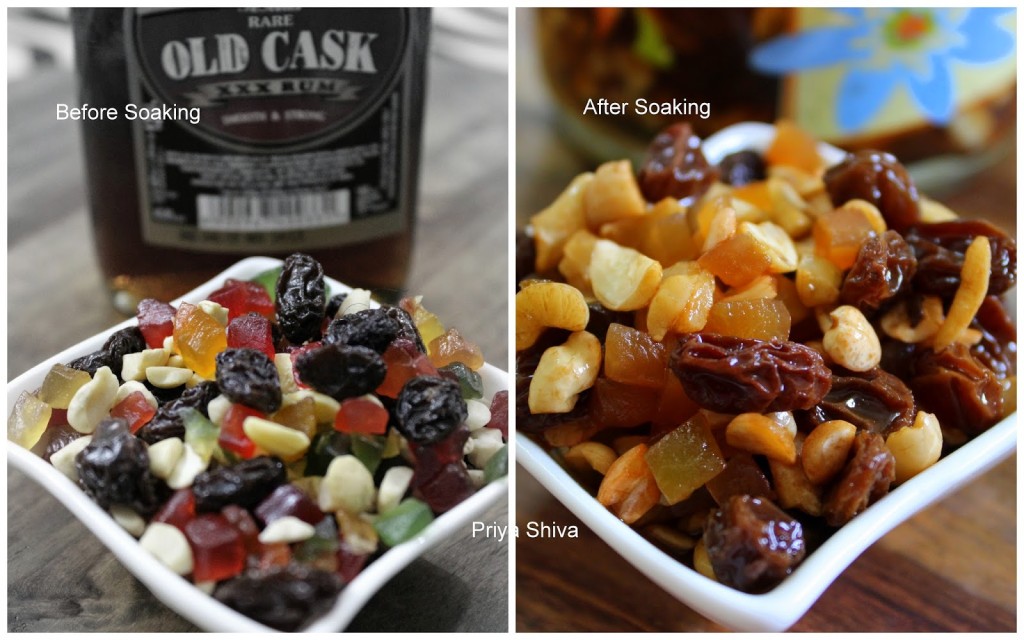 Ingredients:
Rum – 1/2 cup
Raisins – 2 tbsp
Tutti Frutti / Candied fruits – 2 tbsp
Broken cashews – 1 tbsp
Broken walnuts – 1 tbsp
Finely chopped dates (seedless ) – 1 tbsp
Method:

1) Soak mix of Candied fruits/Tutti frutti, raisins, broken cashews, chopped dates, broken walnuts in rum for minimum 24 hours in a glass jar. Allow the dried fruits to soak as long as possible. Longer they are soaked, the cake will be more flavorful and  richer in taste.
2) Keep it in a cool place and in air-tight container.
3) Give enough space at the raisins etc will puff up when you soak them.
4) Shake the jar every 5-6 hours so that all dry fruits get soaked properly.
Spiced Rum Cake is a soft, crumbly cake and you will love the different flavors in it. This cake tastes even better as it ages. You can splash some more rum on top once you take out the cake from the oven and let it age for a day before you slice it.
Now, lets bake the cake!!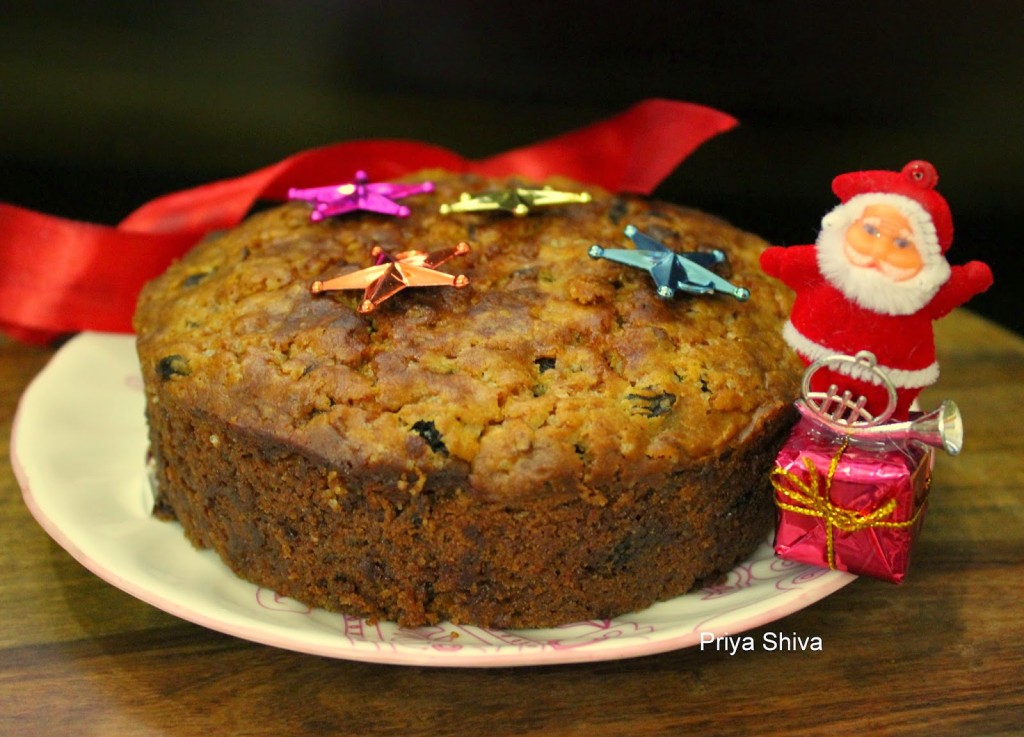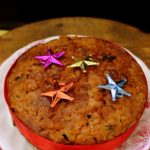 Eggless Christmas Rum Fruit Cake
Cook Time
1
hour
20
minutes
Ingredients
All purpose flour - 1/2 cup

Whole wheat flour - 1/2 cup

Demerara sugar - 1 cup

Dry fruits and nuts soaked in rum - 1/2 cup (check above post)

Olive oil - 1/2 cup

Yogurt - 1/2 cup

Baking powder - 1/2 tsp

Baking Soda - 1/4 tsp

Cinnamon powder - 1/2 tsp

Green cardamom powder - 1/2 tsp

Vanilla Essence - 1/2 tsp

Orange Zest - 1 tbsp
Instructions
Preheat oven at 180 Degree C.

Sift wheat flour, all purpose flour, baking soda and baking powder twice together and keep it aside.

Add sugar, oil in a bowl and mix it well until sugar completely dissolves.

Add yogurt and blend it well. Now add flour mix slowly and blend it well. Make sure there are no lumps in the batter.

Add powdered cinnamon, cardamom powder, orange zest, vanilla essence and give a quick stir. Add rum and soaked nuts, fruits and raisins and mix well.

Grease the cake tin with some oil evenly and add the batter to it.

Bake at 180 C for 70 minutes. Check after 70 minutes by inserting a toothpick at the center of the cake. If it comes out clean, then your cake is done or else continue baking for more time and keep a watch on it. My cake took 75 minutes to get a even brown color crust. Once it has cooled down, invert it on a wire rack and let it cool down completely.
Recipe Notes
Scrape orange peel for orange zest.
Yum