Have some Eggless Strawberry Muffins to start the day in a cheerful way 🙂 …I have not been in good mood for past few days and needed something to cheer me up. Baking always helps and strawberries are my favorite fruit. Life has to move on and I'm keeping faith in God that he will show me the right path. So, baked some sweet muffins for breakfast and cheered-up myself. I always love to have a wholesome breakfast and these muffins are my favorite. So, sharing an easy recipe to make some Eggless Strawberry Muffins and only hope to spread more sweetness around me 🙂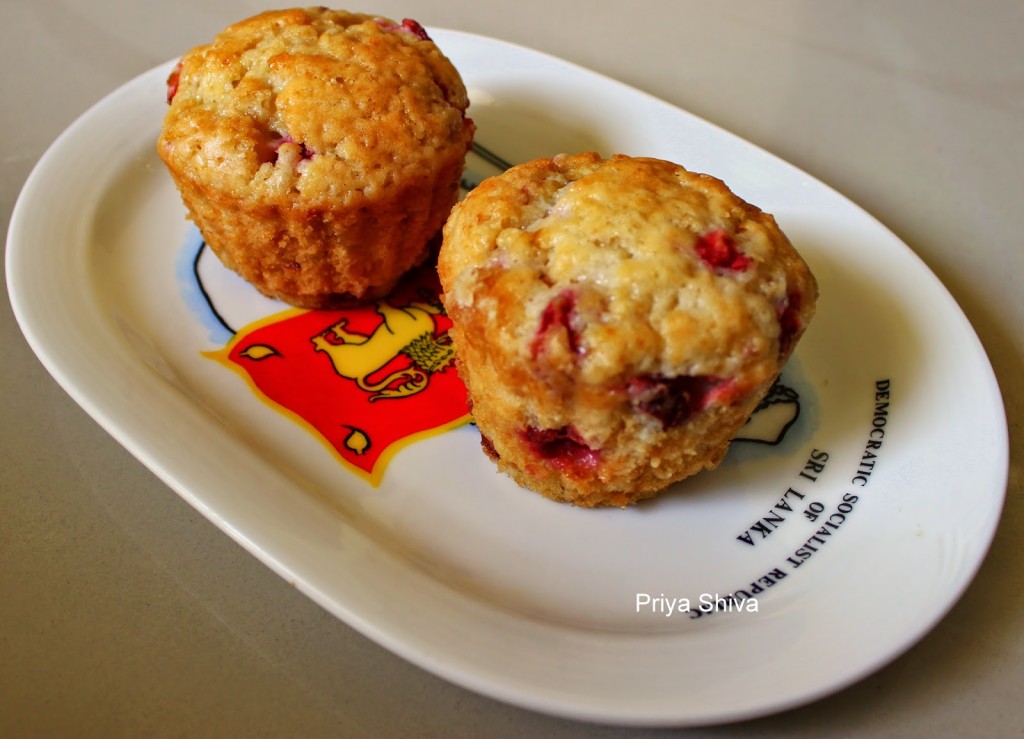 Eggless Strawberry Muffins
Make delicious egg-less muffins with fresh strawberries!
Ingredients
All purpose flour - 1 cup
Sugar - ½ cup
Plain Yogurt - ½ cup
Baking powder - ½ tsp
Baking soda - ¼ tsp
Olive Oil - ¼ cup
Vanilla extract - ½ tsp
Fresh strawberries - ½ cup (chopped and hulled)
Instructions
Preheat Oven at 180 C.
Sift all purpose flour, baking powder, baking soda and keep it aside.
Add butter, sugar and vanilla essence in a mixing bowl and mix well till sugar dissolves.
Add yogurt and blend it well.
Now add all purpose flour with baking powder, baking soda slowly to the mix and fold. Do not over mix. The flour must get moistened.
Add strawberries and give a quick stir.
Grease the muffin cups with some oil evenly or use liners and add the batter to it. Make sure to fill each muffin cup till ¾ cup.
Bake at same temperature for 25-30 minutes or till it turns light golden brown.Once it has cooled down, remove from the muffin cup and enjoy!!
Notes
You can use butter in place of oil..
Yum