Curry leaves is a wonder herb. This is a dry powder of dried curry leaves, lentils and spices and usually served as an accompaniment. It is easy to make and it can be used as an alternative to
'Idli milagai podi'
. It is also consumed mixing in rice with some ghee or sesame oil. You can also use this powder to spice up any curry. Curry Leaves are highly beneficial herb and rich in iron and folic acid. They help in controlling cholesterol and also reduces the side effects of chemotherapy. They help in controlling diarrhoea,  diabetes and even good for eyesight. This powder is usually given to women during pregnancy and post pregnancy. So, this is an easy way to use these herbs in your diet.
Ingredients:
Dried Curry Leaves – 1 cup
Urad dal/White lentil – 1/3 cup
Channa dal/Bengal Gram/split and skinned chickpeas  – 1 tbsp
Tamarind – a small lemon size ball
Asafoetida – 1/2 tsp
Red Chillies – 4
Salt to taste
Sesame Oil – 1 tsp
Method:
1) Wash and dry curry leaves by spreading it on a newspaper for few hours.
2) Add the curry leaves in a pan and dry roast them for few minutes till they start shrinking. Roast them on low flame and keep stirring. Transfer the content on a plate and keep it aside and let it cool down completely.
3) In the same pan, add 1 tsp sesame oil and roast urad dal and chana dal till white lentil turns golden brown. Now add tamarind and red chillies and saute for few seconds. Remove from the flame and let it cool down completely.
4) Add all the ingredients with salt and asafoetida in your blender and blitz it until it becomes a smooth powder.
5) Spread the powder on a newspaper and let it cool down completely before storing in an airtight container.
Tips:
1) You can store this powder for a long time upto 3 months. Always store in a dry and cool place.
2) Keep the flame on low level while roasting the curry leaves or they will burn easily.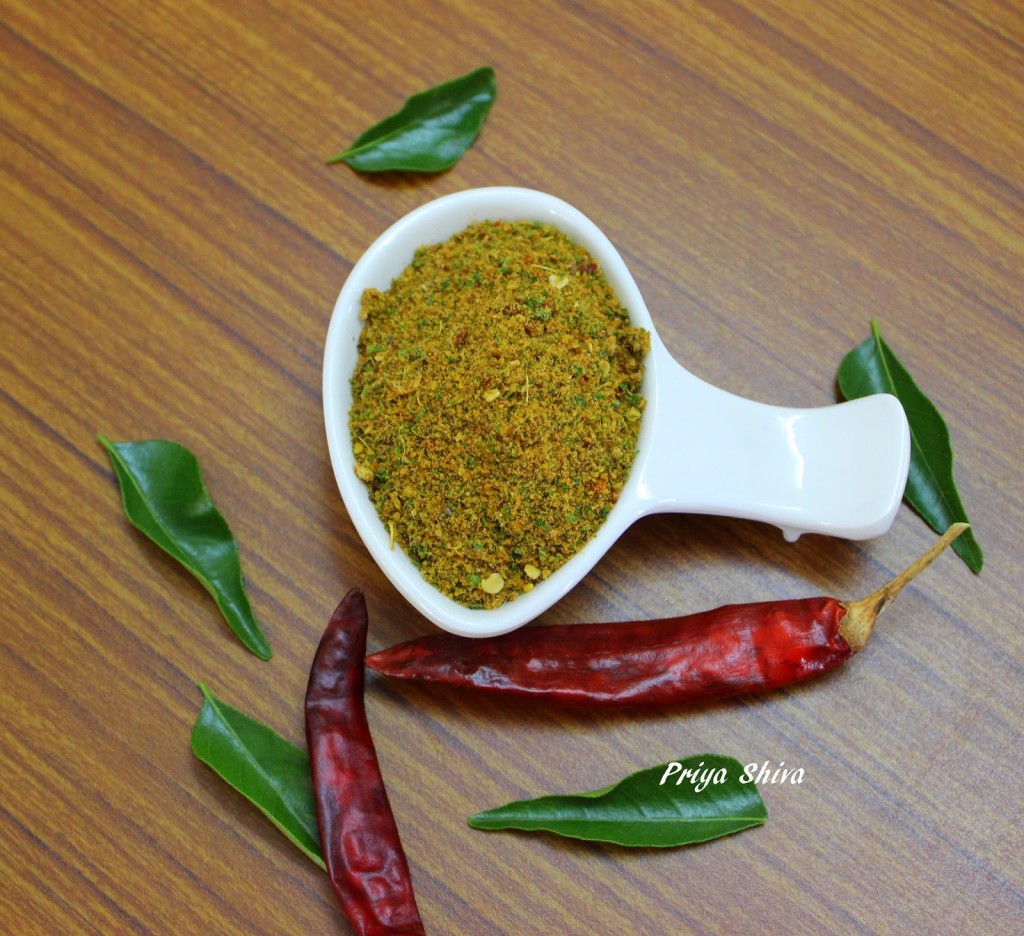 Yum