I had my first chaat in the streets of Delhi and I still miss some of my favourites like pani-poori, tikkis etc..Aloo tikki is a North Indian street food made with potatoes and various spices. It is found in every chaat shop or stall in Delhi and thought of making it today..
Do you love street food? Do you love Indian Chaat? Do you love potatoes? Then you'll definitely love this recipe..Make this at home and surprise your family..
How to make Aloo Tikki chaat?
Ingredients:
Boiled and mashed potatoes – 2 cups
3 bread slices
Cumin powder – 1 tsp
Chat Masala – 1 tbsp
Green chilies finely chopped – 1 tbsp
Bread crumbs as required
Cornflour – 2 tbsp
Coriander leaves, chopped – 2 tbsp
Boiled chickpeas – 1 cup
Yogurt/dahi – 1 cup (optional)
Salt to taste
Cooking Oil as required for deep frying
Finely chopped onions – 1 cup
Boiled chickpeas – 1 cup
Sev – for garnishing
Click here for Green chutney recipe
Click here for sweet tamarind chutney recipe
Method:
1) Cut the sides of the bread, and soak in water and squeeze out water immediately.
2) Take a bowl and add the mashed potatoes, bread, finely chopped chilies, cumin powder, coriander leaves, salt and mix well.
3) Make small balls of it and flatten them into small discs and keep it aside.
4) In a separate bowl, mix the cornflour with water and salt.
5) Dip the discs in cornflour and then coat with bread crumbs.
6) Heat oil in a frying pan and when oil is warm fry the tikkis on medium flame till golden brown.
Take a bowl and place fried tikkis/cutlets on it and add some yogurt, boiled chickpeas, chopped onions, green chutney, sweet tamarind chutney, sev.
Sprinkle some chat masala on top of it and enjoy!!!!!!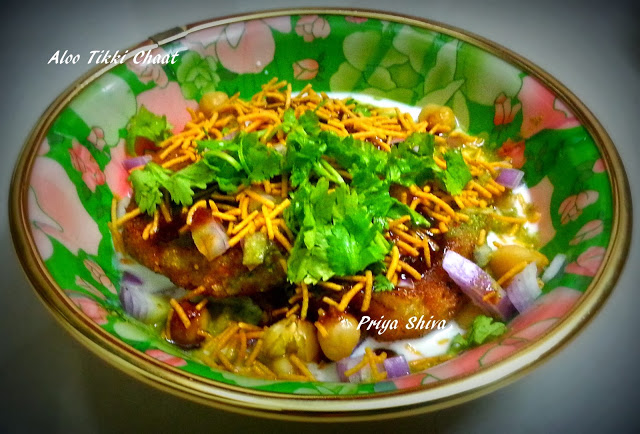 Yum