Paneer lababdar is a rich North Indian curry made with cottage cheese and cooked in tomato gravy using mild spices. I have used low-fat tofu paneer and home-made garam masala to cook this dish. I simply love this aromatic dish. Anything cooked with home-made spice mix is more delicious and flavorful. If you are looking for a recipe to make garam masala at home – Click here.
So, sharing a step-wise recipe to make Paneer lababdar and hope you all enjoy this dish with your family and friends.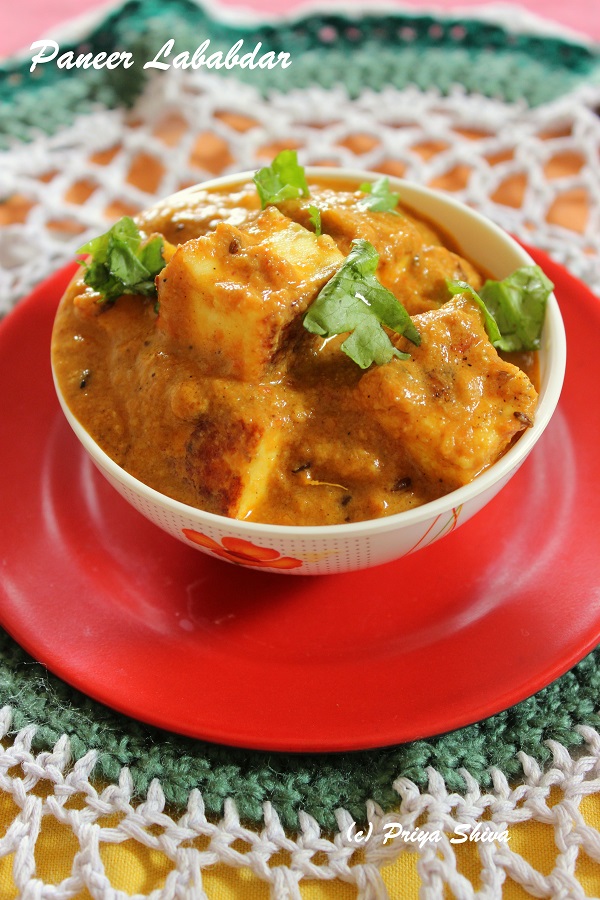 Paneer Lababdar Recipe
Author:
Prep time:
Cook time:
Total time:
Make a delicious curry with tofu paneer with tomato gravy and mild spices!
Ingredients
Tofu Paneer – 200 gm (cubed)
1 big Onion (peeled and finely chopped)
2 big Tomatoes (finely chopped)
Grated Ginger – 1 tsp
Garlic cloves – 3 (peeled and chopped)
Green chilies – 2
Milk – 1/2 cup
Cornflour – 1 tsp
Cumin seeds – 1 tsp
Garam Masala – 1 tsp
Dhaniya powder / Coriander Powder – 1/2 tsp
Red chili Powder – 1 tsp
Turmeric Powder – 1/4 tsp
Salt to taste
Vegetable Oil – 2 tbsp
Instructions
Grate 2 cubes of paneer and keep it separately.
Heat a griddle/tawa and toast remaining paneer cubes with little oil till they turn light brown on all sides. Keep this ready in a separate bowl.
Add chopped onion, tomatoes, ginger and garlic in food processor and blitz it to make a paste.
Mix cornflour in milk and keep it aside.
Add 1 tbsp of oil in a frying pan and when oil is warm, add cumin seeds and saute for few seconds. Slit and half the green chilies and add them in the pan. Saute for few seconds.
Now add onion tomato paste and saute for few minutes till oil separates from the gravy.
Now add turmeric powder, garam masala, corinader powder, red chili powder and salt and mix it well.
Add paneer cubes, grated paneer and cook on low flame for few minutes. Add milk and mix well. If you feel the the gravy is too thick, add little water. Transfer into a bowl and serve it hot with flat bread
Yum