I love Okras specially when they are spicy and crispy. This is a quick stir-fry which you can enjoy with some flat bread. I love trying out different combinations of spices to different veggies. So, sharing the recipe and hope you all have a wonderful day..
Ingredients:
Medium sized Okra- 15
Sliced Onions – 1 cup
Carom Seeds/Ajwain – 1 tsp
Turmeric powder – 1/2 tsp
Red chilli powder – 1 tsp
Black pepper Powder – 1 tsp
Garam masala powder – 1 tsp
Amchur Powder – 1/2 tsp
Bread Crumbs – 1tbsp
Salt to taste
Cooking oil
Asafoetida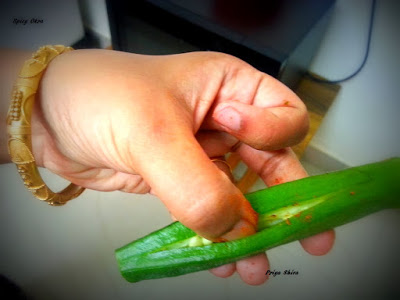 Method:
Wash the vegetables nicely and keep it aside. Take a bowl and mix all masalas – turmeric powder, red chilli powder, black pepper powder, garam masala, amchur powder and salt. Remove the sides of the okra and slit in the middle as shown in the picture above and fill it with masalas.  Heat a frying pan and add 2 tbsp oil. Add a pinch of asafoetida and carom seeds and then add the okras. Fry the okras in the oil for 5-6 minutes on low flame and keep stirring. Now add the sliced onions to it and mix it well. Add a little salt and turmeric powder and bread crumbs. Sauté it nicely for few minutes and serve it hot with some rotis.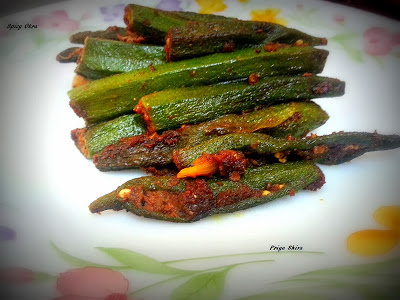 Yum