Pav Bhaji is a street food which from state of Maharashtra, India. Pav means dinner rolls and bhaji means cooked vegetables. Bhaji is a blend of vegetables and spices. The bhaji is also healthy in its own way as it has mix of boiled vegetables and you cook it by adding minimum oil. I prefer cooking the bhaji in the pressure cooker and then stirring it with masalas.
I have added fresh peas but you can also frozen peas. So, enjoy Pav bhaji today for snacking or lunch and wish you all a great week ahead..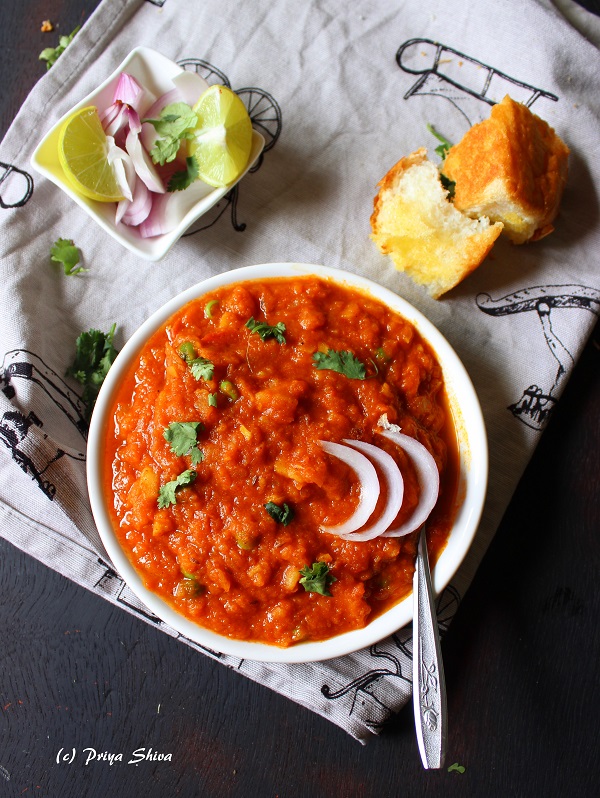 Author:
Potato – 3

Carrot – 1

Green Peas – 1/2 cup

Capsicum – 1 (small one)

Tomatoes – 3

Onion – 1

Ginger Garlic Paste – 1 tbsp

Cumin seeds – 1 tsp

Pav Bhaji Masala – 2 tsp

Red chilli powder – 1 tsp

Turmeric Powder – 1/4 tsp

Vegetable Oil – 1 tbsp

Butter – 2 tbsp

Lemon Juice – 1 tbsp

Dinner rolls – 8
Clean, peel and chop all vegetables and keep it aside.

Pressure cook chopped potatoes, carrot, green peas with required water. Once vegetables are cooked, mash it lightly with potato masher.

Add oil in a frying pan and when its warm, add cumin seeds, onion and saute till onions turns golden brown.

Add ginger garlic paste and chopped capsicum and saute.

Add tomatoes to it and saute it for few minutes till tomatoes get mushy and soft.

Add pav bhaji masala, chilli powder, turmeric powder and mix it well.

Add the boiled vegetables, salt to taste and mix well.

Transfer the bhaji it into a bowl. Drizzle some butter, lemon juice and garnish it with coriander leaves.

Heat a griddle. Smear some butter on the dinner rolls and toast it over the griddle.

Serve these rolls with the bhaji.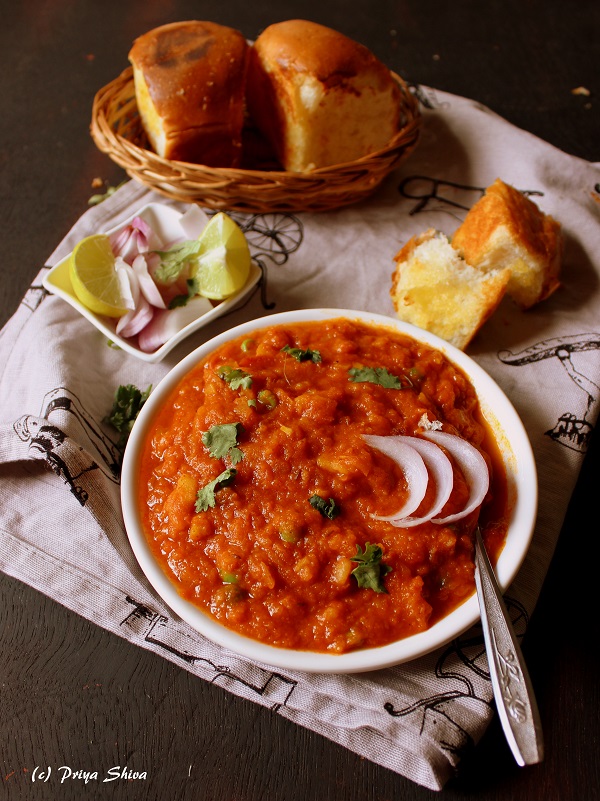 Yum