Semolina bread snack is something which I once saw someone making at a roadside shop. I like these small roadside vendors who easily make something yummy in a jiffy. This can be easily made in about 10 minutes and you can make it as hot and spicy as you want with some red chillies and black pepper. Semolina adds crunchiness to it and you just can't stop at one 🙂
Ingredients:
Whole Wheat Bread
Boiled Mashed potatoes – 1 cup
Semolina/Rava – 1 cup
Milk – 1/2 cup
Chat masala – 1/2 tsp
Red chilly powder – 1/2 tsp
black pepper powder – 1/2 tsp
Chopped coriander leaves  – 1 tbsp
Asafoetida
salt to taste
Cooking Oil or Butter
Method:
Add potatoes, semolina, milk, chat masala, red chilly, black pepper, coriander leaves,  a pinch of asafoetida, salt and mix it well to make a batter. take a slice of bread and cut it into 4 square pieces. Spread the batter on the bread on one side. heat a pan or tawa and add some oil to it. Place the bread and toast it. Toss it, add some oil and let the other side which has the batter also get toasted on medium heat. When it starts getting golden brown remove it from the pan.
Serve it hot with some tomato sauce.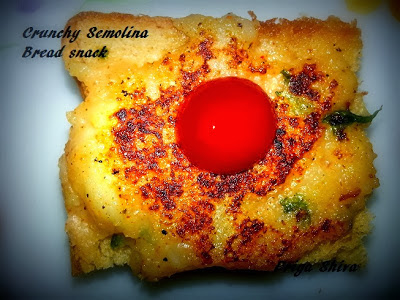 Yum