This is another delicacy which can be served as a starter but again I personally feel its a wholesome dish which can be taken for breakfast or evening snack. I like to make a carrot onion sambar with it and dress it with some raw onions.
Click here for step-wise recipe for Ulundu Vada
Ingredients for sambar:
Toor dal/yellow pigeon peas split lentil – 1 cup
Peeled and Chopped carrot – 1 cup
Sliced onion – 1 cup
Tamarind – lemon size ball
Mustard seeds – 1 tsp
Urad dal/white lentil – 1 tsp
Sambar powder – 2 tsp
Turmeric powder – 1/4 tsp
Curry leaves – 1 sprig
Asafoetida – 1/4 tsp
Salt to taste
Cooking oil – 1 tbsp
Method to make carrot sambar:
1) Pressure cook lentil until its soft and mash it nicely.
2) Boil the chopped carrot and keep it aside.
3) Soak the tamarind in a 1 cup of water and keep aside for 30 minutes.
4) Strain to remove seeds and pulp and and keep it aside.
5) Heat the oil in a heavy bottom pan and  add the mustard seeds and urad dal and saute until mustard seeds begin to crackle.
6) Add the sliced onions, curry leaves and saute for a minute.
7) Add the asafoetida, cooked dal mixture, tamarind water, sambar powder, turmeric powder, salt, cooked carrots and boil for few minutes. Add more water if you feel its too thick.
Method to make sambar vada:
1) Soak the vadas in some warm water for 5 minutes.
2) Drain the excess water and add them into a bowl filled with sambar. Garnish it with some chopped onions and coriander leaves.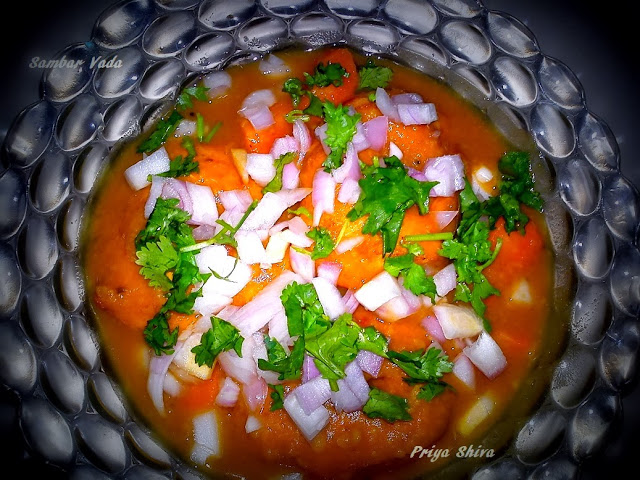 Yum