It is good to enjoy rainy days with a cup of tea and some of your favorite snacks but these gloomy days also bring on flu, cold, cough etc. So, how about enjoying a comforting drink which can help in boosting immunity and gives you some relief from stuffy nose, sore throat and even nausea. Yes, I'm talking about a cup of soothing Lemon Ginger Honey Tea. I would suggest that you all should keep this recipe handy for these rainy days or winters when you tend to catch cold and flu easily.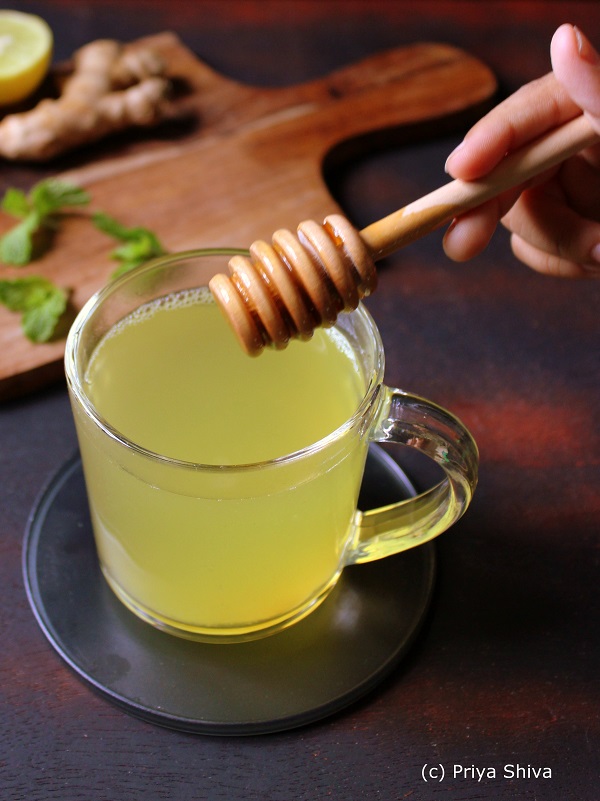 Lemons are loaded with Vitamin C which helps to boost your immunity and detox your body. Ginger helps in digestion, nausea and soreness. Honey is a natural sweetener and energizes our body. I have added a pinch of turmeric which is a powerful spice and boosts your immunity. You can even add few mint leaves, cinnamon powder, cardamom powder and make it even more refreshing and healthy.
You can also try some of these comforting drinks too from my blog – Turmeric Milk, Jaggery Tea
So, sharing the recipe for Lemon Ginger Honey Tea. My mother always used to give this soothing drink when I used to fall sick with cold and cough. Enjoy a cup of this soothing drink and stay fit..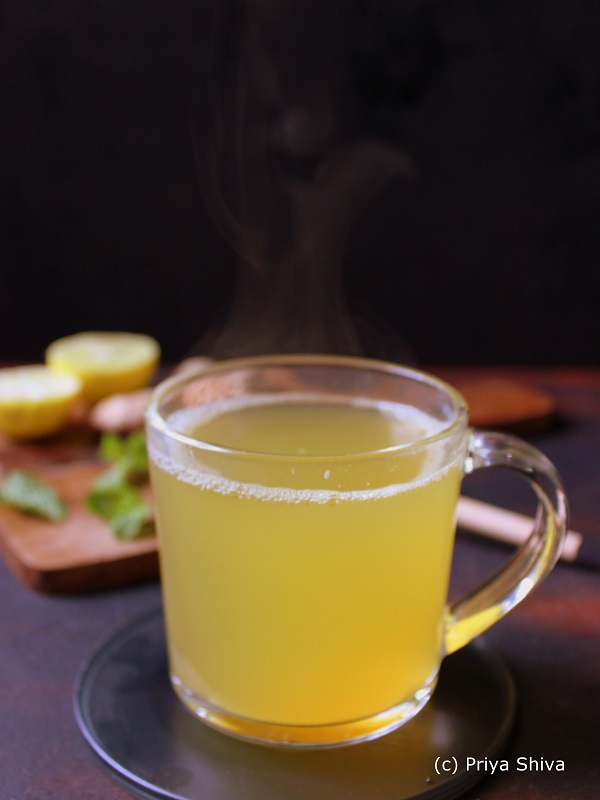 Lemon Ginger Honey Tea
Ingredients
Ginger - 1 tbsp (grated)
Freshly squeezed Lemon Juice - 1 tbsp
Turmeric Powder - ⅛ tsp
Mint leaves - 4
Honey - 1 tbsp
Water - 1 glass
Instructions
Add 1 glass of water, ginger, mint leaves and turmeric powder in a pan and boil it nicely for 2-3 minutes. Strain it.
Add honey and lemon juice in a mug.
Pour strained ginger water in the mug, mix well and enjoy.
Yum