It's always nostalgic to cook something which has childhood memories attached to it and Chakka Varatti is one of them. Chakka Varatti is jackfruit preserve made with ripe jackfruit and cooked with jaggery. I'm sharing a recipe with a video today.
I remember those golden days of cooking with my mom. We will wait for the jackfruit season and someone from our hometown will send those fruits to us. We will wait for the fruit to get ripened. The easiest way to know that the fruit has ripened and ready to be cut is once you can smell it. The whole house will smell of jackfruit!
Watch this video to Make Chakka Varatti at home:
The task of cutting a jackfruit and taking out the bulbs also is a tedious work. Please make sure that you apply coconut oil on your palms and cut the fruit with a sharp knife at the center. Then you can again divide the fruit into quarters and start taking out jackfruit bulbs from it.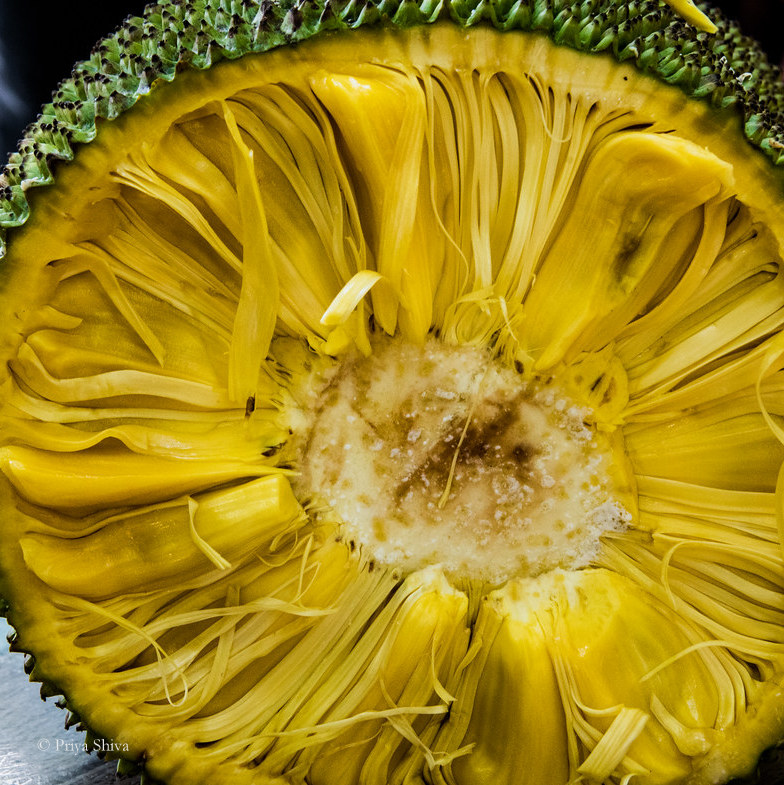 So, check out the detailed recipe. You can use this preserve to top your morning toasts and enjoy for breakfast. You can also make chakka pradhaman using this preserve.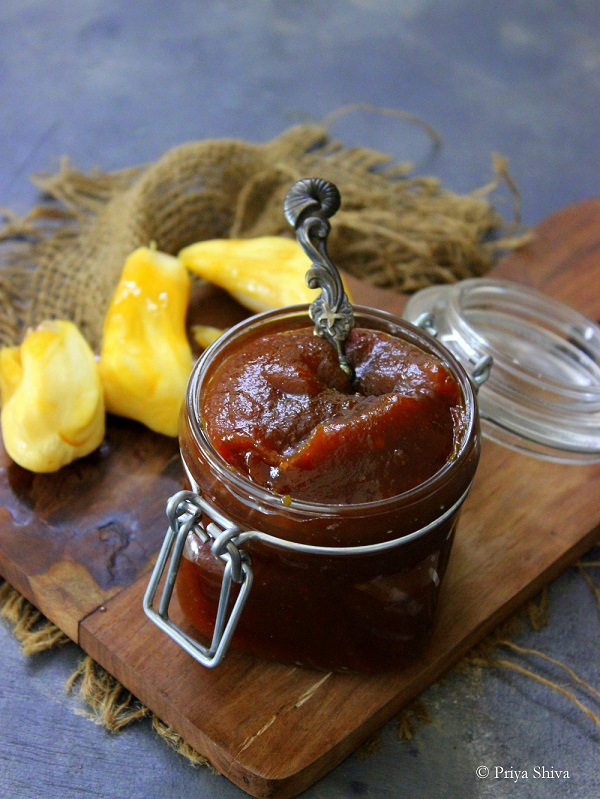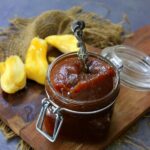 Chakka Varatti - Jackfruit Preserve
Ingredients
6

cups

Ripe Jackfruit

chopped

3

cups

jaggery

powdered

3

cardamom

powdered

3

tsp

Ghee
Instructions
Remove the seeds of jackfruit and take the fruit alone in a bowl. Chop it.

Pressure cook with 1 cup of water till its soft and cooked. Let it cool down completely and make a puree of it.

Add jaggery with 1 cup of water in a heavy bottom pan. Once it starts boiling and jaggery has melted, remove from the gas stove and strain the water to remove the impurities. Keep the jaggery water aside.

Heat a pan with ghee in it.

Now add jaggery water, reduce the flame and cook till it thickens. Keep stirring.

Now add jackfruit puree and keep stirring. Cook on low flame till it thickens.

Remove from the flame and add cardamom powder.

Once it completely cools down, store it in a clean and dry air-tight container and refrigerate.
Recipe Notes
You can add more jaggery if the jackfruit is not very sweet. 
You can even add 1/2 tsp of dried ginger in the end for taste enhancement. 
This preserve stays good even for an year if you use clean and airtight containers. Store in glass or steel vessel and refrigerate. 
Always use clean and dry spoon while serving. 
Yum