Bedmi Poori served with Tari aloo is one of the most popular street food of Uttar Pradesh. The puffy pooris are made with wheat flour, urad dal and spices. It is also known as bedai poori or Urad dal poori in many parts of North India.
Check out this quick video to make delicious Urad dal poori.
Bedmi poori is absolutely delicious and can be served for brunch, lunch or dinner. Do not miss eating bedmi poori with tariwale aloo when you are in Mathura or Agra. Agra ke bedai poori are so famous that everyone will love to relish them at least once in a life time. Now you can make them at home too! Check out the easy recipe and enjoy..
Click here for tariwale aloo recipe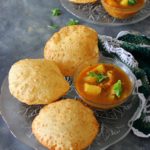 Bedmi Poori
Ingredients
Whole wheat flour – 1 cup

Urad dal/white lentil - 1/4 cup

Sooji/semolina - 2 tsp

Jeera/cumin seeds - 1 tsp

Saunf/fennel seeds - 1 tsp

Ginger - 1 tbsp

chopped

Red chilli powder - 1 tsp

Salt to taste

Vegetable Oil for deep frying
Instructions
Clean and Soak urad dal in water for 2-3 hours.

Drain the water and add it in a blender along with cumin seeds, fennel seeds and ginger.

Blitz it to make a paste using minimum water.

Transfer in a mixing bowl.

Add flour, red chilli powder, semolina and salt in the same bowl.

Knead to make a stiff dough. Add water only if needed.

Add 1 tbsp oil and knead again. Set it aside for 20 minutes.

Make a small ball of the dough and roll using a rolling pin. You can use little oil or dry flour to roll the dough smoothly.

Heat oil in a frying pan.

To check if the oil is warm, drop a small piece of dough into the oil. If it comes on top immediately, the oil is warm for frying.

Keep the flame on high flame and slide the flattened dough into the oil carefully. You have to keep regulating the flame to make sure oil doesn't get too hot.

Press down lightly on the pooris as it fries to help it puff up.

Once pooris turn golden brown, put them on a strainer or a paper tissue to drain excess oil.
Yum