The weather is changing and soon winters will be here. One of my favorite drink to enjoy in winters is Kesar Badam Milk. I usually soak few almonds in warm water to peel the skin and then make the drink. This time I decided to make a stock of Kesar Badam powder and keep it ready so as to enjoy a warm cup of Badam milk whenever I wish to..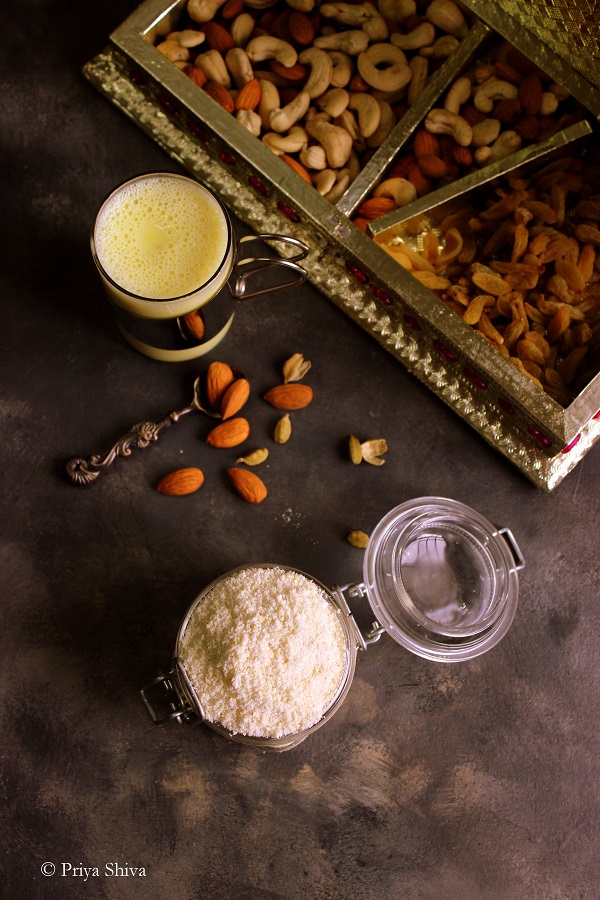 Kesar Badam milk is a beverage which has the goodness of almonds and saffron. I have tried store bought instant kesar badam powder too and make this drink with it but it can never match a home-made powder. You can be assured of using fresh ingredients and goodness while making this healthy powder at home. You can even adjust sweetness according to your taste. So, sharing the recipe to make a stock of Kesar Badam powder at home. Try it out at home and share the feedback.
You can also try homemade hot chocolate recipe from my blog.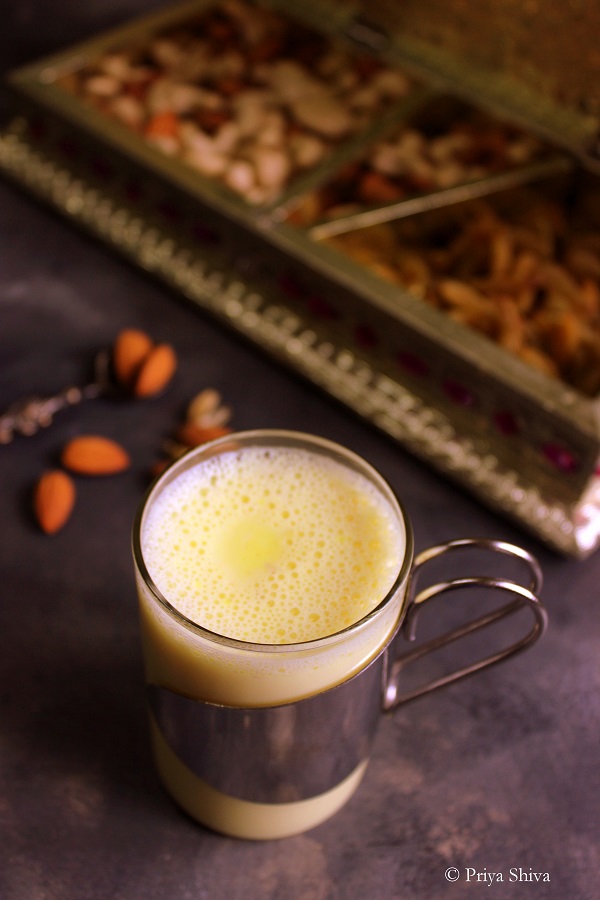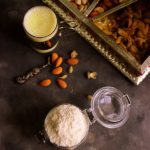 Kesar Badam powder Recipe
Ingredients
Badam/Almonds - 2 cups

Saffron - 20 strands

Sugar - 1 cup

Cardamom - 4
Instructions
Boil 2 cups of water to blanch almonds. When water starts boiling, add almonds to it. Boil for 2 more minutes and remove from the flame. Strain the almonds in a colander and add it in cold water. Peel the almonds. Dab dry the almonds and spread it on a clean towel. Set it aside for 30 minutes.

Now roast the almonds for few minutes in a pan on low flame. Let it cool down completely.

Grind sugar, saffron and cardamom pods together to make a fine powder. Now add roasted almonds and quickly grind it to make a coarse powder. Do not run the food processor for more than 3 seconds at a time or almonds will secrete oil. Spread this powder in a plate for 15 minutes. Store this kesar badam powder it in an air-tight container.

Boil 1 glass of milk and when milk starts boiling, reduce the flame and add 1-2 tbsp of kesar badam powder. Mix and let it simmer for 2 minutes. Remove from flame and enjoy a warm kesar badam milk. 
Recipe Notes
You can avoid adding sugar too to make this instant kesar badam powder. Adjust sweetness according to your taste. You can store this powder for a month in a cool, dry place.
Yum