Ellu Urundai is a snack which is  made with sesame seeds and jaggery with a hint of cardamom in it. These sesame jaggery balls are delicious and easy to make too.
Check out this video to make Sesame jaggery balls:
We usually make ellu urundai for festivals like Krishna Jayanthi or Karthigai Deepam but you can also eat it as an "any time snack". I have already shared a sweet recipe with sesame seeds in it called Til Nariyal Mawa Ladoo. Now you can try these yummy Ellu Urundai too. You just need 3 ingredients and flat 15 minutes to make these balls. So, sharing the recipe and hope you all try it too.
You can also watch this video to make Nei appam for karthikai Deepam: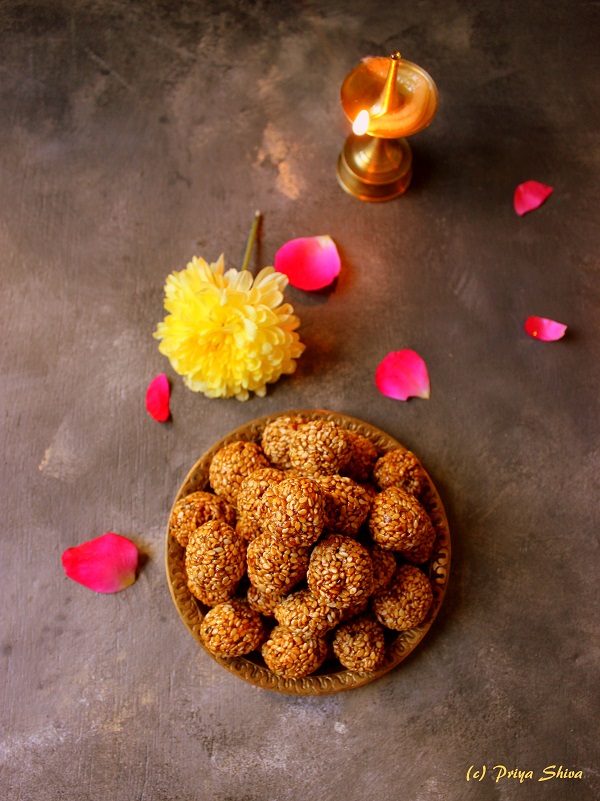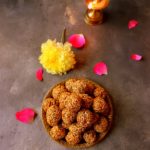 Ellu Urundai Recipe
Ingredients
Sesame seeds/Ellu - 1 cup

Jaggery – 1 cup

powdered

Green Cardamom - 2 (crushed)

Sesame oil - 1 tsp (to grease your hand)
Instructions
Heat a pan and add sesame seeds. Roast it on low flame for few minutes till it turns light brown. Transfer it in a plate and let it cool down.

Now add 1/4 cup water and jaggery in the pan and bring it to boil. Once it starts boiling, switch off the gas stove and strain it to remove impurities. 

Heat the pan again. Add the jaggery syrup, cardamom powder and boil it again. Keep a small bowl with little water handy. Once the jaggery syrup starts thickening, lower the flame and add few drops of jaggery syrup in the water to check consistency. It should not get dissolved in water immediately and you should be able to form a ball with it. If you've not reached this consistency, cook it for few more minutes and check again.

Once you've reached that consistency, switch off the gas stove and add the sesame seeds and gently mix well with jaggery syrup till you don't find any syrup at the bottom of the vessel.

Grease your hands with some oil and start making balls. Do not wait for it to cool down completely or it would be difficult to make balls of it. 
Yum