What do festivals mean to you? It means good times, good food and good memories to me. Life should be like that, a continual celebration where we over look our worries and keep our spirits high. Religious festival and celebrations have also become an important way to teach my boy about our culture. It could be about the reasons we celebrate a festival or the excitement to wear a new dress or talk about what food we going to eat for it. Food is an important part of any celebration whether it is a festival or an event like birthday or anniversary. So, I made Banana Rava Kesari today to celebrate the Navratri festival..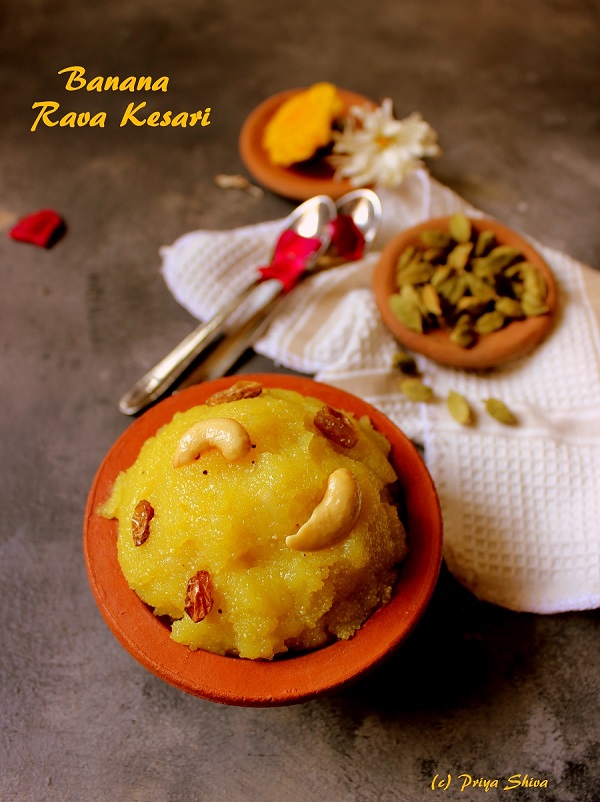 Navratri is a festival where Hindus worship Deity Durga. It is a festival of Nine days and Nine forms of Devi are worshiped. Navratri is celebrated in various ways in different parts of India. Some keep a "jagaran"where Devi is worshiped whole night. Some celebrate it as a Durgotsva and we keep Golu in South India. Each day we prepare an offering for Devi and relish it. I just prepared a simple sweet dish today. Rava Kesari is a popular pudding from South India which is made with Semolina, sugar and loaded with Ghee. I decided to give this sweet a fruity twist by adding banana to it. So, sharing the recipe for Banana Rava kesari today and wish you all a very Happy Navratri festival.
You can also try other sweets for this Navratri festival like – Semiyan Payasam, Rava Ladoo, makhana kheer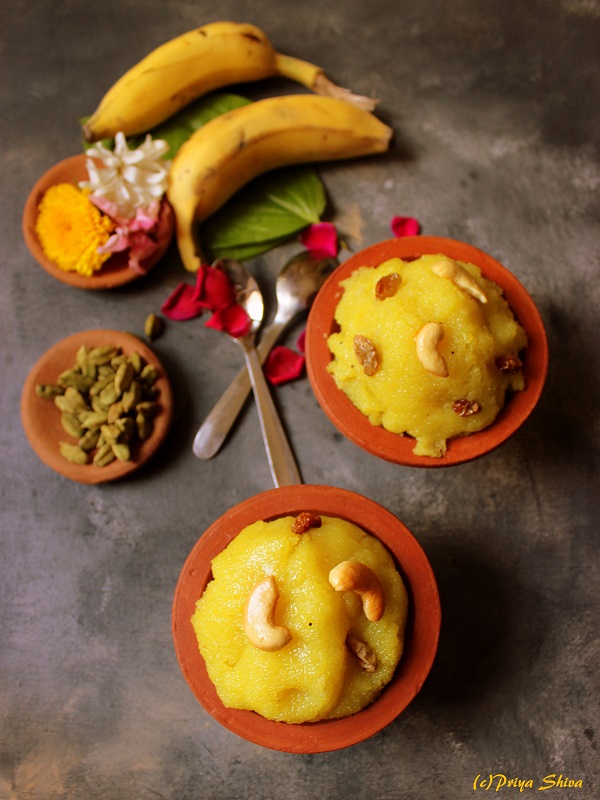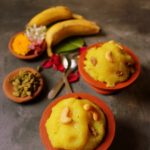 Banana Rava Kesari
Ingredients
Rava/Semolina - ½ cup

Sugar - ½ cup

Banana - 1

Ghee - ¼ cup

Water - 1 cup

Yellow food colour - 1/8 tsp

Green Cardamom - 2

powdered

Chopped cashews - 8

Raisins - 8
Instructions
Dilute food colour in 1 tbsp water and keep it aside.

Peel the banana and puree it by mashing it nicely or blitz it in your blender.

Heat 1 tsp ghee in a pan and roast cashews and raisins till light golden brown and keep it aside.

In the same pan, roast the rava on low flame till its color changes slightly to light brown and a nice aroma comes from it. Transfer it into a bowl and keep it aside.

Add water to the pan and when it starts boiling, lower the flame and add colour water. Mix well.

Add rava slowly and keep stirring. Make sure no lumps are formed.

Now add sugar, banana puree and mix well.

Lower the flame, add ghee and keep stirring.

When ghee starts leaving on the sides, add roasted cashews and raisins, cardamom powder and mix well.

Transfer the content into a serving bowl and serve it warm.
Recipe Notes
I have used yellow food color but you can also add few strands of Saffron. Just soak saffron strands in warm water before adding it.
Yum