I love making jams at home. I guess I got hooked onto making jams as my mother used to make it. So, I grew up eating home-made jams made with seasonal fruits. I wanted my family to enjoy it too especially my naughty little boy. He's one big fan of bread and jam. So, I always have a stock of home-made jam which my family can enjoy. It is the season for plums and jamuns. That's why I made some Jamun Plum ginger jam which turned out to be really good. My family truly enjoyed it.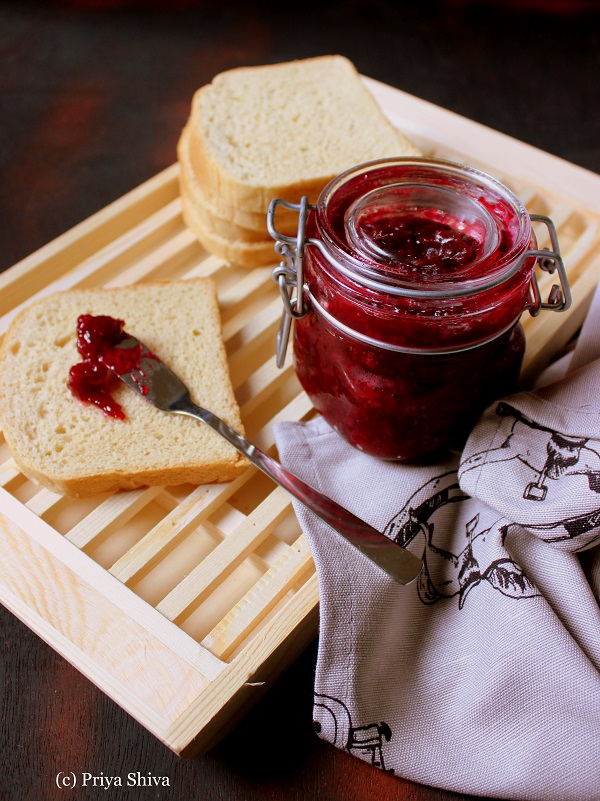 Jam can be made easily at home with few tips in hand:-
Always Choose the seasonal fruit – This may sound silly but it plays a key role in making a good jam. Always use fresh fruits which are in season. One of my reader recently asked if she can use frozen fruits to make jam. I will never suggest using frozen fruits or vegetable for making jams, preserves or pickles. Go to your local fruit market and pick up the fresh ones. Always use real ripe fruits to make jam.
Natural Pectin – Pectin is added in jams as it helps in preserving it for a longer time. Pectin powder is available in market but you can also use naturally extracted pectin. Citrus fruits like lemon and orange are rich in pectin. You can simply extract the seeds from lemons and store it in your freezer. Use them before making jam. Take a small bowl filled with water, add 1 tbsp lemon seeds in it and leave it overnight. They will have formed a gel by morning. Strain out the excess water and add this gel to your jam. Pectin is also found in green apples, guava seeds or white part of citrus peels.
Lemon juice – You would have heard that lemon juice is added in jams and preserves. Ever wondered why? Lemon juice helps in avoiding sugar crystallization.
Use Sterilized Containers – Always use sterilized containers to store your jam. Take a big pan filled with water. Place the glass container upright in the pan with the lids. Make sure that there is enough water to cover the containers. Boil it for 10 minutes. Remove the container with the help of a tong, drain the excess water from it. Pour the warm jam in these containers and close it with a lid.
Setting Point – To check if jam has reached setting point, place a small amount of jam onto a chilled saucer. Place into freezer for 2 minutes or until jam is at room temperature. Run your finger through jam and wrinkle. If jam stays in 2 separate portions, it's ready to be stored. If not, cook for a little longer and retest.
I hope these tips shared above help you in making some delicious jam. If you have any other tip which I can learn from you, please share in the comment section. So, sharing the recipe for Jamun Plum Ginger Jam today. Make this jam and enjoy it with your family..
You can also try:-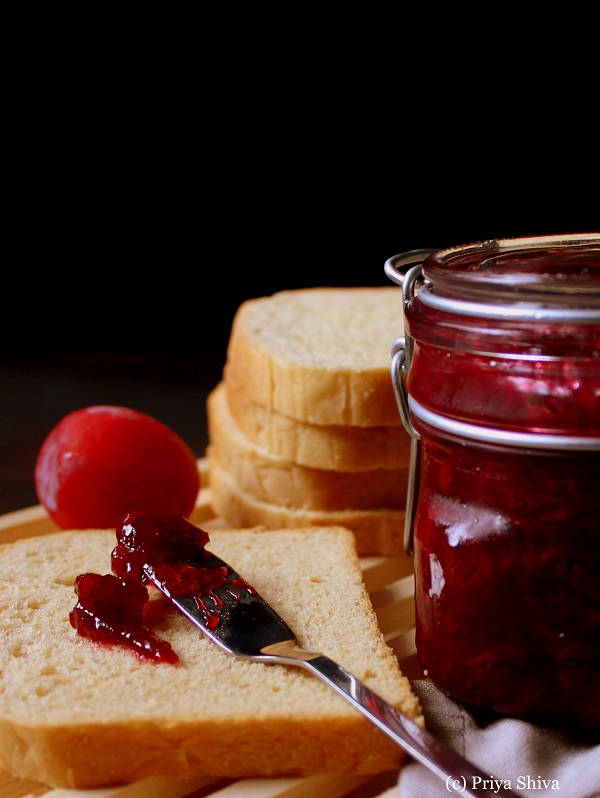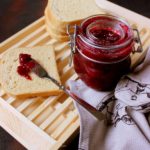 Jamun Plum Ginger Jam
Ingredients
Jamun/Indian Black plum - 200 gm

Plum - 500 gm

Sugar - 500 gm

Ginger - 1 tbsp

peeled and grated

Lemon seeds - 1 tbsp

Lemon Juice - 2 tbsp
Instructions
Chop plum and jamun into small pieces. Remove the seeds.

Take a small bowl filled with water, add 1 tbsp lemon seeds in it and leave it overnight. They will have formed a gel by morning. Strain out the excess water and add this gel ready.

Take a big pan, add chopped plum and jamuns with sugar in it. Mix well and keep the pan closed for 2 hours. The fruits would have started leaving the juices.

Transfer this content into heavy bottom pan, add grated ginger and keep it for boiling on medium flame. Keep stirring and boil for 3-4 minutes.

Remove from the flame and mash the fruits using a potato masher or ladle.

Now again keep it for boiling on low flame for 5 minutes. Keep stirring.

Add lemon juice and gel from lemon seeds and mix well. It will start combining and check the setting point. (Check my notes above)

If the jam has set, remove from flame.

Transfer the warm jam in sterilized containers and keep it sealed.

Once container opened or used, refrigerate it.
Yum