Palli Podi or Spicy Peanut Powder is a famous dry chutney powder from Andhra Pradesh, India. It is usually served with steamed rice. You can simply mix it with rice, drizzle some ghee and enjoy. It is also served with idli/dosa for breakfast. You will love the mix of spices and herbs in it. This dish reminds me of a funny incident which I had to share with you..
I was in college at that time and my mom had asked me to roast some raw peanuts and remove its skin. She went to the market giving me all instructions and I followed exactly what she told me with a twist :)..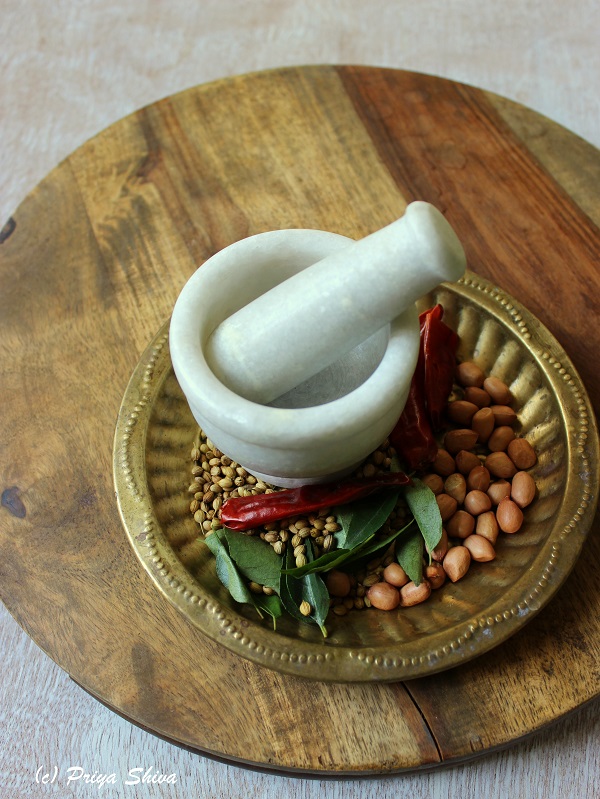 My mom returned home and I gave her the plate of roasted peanuts. She looked at me with strange expression for two minutes and then asked – "Where are the peanuts? " I thought her question to be so dumb and looked down at the plate. I found myself staring at a plate full of peanut skin!!!!! Yes, I had thrown all the peanuts in the dustbin and saved the skin for mom to make this peanut powder 🙂 …. I'm sure you can imagine what would have happened after that and needs no narration 🙂 …
It is sometimes fun to just look back and laugh at the things which were so silly. I'm glad I have many more such memories to treasure and laugh whole life 🙂 …
I love peanuts and already a recipe for an easy peanut chutney on my blog earlier. So, I'm sharing some laughs today and the recipe to make a spicy peanut powder which you simply enjoy with some steamed rice and ghee.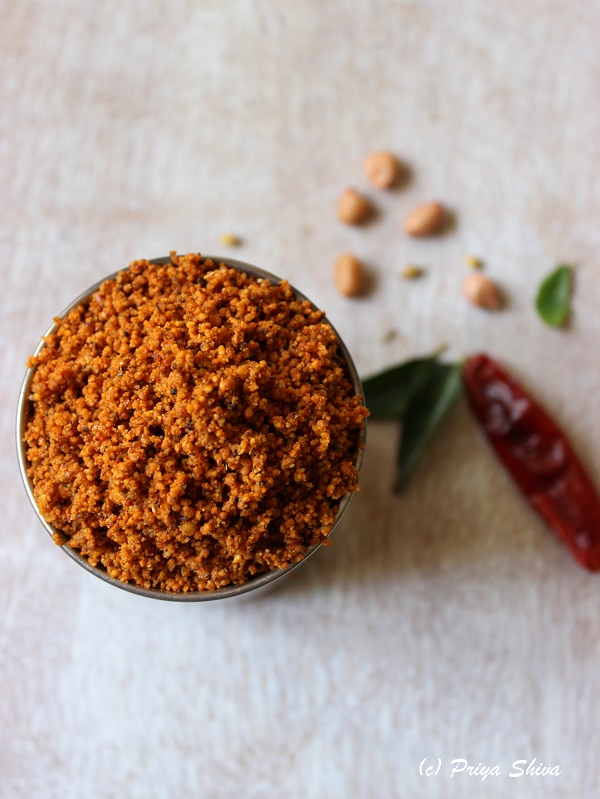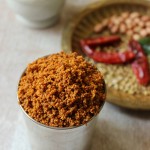 Peanut Powder / Palli Podi
Make a quick and spicy powder with peanuts and various spices!
Ingredients
Peanuts - 1 cup

Dried red chilies - 14

Cumin seeds - 1 tsp

Dried Coriander seeds : 1 tbsp

Bengal gram - 1 tbp

Garlic cloves - 2

Grated coconut : 1 Tbsp

Curry leaves - 1 sprig
Instructions
Dry roast peanuts on low flame for few minutes. Let it cool down and remove the skin.

Roast red chilies, cumin seeds, bengal gram, coriander seeds on low flame for few minutes.

Now roast grated coconut on low flame till it turns light brown.

Roast curry leaves and garlic lightly. Spread all ingredients in a plate and let it cool down completely.

Add all roasted ingredients in your food processor and grind it to make a coarse powder.

Spread the powder on a plate and 10 minutes.

You can store this in an air-tight container and use it as per your requirement.
Yum