Thengai Milagai Podi is a handy dish which you can use it as a dry chutney powder to serve with idli, dosa etc. You can even mix it with rice, drizzle some sesame oil and enjoy with some arisi vadaam or banana chips. I have already shared a recipe to make Idli milagai podi which is widely used in our South Indian homes. Thengai Milagai podi is another version where we use roasted coconut.
Check out this quick video to make this spicy chutney powder with flavor and aroma of coconut and sesame seeds.
Did you know that Sesame seeds are extremely good for health? They have anti-aging properties and help to boost your skin health. They are also great source of energy and you should include it in your diet. I have used Idhayam Sambandhi Sesame seeds and can vouch for their quality. They are clean and can be used for garnishing your salad and sweets too!
My blog is all about easy cooking, recipes and dishes which I experiment in my kitchen. I learnt cooking from my mom and some recipes passed on from my grandma, mother-in-law, aunts etc. So many fond memories, recipes and I love writing about it. So, here's another easy recipe to make some delicious podi made with coconut, lentil and spices.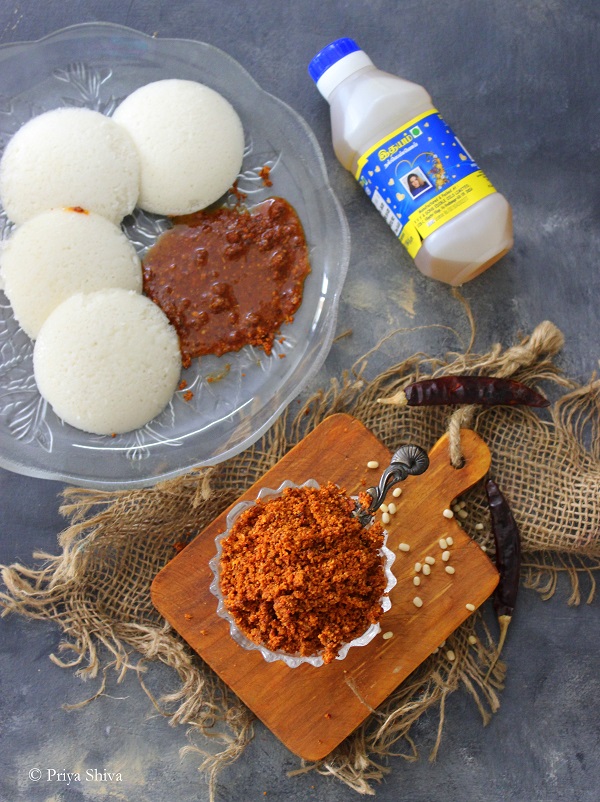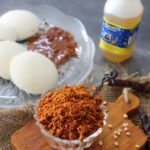 Thengai Milagai Podi
Ingredients
Urad Dal/White Lentil -1/4 cup

Freshly Grated Coconut - 1 cup

Dried Red chilies - 20

Asafoetida/ hing - ¼ tsp

Idhayam Sambandhi White Sesame seeds - 2 tbsp

Salt - 1 tsp

Idhayam Sesame Oil - 1 tsp

Tamarind - 1/2 tsp

Jaggery - 1 tsp (powdered)
Instructions
Heat 1 tsp of oil and roast on low flame grated coconut till it turns brown in color. Transfer it in a plate.

Now roast on low flame white lentil until they turn golden brown.  Transfer it in a plate and let it cool down.

Roast red chilies in the same pan on low flame for few minutes. Transfer in the plate.

Roast sesame seeds in the end with tamarind and asafoetida. Let all the roasted ingredients cool down completely.

Add all these roasted ingredients with salt and jaggery in your food processor and coarsely grind it.

Store it in an airtight container in a cool place.
Recipe Notes
You can serve it with Dosa,idli as dry chutney powder. You can even mix this podi with rice and drizzle little sesame oil and enjoy with papads. You can also use to it mix in stir-fry vegetables. Add it in the end and it adds a nice flavor.
Yum