These Eggless Peanut butter Almond Shortbread cookies are my way of gearing up for the coming Christmas fun. They are by far one of the best shortbread cookies I have baked in a long time and my family totally loved it. They are so easy to make, no need to freeze or refrigerate the dough and you can make the whole batch of cookies in flat 30 minutes. I added some twist to cookies by adding the crunch of almonds and flavor of cardamom.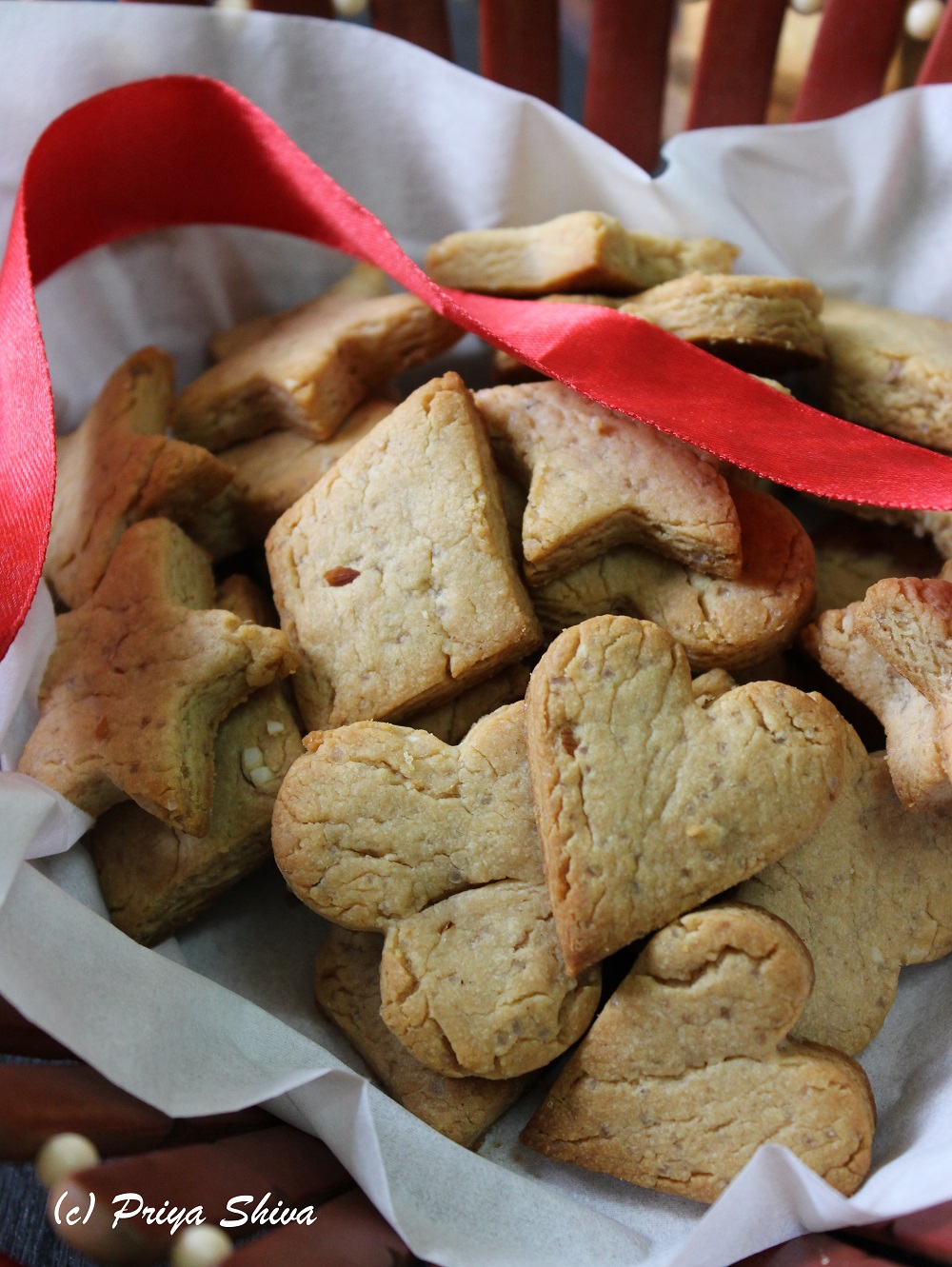 Somebody recently asked me this question – You are an Indian, a Hindu and still celebrate Christmas? I laughed at it as I found the question itself to be so silly. I answered that I celebrate the spirit of Christmas and as a matter of fact many other festivals which might not be even Indian. For me, festival is a time to enjoy with your family and friends. I love cooking and food becomes a big part of the celebration. Festivals bring in joy, togetherness and good spirits to our homes. Christmas is round the corner and as always I have started gearing up for the fun. I was just surfing on internet for some Christmas ideas when I came across this recipe on Savoury Nothings blog. The cookies turned out to be so good! I have already soaked fruits to make some Spiced Rum Cake and I'm sure that these cookies going to get baked again and again. You won't believe how much of cookie dough I ate today with 2 rounds of ginger tea 🙂 🙂 .. So, sharing the recipe with you all and wish you all a Merry Christmas and season's greetings <3 <3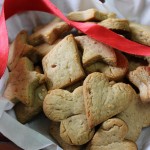 Peanut Butter Honey and Almond Shortbread cookies
make some delicious, eggless shortbread cookies with peanut butter, honey, crunch of almonds and added flavor of cardamom!
Ingredients
All purpose flour - 2 cups plus 6 tablespoons

295g

Butter - ⅔ cups

150g

Peanut butter - ½ cup

125g

Sugar - ¼ cup

50g

Honey - ¼ cup

85g

Green cardamom - 4

Almonds - 10

Milk - 2 tbsp
Instructions
Add almonds and cardamom pods in your mortar and pestle and crush it nicely.

Preheat the oven to 375°F (190°C) and line two baking sheets with parchment paper.

Place butter in a microwave safe bowl and microwave until it starts to melt. Add peanut butter and whisk together until smooth. Now add sugar and honey and mix well.

Stir in flour, milk, crushed almonds, cardamom to make a soft dough. You can use your hands to bring the dough together.

Roll the dough using a rolling pin to about ⅓ inch thickness. Cut into shapes with cookie cutters.

Sprinkle some sugar on top of the cookies , transfer to the baking sheet and bake for 10 minutes or until edges start to get golden. Cool on the baking sheet as cookies before transferring to a wire rack.

Keep them in an air-tight cookie jar for about 2 weeks.
Recipe Notes
Add extra milk if you feel cookie dough is too stiff to roll. Do not make the dough sticky.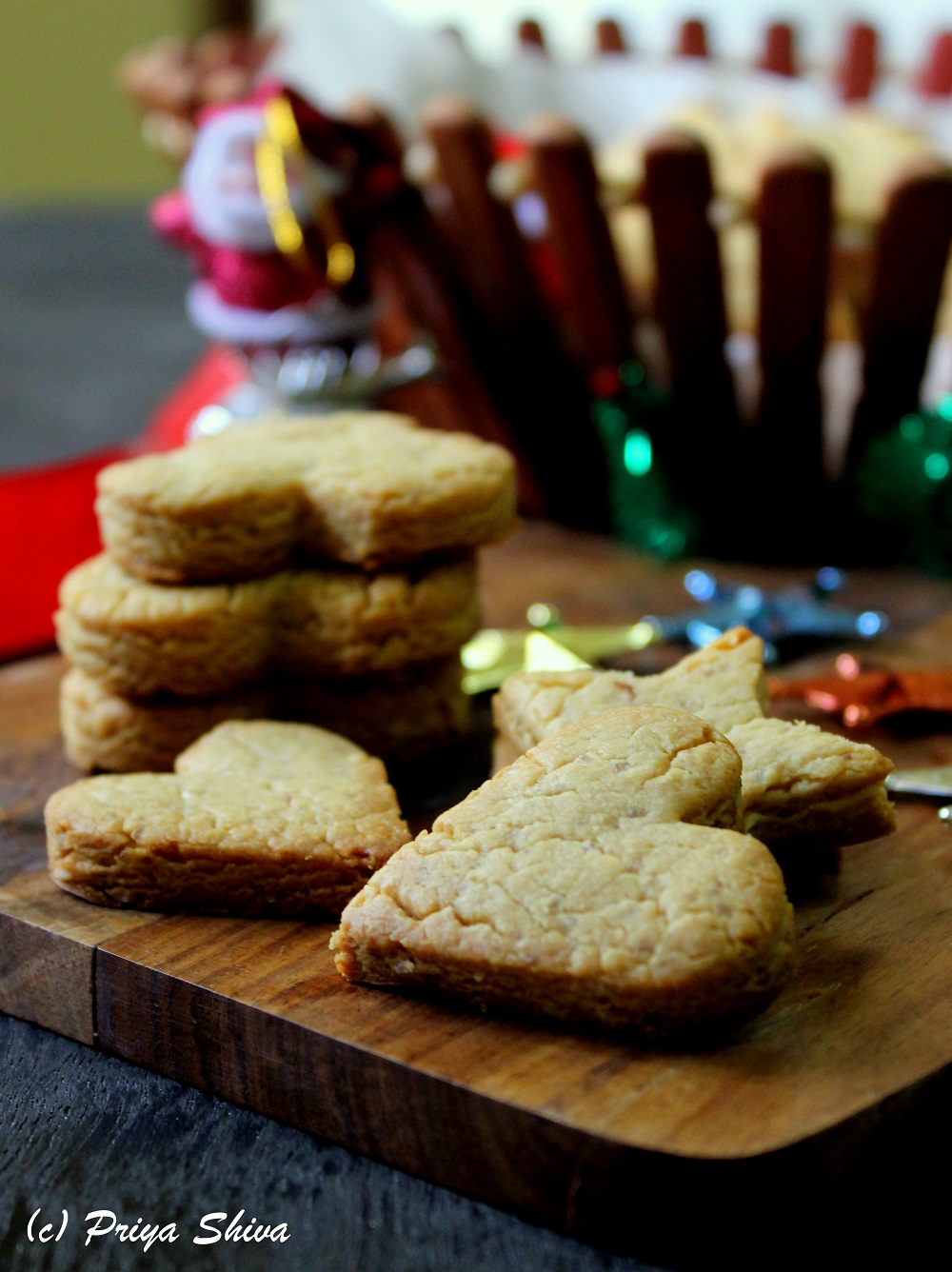 Yum