Spinach bread koftas are easy to make, scrumptious and you can eat these as snack too. I had few leftover bread slices and wondered what to do with them. So, here is my take on using some leftovers and turning into a curry which was truly loved by the whole family. I hate wasting food and always look for options on how to use them efficiently. My family will sometimes laugh on the things I make with leftovers but till the time they are edible, they cooperate and eat what I serve them 🙂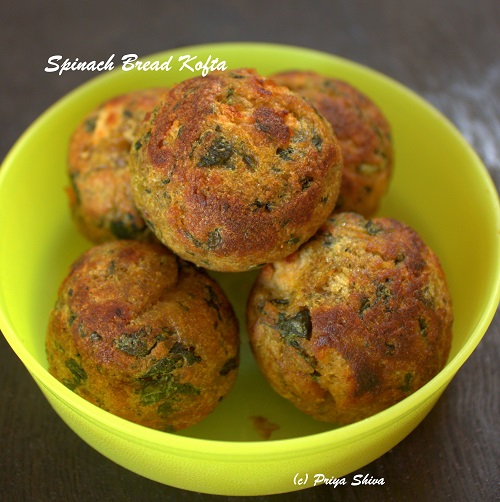 I have made these koftas in appe pan as I wanted to use minimum oil. You can also deep fry them if you do not have an appe pan. If you want to try out other variations of kofta curry, just click on the names below:
Click here for Lauki Kofta curry recipe
Click here for Potato Paneer Kofta Curry
So, sharing an easy kofta recipe and hope you all have a great week ahead.
Serves – 2
Ingredients for making Koftas:
Chopped Spinach – 1 cup
Wheat bread/multigrain bread – 3 slices
Turmeric Powder – 1/4 tsp
Coriander powder / dhaniya powder – 1/2 tsp
Red chili powder – 1/2 tsp
Salt as per taste
Vegetable oil – 2 tsp
Method:
1) Sprinkle some water on the bread and leave it aside for few minutes. mash it nicely.
2) Add all the ingredients except oil in a mixing bowl and mix it well. Only sprinkle more water if you are not able to combine it. Make small balls and set it aside.
3)Heat the appe pan and add few drops of oil in every hole. Shallow fry kofta balls in appe pan.  Keep turning them gently in appe pan so that they fry evenly.  Fry till they turn brown from all sides.
Place the fried ball on paper tissues to drain excess oil and keep them ready.
You can also deep fry these koftas balls in vegetable oil if you do not have appe pan. Now lets learn how to make curry with these koftas.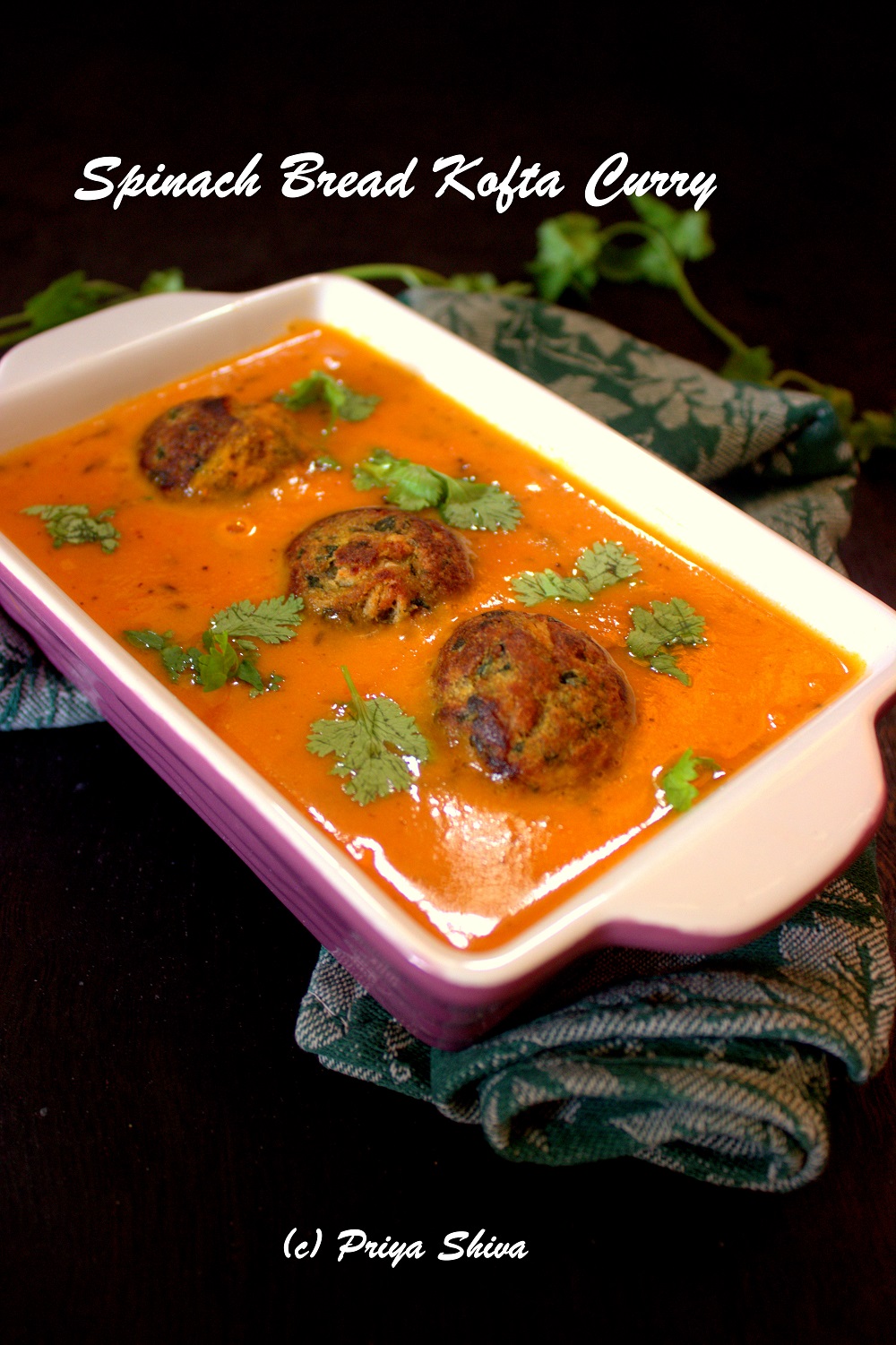 Spinach Bread Kofta Curry
Author:
Prep time:
Cook time:
Total time:
Enjoy delicious curry made with bread koftas which are added in a rich gravy!
Ingredients
Fried Koftas – 4-5
2 large tomatoes (finely chopped)
1 big onion (peeled and finely chopped)
1 inch ginger (peeled and chopped)
6 cashews (chopped)
Cumin seeds/Jeera – 1 tsp
Red chili powder – 1 tsp
Turmeric powder – 1/4 tsp
Home-made Garam Masala – 1 tsp
Salt as per taste
Cooking oil – 2 tbsp
Instructions
Soak cashew in little water for 30 minutes. Drain the water.
Add chopped onions, ginger, cashews in your grinder and grind it to make a smooth paste. Do not add extra water. Keep this paste separately.
Now add chopped tomatoes and grind it to a smooth paste.
Heat the oil in a frying pan and add cumin seeds and saute for few seconds. Now add onion paste and stir well till the paste turn it starts leaving oil on the sides.
Add turmeric powder, garam masala, red chili powder and stir well.
Add 1/2 cup of water, salt to taste and bring it to boil and low the flame.
Keep stirring and let it simmer for  few minutes.
Now add the fried koftas and remove from the flame.
Garnish with coriander leaves and serve this curry with rotis/naan or steamed rice.
Yum