A refreshing bowl of salad is a must for this summer. Sweet corn and cherry tomatoes salad is a perfect choice and a drizzle of mint infused olive oil is like a match made in heaven. It is refreshing, filling and simply delicious.Herb infused oil for salad dressing is a wonderful idea. It is so easy to prepare at home without much efforts. I have used mint infused oil and sharing the recipe. You can always make it in a larger quantity and store this oil for future use. Try this refreshing salad and enjoy your day.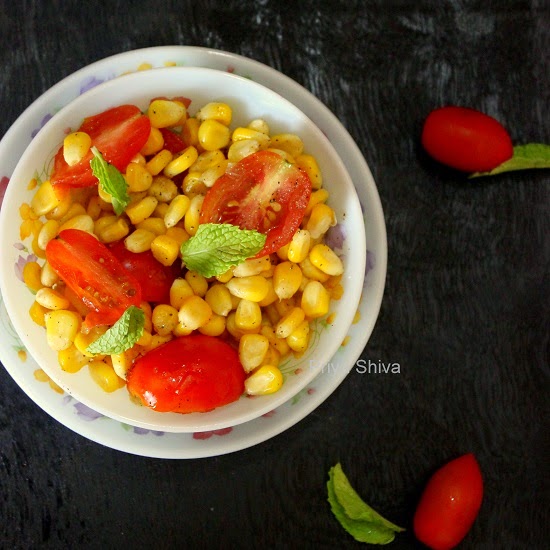 Serves – 1 bowl
Ingredients:
Sweet corn – 1 cup
Cherry Tomatoes – 3
Mint leaves – 5
Olive oil – 1 tbsp
Salt as per taste
Lemon Juice – 1 tsp
Back pepper powder – 1/2 tsp
Method:

1) Clean and boil sweet corn in a pan with some water for 4-5 minutes or till its cooked and you are able to mash the corn between your fingers. Drain the water and spread the corn in a plate for it to cool down.
2) Divide cherry tomatoes in equal halves.
3) Warm olive oil in a small sauce pan and add mint leaves. When it mint leaves become translucent, remove from flame and let it cool down. Remove the mint leaves.
4) Add boiled corn, cherry tomatoes, salt, lemon juice, black pepper, mint infused olive oil in a mixing bowl and mix it well. Set it aside for 10 minutes.
Transfer content in a serving bowl and garnish some mint leaves.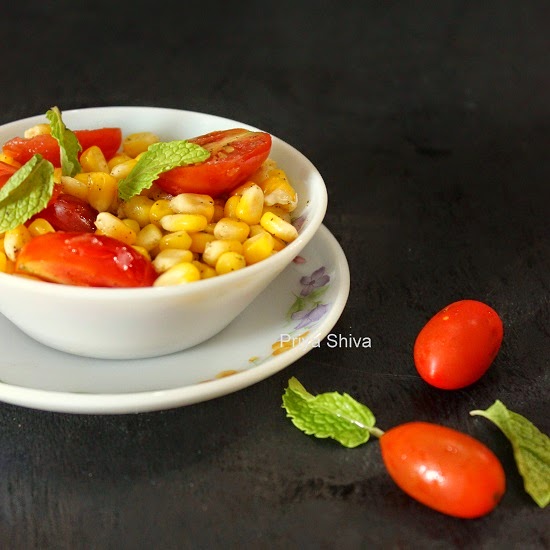 Yum