Last few days had been really hectic with my in-laws visit, entertaining friends over lunch and dinner. It was also a long weekend and enjoyed some family time. I made some quick snacks to enjoy during holidays and one of family favorite were these cashew brittle. They are easy to make and so delicious that everyone loves them. I have shared a recipe for peanut jaggery balls earlier and these chikkis are also made in a similar way. Its winter time and its always fun to have some munchies and nuts with a cup of tea or coffee. You can store them even for 3 months but they wont last for so long 🙂 ..So, sharing a quick snack recipe and hope you all enjoy making it and enjoy with your family.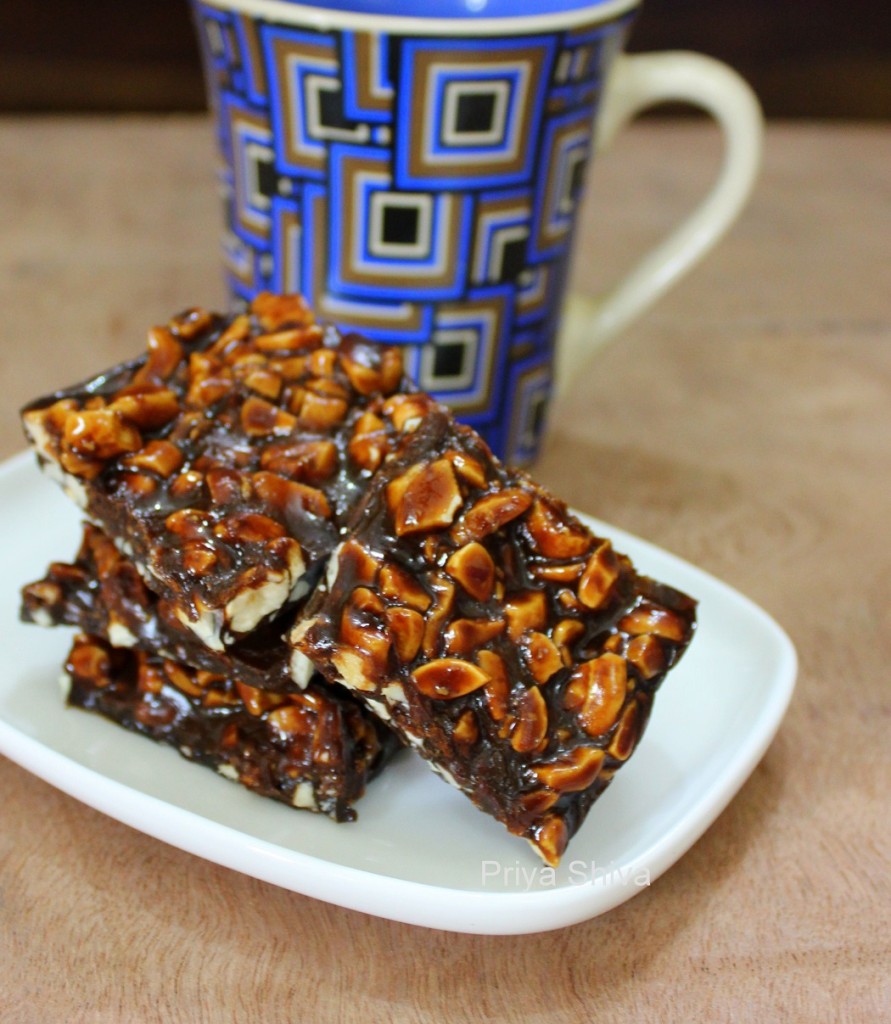 Kaju Ki Chikki / Cashew Jaggery Brittle
Make a quick and healthy snack with some cashews and jaggery!
Ingredients
Broken Cashew - 1 cup

Jaggery - 1 cup

powdered

Water - 1/4 cup

Cardamom powder - a pinch

optional

Ghee/oil to grease the plate - 1 tsp
Instructions
Grease a plate with oil or ghee and keep it ready.

Heat a frying pan and roast cashews on low flame for 2 minutes. Transfer the content on a plate.

Heat the same pan, add water and jaggery and bring it to boil. Once it starts boiling, switch off the gas stove and strain it to remove impurities.

Wash the pan once and heat it again. Add the jaggery syrup, cardamom powder and boil it again for 2 minutes. Keep a small bowl with little water handy.

Lower the flame and add few drops of jaggery syrup in the bowl to check consistency. It should not get dissolved in water immediately and you should be able to form a ball with it.

If you've not reached this consistency, boil it for few more minutes and check again.

Once you've reached that consistency, add roasted cashews and gently mix well.

Transfer the content onto the greased plate and spread evenly.

Cut it into equal pieces using a knife when it is still warm. When it completely cools down, break into pieces and store in air-tight container.
Yum