Breakfast is always important for me as it keeps me steady and pepped-up for the whole day. I saw some over-ripe bananas which no one will even touch in my house and thought of using it to make some healthy breakfast today. I firstly thought of baking some banana bread but then I saw my mini uttapam pan. So, finally decided to make some pancakes using ripe bananas. I had earlier shared a recipe to make some fluffy pancakes but I had used all purpose flour in it. This time I decided to make the pancakes using whole wheat flour which is more healthy and served it drizzled with chocolate sauce..Who can resist chocolate 🙂 .. I could see my little boy smiling and I was happy to see him going to school cheerfully..
You can also watch this quick video to make blueberry pancakes.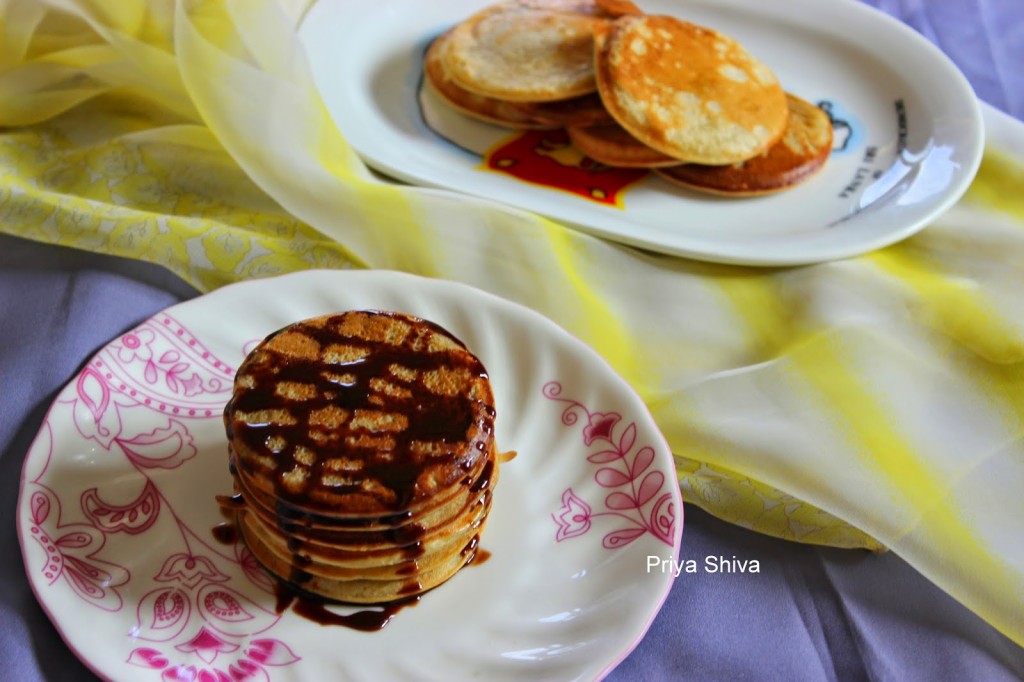 My mini pancake pan is makes some cute pancakes. Isn't it amazing? 🙂 ..Cook the pancakes on low flame.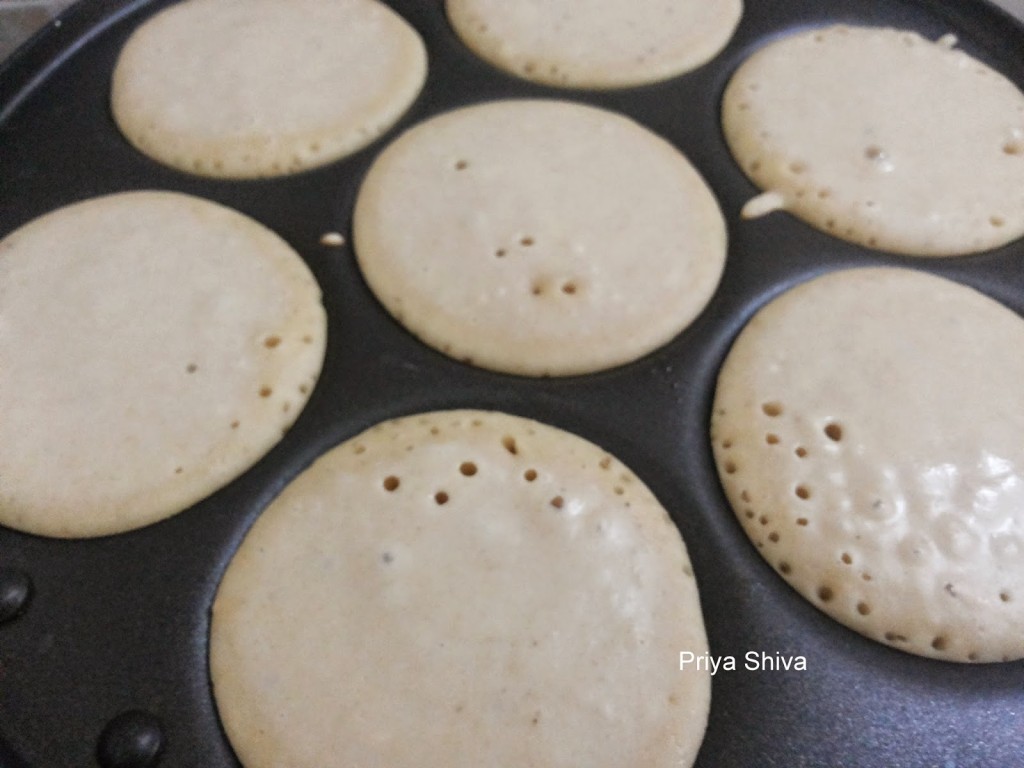 Do not spread too much or they will not be fluffy and let it cook on low flame. You will see holes forming and color changing.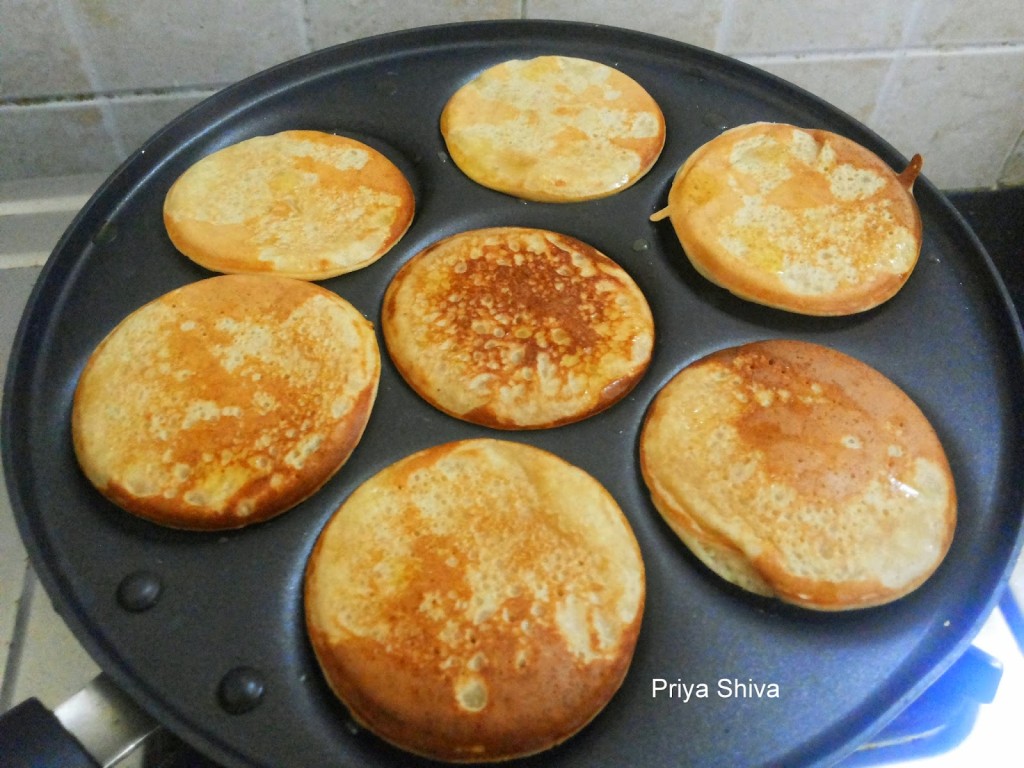 Carefully flip and let the other side also cook properly.  These pancakes are just too good drizzled with some chocolate sauce..Do try them out and enjoy 🙂 ..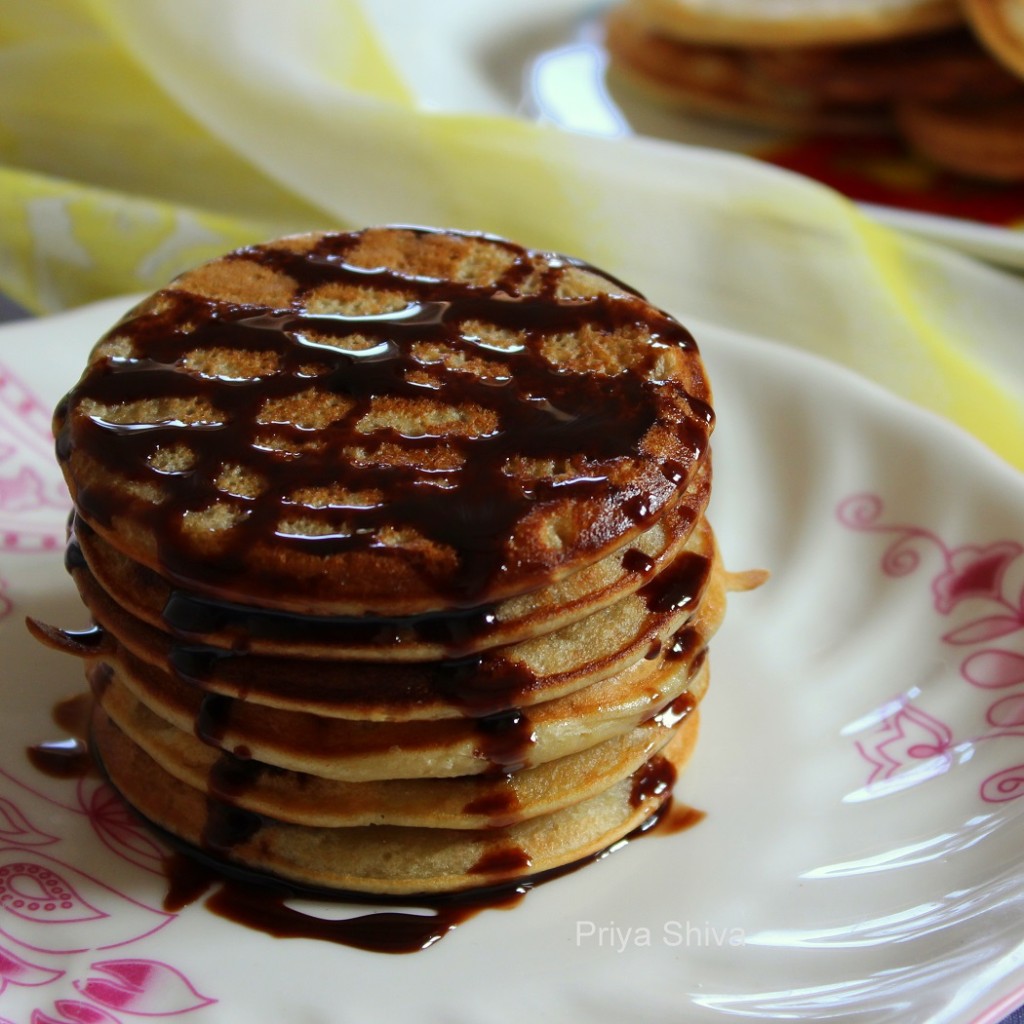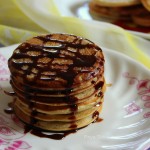 Eggless Whole Wheat banana Pancake
Make some delicious pancakes with over-ripe bananas and whole wheat flour!
Ingredients
Whole Wheat flour - 1 cup

Milk - 1+1/2 cup

vegans can use Soy milk or almond milk

Banana puree - 1 cup

Sugar - 1 tbsp

Salt - 1/2 tsp

Vanilla Essence - 1/2 tsp

Cinnamon Powder - a generous pinch

optional

Green Cardamom Powder - a generous pinch

optional

Baking Powder - 2 tsp

Melted butter for pan - 1 tbsp
Instructions
Add all ingredients except butter in a mixing bowl and mix it well to make a smooth batter. You can add more milk if you feel the batter is too thick. Keep it aside for 10 minutes.

Heat a non-stick griddle/pancake pan for a minute. Drizzle little butter over the pan.

Lower the flame and pour a ladle full of batter.

Carefully flip it to the other side and let it cook a minute on low flame.

Serve it warm topped with chocolate syrup, butter and honey or maple syrup.
Yum