This is a recipe for an easy mixture/namkeen which you can make at home for any occasion like Diwali or simply keep it ready to serve as an evening snack. I Have already shared recipes for Kara Boondi and Sev and you can use them to make this easy mixture.
Ingredients:
Sev (click here for recipe) – 2 cups
Boondi (click here for recipe) – 2 cups
Roasted peanuts – 1/2 cup
Roasted Cashews – 1/2 cup
Curry leaves – 2 sprigs
Beaten rice – 1 cup
Roasted Gram (optional)
Cooking Oil
Salt to taste
Red chilly Powder for taste
Method:
1) Make Sev and boondi and keep it ready. Click on the names in ingredient list for recipe.
2) Heat a frying pan with 2 cups of oil in it. To make sure to check if oil is ready, add few beaten rice to the hot oil. If it puffs up right away, oil is ready for deep frying.
2) Take a deep slotted ladle and add a fistful of beaten rice in the ladle. Dip the ladle carefully in the oil. The cornflakes will puff up immediately as the oil is hot. You can lightly stir with a spoon.
3) Drain the excess oil and place the fried beaten rice on to a tissue to remove excess oil. Fry the remaining beaten rice similar way.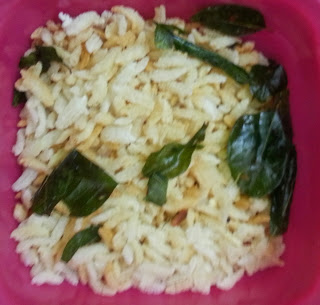 4) Add 1 tsp cooking oil and roast peanuts for few minutes on low flame and keep them aside. 5) Now add 1 tsp of oil and roast some cashews in the same frying pan and roast till they turn light golden brown and keep it aside.
6) Wash and dry curry leaves by sun-drying or spreading them on towel and leave it for an hour. Add 1 tsp cooking oil in the same and roast curry leaves on low flame for a minute.
7) Mix all ingredients and add salt and red chilly powder to taste and enjoy it with your evening tea/coffee.
Once the content cools down completely, store the mixture in air-tight container. You can store this for upto 2 weeks in a cool place. Do not refrigerate.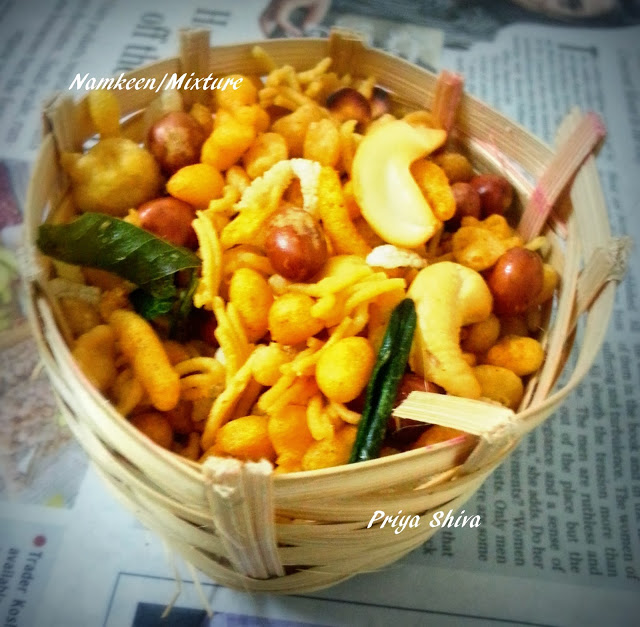 Yum