Rasam is an Indian clear soup and traditionally made with tamarind pulp, spices and tomatoes. Today, I made some lemon rasam which goes very well with rice and some Stir fry veggies. You can also drink it simply as a comforting soup. I have used home-made rasam powder as home grounded spices are fresh and really enhances the taste and aroma of the dish.
Click Here for Home-made Rasam Powder recipe
So, sharing an easy recipe to make some lemon rasam and hope you all have a great day.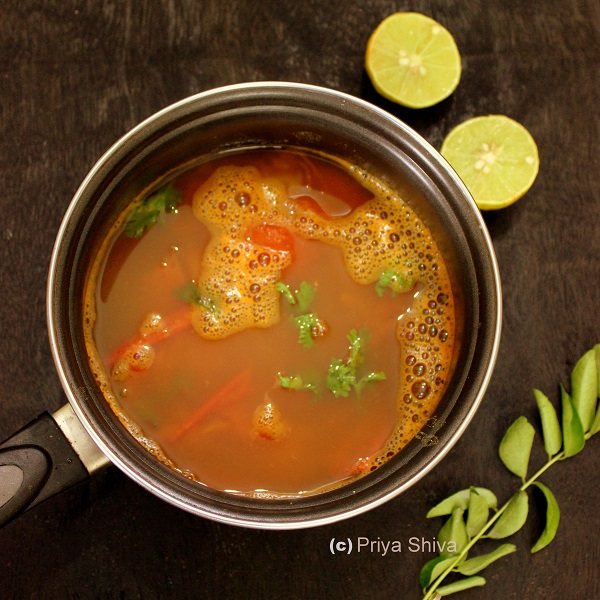 Lemon Rasam
Make Comforting Tomato Rasam using home-made rasam powder!
Ingredients
Lemon - 1
Cooked and Mashed Toor dal/yellow pigeon peas spilt - ¼ cup
Tomatoes - 2 (Chopped)
Grated ginger - 1 tsp
Rasam powder - 2 tsp
Mustard seeds - 1 tsp
Salt to taste
Asafoetida - a generous pinch
Turmeric powder - ½ tsp
Coriander leaves for garnishing
Instructions
Microwave lemon for 15 seconds. Juice the lemon in a bowl and keep it aside.
Add chopped tomatoes, 4 cups of water, ginger, rasam powder, a pinch of asafoetida, turmeric powder and boil it for few minutes on low flame. Keep stirring in between.
Now add cooked dal into it and add some salt and mix it well. Remove from the flame, add squeezed lemon juice and mix it well.
Take a small frying pan and add 1 tbsp ghee and mustard seeds to it. Once the seeds crackle, add it in rasam and garnish it with some coriander leaves.
Enjoy it with rice or you can also drink it as a soup.
Yum