The best part of blogging is to learn new things, read about its origin and explore more. Cobbler refers to a variety of dishes consisting of a fruit or savory filling poured into a large baking dish and covered with a batter, biscuit, or pie crust. This dish originated in early British colonies and now very popular in UK and United States. I love anything with strawberries and this dish is delicious with sugary strawberries. You can also use any kind of berries and cut down on sugar. I love sweet things and perfect for me :)Have a great weekend friends!!!
recipe source – DivasCanCook
Ingredients
Fresh strawberries – 3 cups (hulled and diced)
Sugar – 3/4 cup
All purpose flour – 1 cup
Baking powder – 2 tsp
Salt – 1/2 tsp
Sugar – 1/2 cup
Milk – 1 cup
Vanilla extract – 1/2 tsp
Unsalted Butter – 100grams (melted)
Method:
1) Preheat oven to 180 degree Celsius.
2) Add strawberries and 3/4 cup sugar in a mixing bowl and stir well to coat strawberries in sugar and set it aside.
3)  Take another large bowl and whisk together flour, baking powder, salt and 1/2 cup sugar.
4) Add in milk, vanilla extract and melted butter and stir well. Its okay even if there are few lumps.
5) Grease a 9-inch casserole dish. Pour batter evenly into the dish.
6) Spoon strawberries evenly on top of batter. Do not stir
7) Bake at same temperature for 35 minutes or until the crust starts turning golden.
Serve it hot or I have served it chilled with some vanilla ice-cream.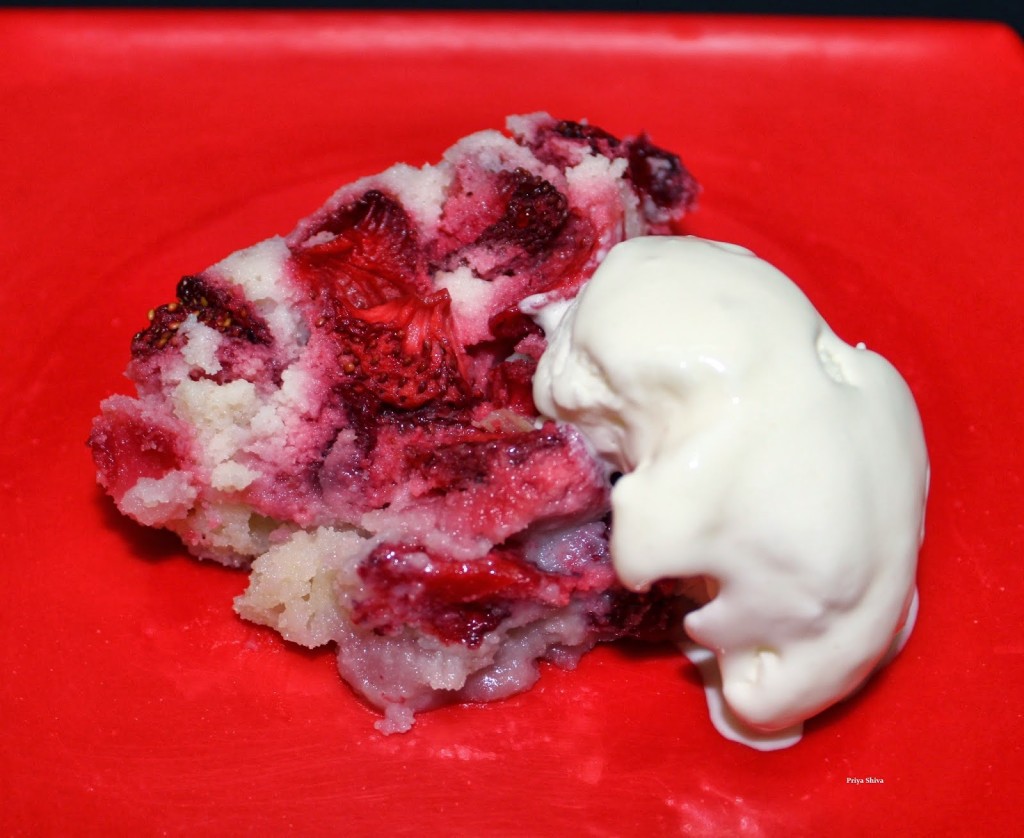 Yum