I'm sharing Kesar thandai recipe especially for Holi today. Holi is a festival of colours in India and celebrated in spring time. People come together for this occasion and enjoy this festival singing, dancing, enjoying food and of course throwing colour on each other. One of the drink which is enjoyed in this festival is Thandai. It is a milk based summer drink with a mix of spices, nuts and full cream milk. It is chilled and served as this drink has a cooling effect on the body.
I specially love this Kesar Thandai when served in earthenware absolutely chilled. So, Happy Holi to all my readers and hope this colourful festival bring all the colours in your lives! You can also make these paan shots and enjoy.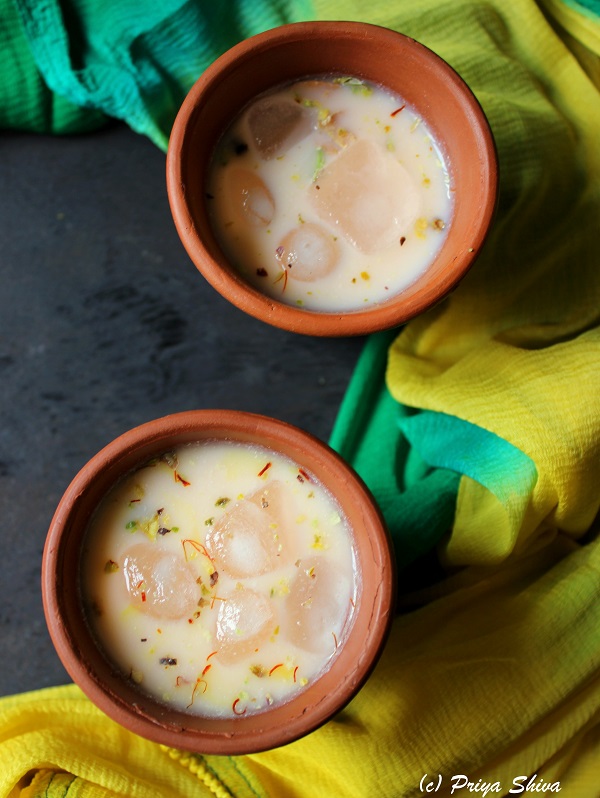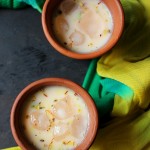 Ingredients
Milk - 1 liter

Almonds - 20

Cashews - 15

Pistachios - 10

Melon seeds/ magaz - 2 tbsp

Poppy seeds/khuskhus - 2 tbsp

Saffron/kesar - 15 strands

Sugar - 3/4 cup

Green cardamoms - 4

Dried Rose petals - 10

Cinnamon - 1/2 inch stick

Black peppercorns - 4
Instructions
Soak cashews, almonds, poppy seeds, melon seeds, pistachios for an hour. Remove the skin of almonds & pistachios.

Grind green cardamoms, dried rose petals, cinnamon and black peppercorns to a fine powder.

Drain the water and grind it with little milk to make a paste.

Boil milk in a pan. Add saffron and mix. When the milk starts to boil, add sugar and simmer till the sugar melts.

Add spice powder in simmering milk and mix well.

Add the cashew-almond paste and simmer for few more minutes.

Remove from flame and let it cool down completely. Refrigerate the milk for few hours and serve.
Yum