Banana is one of the most nutritional and healthy fruit and thought of making Vegan Banana muffins with it for breakfast. These banana muffins are filled with goodness of bananas and crunchiness of walnuts and a perfect treat for your family.
Check out this quick video to make these banana muffins:
You can use any type of banana to make these muffins but make sure they are really ripe. I have used Idhayam Mantra groudnut oil for making these breakfast muffins. I have been using Idhayam Sesame oil and Idhayam Mantra groundnut oil for a long time now and I'm really happy with it. They are absolutely pure and natural edible oil. Click here to check out Idhayam products and know more about them.
So, try some eggless banana muffins for breakfast and share the feedback.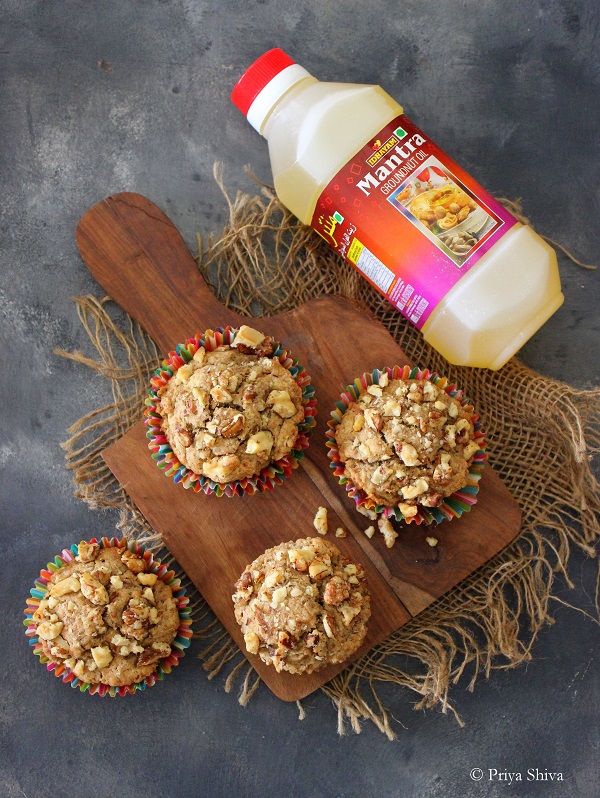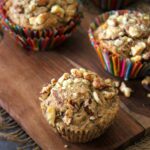 Eggless Banana Muffin / Vegan Banana Muffins
Thinking what to do with over-ripe bananas? Make some delicious banana muffins for breakfast with a crunch of walnuts!
Ingredients
All purpose Flour/Maida - 3/4 cup

Ripe Bananas - 2 small ones

Idhayam Mantra Groundnut Oil - 1/4 cup

Brown Sugar - 1/4 cup

Baking powder - 1/2 tsp

Baking soda - 1/2 tsp

Vanilla essence - 1/2 tsp

Walnut - 1/2 cup finely chopped
Instructions
Sift all purpose flour, baking powder, baking soda and keep it aside.

Preheat oven at 180 degree Celsius.

Peel the skin of bananas and mash it well.

Add oil, mashed bananas, vanilla essence in a mixing bowl and mix well. Fold in sugar and mix well until sugar completely dissolves.

Now add all purpose flour (sifted with baking powder, baking soda) slowly to the mix and fold. Do not over mix. The flour must get moistened.

Keep 2 tbsp walnuts separately and add remaining chopped walnuts in the mix and give a quick stir.

Grease the muffin cups with some oil evenly or use liners and add the batter to it. Make sure to fill each muffin cup till 3/4 cup and sprinkle some nuts on top.

Bake at same temperature for 25-30 minutes or till it turns golden brown.

Once it has cooled down, remove from the muffin cup and enjoy!!
Recipe Notes
You can use any type of bananas but make sure that they are really ripe.
Yum