Chennai has only one climate – hot, hotter, hottest! The summer is really bad and the humidity drains you out. So, I always have some frozen desserts ready which I can enjoy with my family. Strawberry is one of the favourite fruit which my kid enjoys and loves it in dessert. He does not like  plain yogurt but loves sweet flavoured yogurt. Even I love strawberries and you all know how big is my sweet tooth 🙂 So, sharing a quick frozen dessert recipe to enjoy!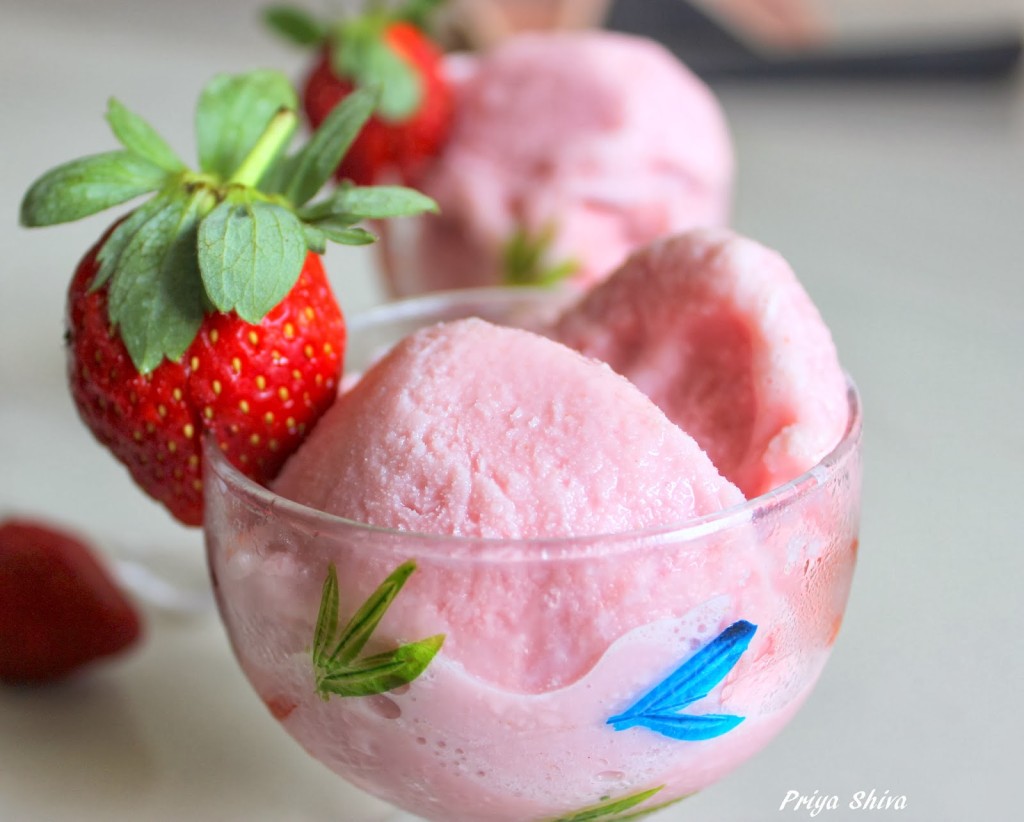 Strawberry Frozen Yogurt
Author:
Prep time:
Total time:
Make a quick and easy frozen yogurt with fresh strawberries!
Ingredients
4 cups / 500 gm strawberries (hulled and chopped)
1 cup sugar
2 tsp freshly squeezed lemon juice
2 cups whole milk yogurt
1/2 cup heavy cream
Instructions
Combine the strawberries, sugar, and lemon juice in a mixing bowl and stir well.
Cover with plastic wrap and leave it at room temperature for about an hour (stirring in between) until the mixture is nice and syrupy.
Combine the strawberry mix, cream and yogurt in a blender and blitz it until smooth. Place a sieve over a bowl and strain the purée into the bowl to remove the seeds. Discard the seeds.
Transfer the content into ice-cream box or plastic box and cover it. Freeze it for 2 hours.
Remove from freezer and keep it open for 5-10 minutes or until just softened. Spoon into blender and blitz it for 5 minutes.
) Transfer it into a plastic container or ice-cream box and cover the surface with plastic wrap. Freeze for 2-3 hours or until firm.
Notes
For the best consistency, use whole milk yogurt. if you're using low-fat yogurt, add more cream.
Yum