Methi paratha served with pickle and curd makes it a perfect breakfast on any given day. I love to cook with fenugreek leaves which is also known as methi in India. I wanted to have something hot and filling for the morning breakfast and nothing better than paratha with some pickles.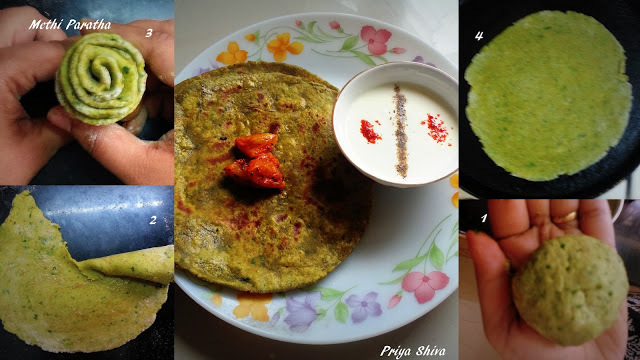 So, I made some Methi Paratha which is nutritious and a lovely combo with some pickles for breakfast. Fresh fenugreek leaves have all the goodness of greens. They are rich in Vitamin K, iron and proteins. So, sharing a detailed recipe today to make some flat breads with fenugreek leaves.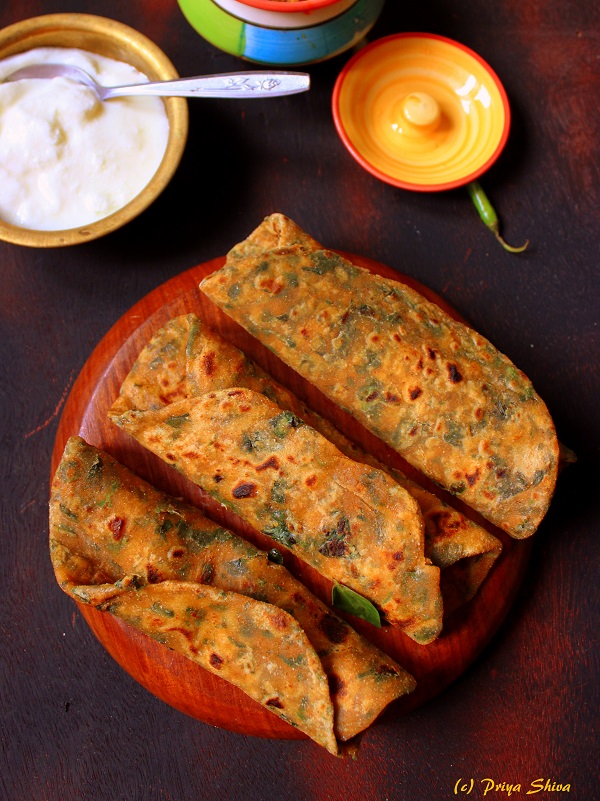 Methi Paratha Recipe
Author:
Prep time:
Cook time:
Total time:
Ingredients
Wheat Flour/atta – 2 cups
Methi/fenugreek Leavs – 2 cups
Chilli Powder – 1 tsp
Salt to taste
Vegetable oil – 2 tsp
Ghee – 4 tbsp
Instructions
Clean fenugreek leaves with water and finely chop it.
Add chopped fenugreek leaves, wheat flour, 2 tsp oil, chilli powder and salt in a mixing bowl.
Start mixing using your hands to form a soft dough. Divide them into equal lemon size balls.
Roll out ball in round shape with rolling pin and spread 1/2 tsp ghee on it.. Tear from one side tille middle of the circle and start folding it as shown in the picture.
Flat this ball again in a round shape.
Now cook it on a tawa/griddle till both sides are little golden brown, spread little ghee on both sides. Serve it hot with some curd and chilli/lime pickle.
Yum