Kuthiraivali Pidi Kozhukattai is a steamed dumpling made with barnyard millet. It is also known as Kuthiraivali Upma Kozhukattai. Breakfast is the most important meal of the day and it is equally important to have healthy food. You can even serve them as evening snack or pack them in your kids lunch box. Watch This quick video to make these steamed dumplings with barnyard millet.
Millets used to be a poor man's food, but not anymore.. The benefits of including millets in your diet are high and I'm a big fan of millets. This is a recipe for steamed dumplings made with de-husked barnyard millet. Barnyard millet is high in fiber and have many other health benefits. So, sharing the recipe Kuthiraivali Pidi Kozhukattai and hope you all enjoy making it too.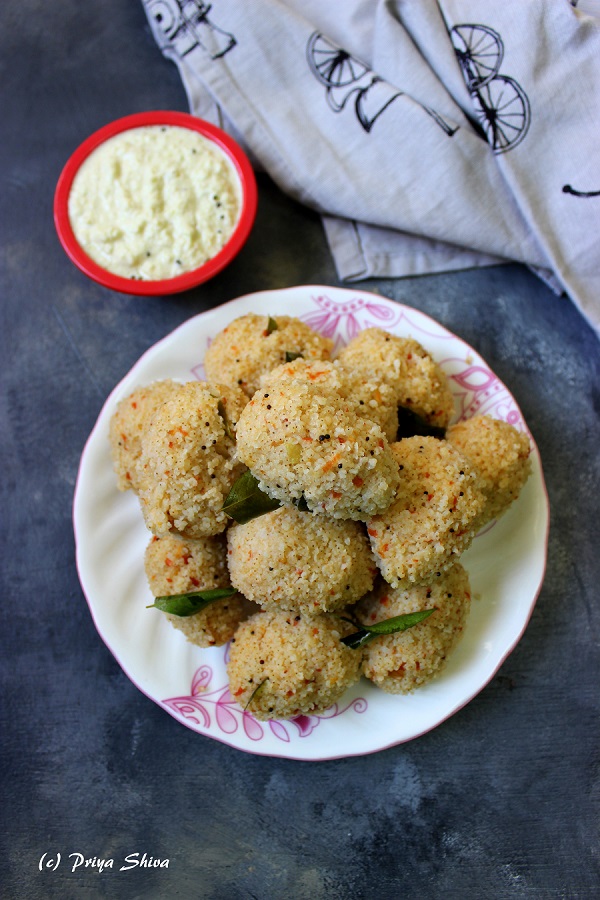 Kuthiraivali Pidi Kozhukattai
Ingredients
kuthiraivali/ Barnyard millet - 1 cup

Carrot - 1

grated

Water - 2+1/4 cups

Mustard Seeds - 1/2 tsp

Urad dal/White lentil - 1 tbsp

Curry leaves - 1 sprig

Green chillies - 2

chopped

Ginger - 1 tbsp

chopped

Asafoetida - 1/4 tsp

Salt to taste

Vegetable Oil - 2 tsp
Instructions
Clean barnyard rice and roast it in a pan on low flame for 5 minutes. Transfer it in a bowl.

Heat oil in a pan, add mustard seeds. When seeds crackles add white lentil, curry leaves, green chillies, ginger, asafoetida and saute till lentil turns golden brown.

Then add water, grated carrot and bring it to boil.

Once water starts to boil, add salt to taste and add roasted millet. Keep stirring.

Once the water is absorbed fully, remove pan from flame and let it cool down.

Take a fistful and form a dumpling.

Grease an idli plate with little oil and place the dumpling on it. Steam it for 5 minutes.

Enjoy these steamed dumplings with chutney.
Yum