Puttu is a popular dish from Kerala, India made with grounded rice/ragi mixed with coconut. It is steamed in puttu maker and a very healthy food. This is usually served with black chickpeas in Kerala.
This is the first time I tried making puttu and to my surprise came out really well. Finger millet is a highly nutritional millet. It contains nutrients like proteins, calcium, iron, thiamine and fiber, and due to rich fiber content, ragi is believed to be a good laxative and prevents constipation.
How to make Quick Raagi Flour ?
1) Dry roast the millet seeds in a pan on low flame for few minutes.
2) Transfer the content on a plate and let it cool down completely.
3) Now grind it up into flour.
Ingredients:
Ragi flour /Finger millet flour – 1 cup
Grated coconut – 1/2 cup
Salt to taste
Method:
1) Add ragi flour in a frying pan and dry roast it for a minute on low flame and transfer into a bowl and let it cool down completely.
2) Take a cup of warm water and add salt to it.
3) Sprinkle this water little by little over the flour and mix.
4) As shown on the above picture, keep mixing and add little by little water. If any lumps are formed, don't worry as you can break it with your hands.
5) When you hold the mix in your hand it should hold to form a ball but it should crumble back easily as shown in the above picture.
6) Now your mix is ready. Add some amount of grated coconut firstly in the puttu maker and then some ragi flour followed by coconut and again ragi flour till it reaches the edge of the puttu maker. Steam it for about 5 minutes on high flame and then 10 minutes on low flame.
Tip: If you don't have a puttu maker handy, you can make the same thing in your idli stand. You can mix coconut and ragi flour and add it to the idli stands.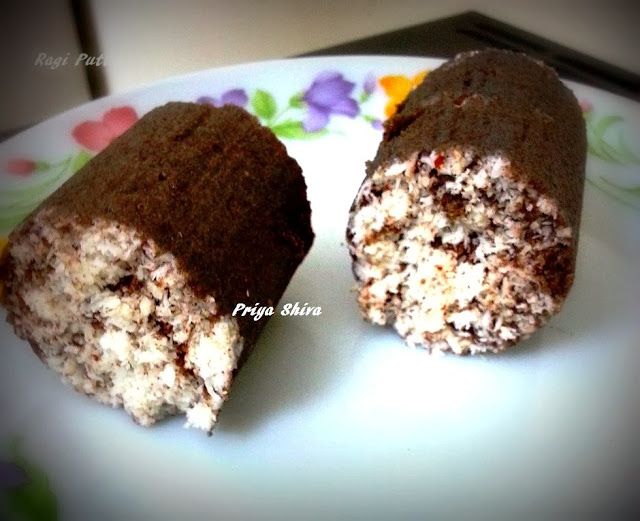 Yum