I love snacking on Moong dal Pakoda with my evening ginger tea whenever I get a chance. It is even perfect for an rainy day or to get cosy on a winter evening. Well, who needs a reason to snack on your favorites! I'm sharing aan easy recipe to make them with you all.
Check out the video to make Moong dal Pakoda:
It is important that you are consious about the edible oil you are using especially when deep frying snacks. Did you all know that peanut oil is famous around the world for cooking? My grandma always used to cook with groundnut oil or coconut oil for deep frying even Appalam! I have started using Idhayam Mantra groudnut oil and I believe that my family is eating healthier food. Peanut oil is famous for its higher smoke point which makes it ideal for deep frying snacks. I would not want my food to soak up that extra oil!
I would also want you all to remember that never refrigerate pakoda batter or vada batter. It will soak up more oil while deep frying. Eat fresh, stay fresh!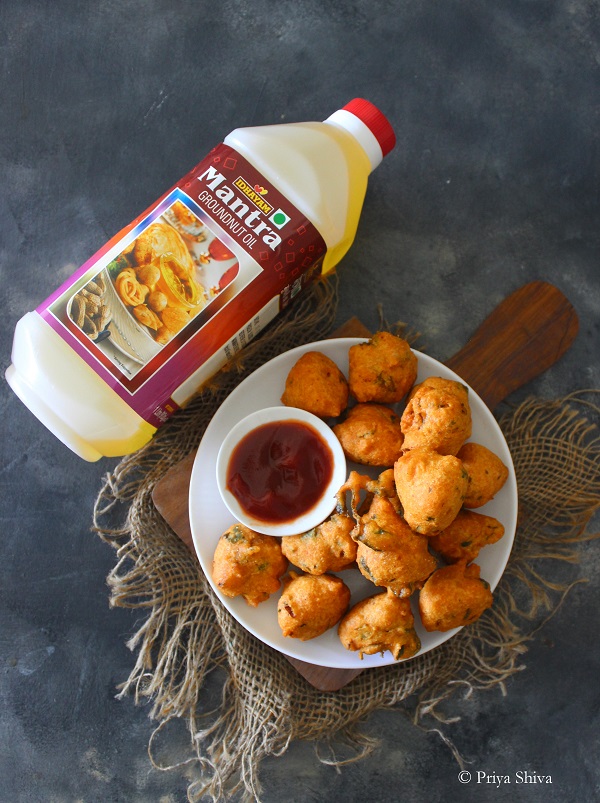 Moong dal is yellow lentil and this snack is really light on your tummy and delicious too! So, check out the recipe to make Moong dal pakoda for snacking. You can also try paruppu vadai recipe from my blog.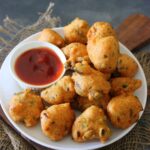 Moong dal pakoda
Ingredients
Yellow lentil / Moong dhuli - 1 cup

onion - 1 (finely chopped)

Chopped green chilies - 1 tbsp

Finely chopped coriander leaves - 3 tbsp

Red chilli powder - 1 tsp

Salt to taste

Asafoetida - 1/4 tsp

Idhayam Mantra groundnut oil for deep frying
Instructions
Clean and soak yellow lentil in water for 3 hours. Drain the water completely and grind it to make a batter. Do not add water while grinding.

Transfer the batter into a bowl, add salt to taste, red chilli powder, chopped onion, green chilli, chopped coriander, asafoetida and mix well.

Heat some oil in a frying pan. Make sure to check if oil is ready. You can check by dropping a small portion of the batter in the hot oil and if it immediately comes on top, oil is ready.

Take a small portion of batter in your hands and drop it into the oil carefully. You can also use a spoon to drop the batter into the hot oil.

Deep fry in oil on low-medium flame till it turns golden brown. Drain excess oil. Enjoy for snacking.
Yum