Ganesha is my favorite God and I love making kozhukattai for Him. I'm sharing a recipe to make Ellu Thengai Kozhukattai with a video recipe. Ellu means sesame and thengai means coconut. So, thats how these kozhukattai or modak got its name. It is also known as Til Nariyal Modak in North India. 
Check out the video to make these yummy kozhukattai:
Sesame seeds are very auspicious for Ganeha even as per our vedic poojas and rituals. Modaks are Ganesha's favorite food and we make it for his birthday which is celebrated as Ganesh Chaturthi or Vinayaka Chaturthi. We also make these kozhukattais for Varalakshmi Nombu. I have used Idhayam Sesame Oil to make Modaks.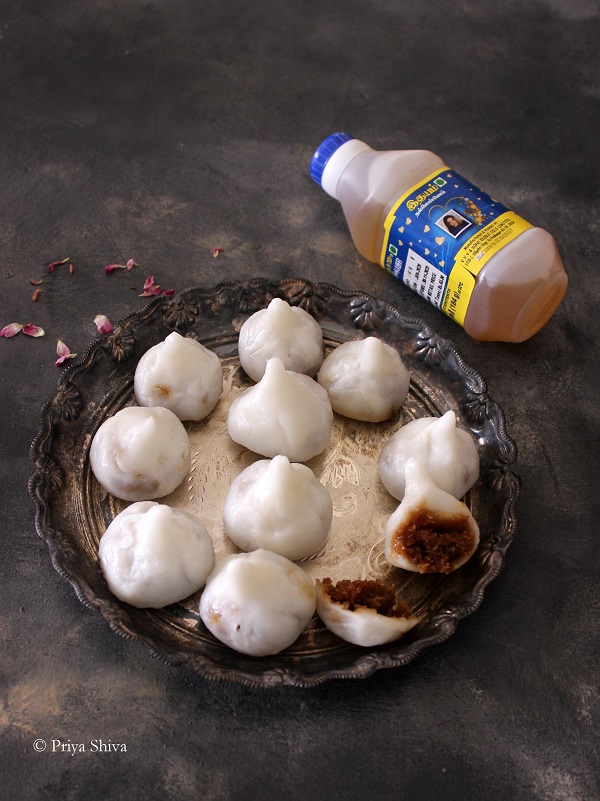 Idhayam Sesame oil is made with best sourced sesame seeds. It is a natural cooking oil which has many health benefits. One should use natural oil for cooking and avoid those refined oils available in the market. Some of the benefits of Idhayam Sesame oil are:
Sesame oil is extremely good for your hair and skin. Massage your hair with sesame oil weekely once and you will see the difference especially if you have dry hair or having hairfall.

Sesame oil has amino acid which help fight stress and depression. 

Sesame oil is really good to relieve joint pains.

Oil pulling is an ancient Ayurvedic technique. It helps in oral health and removing plaque. Take a tablespoon of sesame oil in empty stomach and swish around in the mouth for few minutes and then spit it out. It helps to remove toxins from the body. 
Click here to know more about Idhayam Sesame oil. I have also used Idhayam Sambanadhi Sesame seeds. They are creamy in colour which is the natural colour of sesame seeds unlike polished Sesame seeds available in market. 
So, check out the detailed recipe to make Til Nariyal Modak for this Ganesh Chaturthi and enjoy. You can also try out Paal kozhukattai recipe from my blog.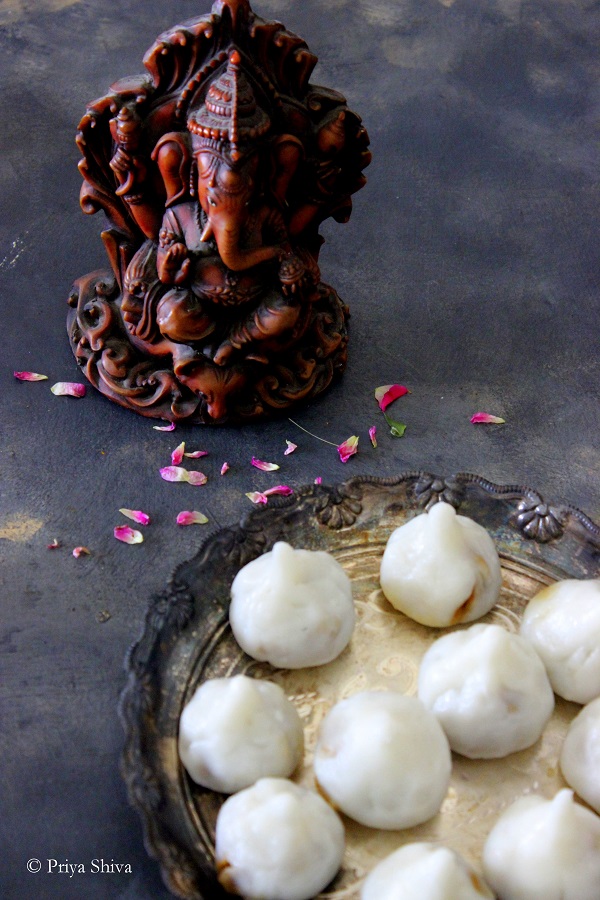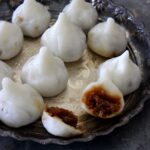 Ellu Thengai Kozhukattai - Til Nariyal Modak
Ingredients
Raw rice - 1 cup

Salt - 1/4 tsp

Idhayam Sesame Oil - 1 tbsp

Freshly dessicated Coconut - 1/2 Cup

Jaggery - 1/2 Cup (powdered)

Cardamom - 2 (powdered)

Ghee - 1 tsp

Idhayam Sambandhi Sesame Seeds - 2 tbsp
Instructions
Roast 2 tbsp sesame seeds nicely. Keep stirring till it turns light brown evenly. Let it cool down and grind it to make a powder.

Clean and soak rice in water for 1 hour. Drain the water and grind it with 1 cup of water to make a smooth batter.

Heat a pan and add the batter, salt, 1 tbsp sesame oil and 1 cup of water to it.

Lower the flame and keep stirring till it becomes a dough and remove from the gas stove. Transfer in a bowl and keep it closed.

Knead the dough nicely with oil greased hands.

Heat a pan with 4 tbsp water and add grated jaggery to it. Once jaggery melts, remove from flame and strain it.

Heat the pan again and add jaggery water. When it starts thickening, add the grated coconut, roasted sesame seeds powder to it and keep stirring for few minutes. Add ghee and mix well.

Add the cardamom powder to it and mix it well. The poornam is ready.

Grease your hands with sesame oil and take some poornam in your hand and roll it into small balls.

Take a little rice dough and make a ball of it. Press in the middle of the ball and start flattening it and form a cup.

Place the poornam in it and close it. Follow the same steps for rest of the poornam balls.

Take an idli plate and grease it with sesame oil. Place all the Kozhukattai on it and steam it for 6-8 minutes. 
Yum