Storing grains and pulses in your pantry or kitchen can be challenging. The biggest threat can be the attack from bugs and insects, but moisture and heat can also damage your produce. So, it is important to store the grains properly in air-tight jars to prevent insects from getting in, and you should also keep the storage area cool and dry. To do this, you may need to air-condition the storage area. Head to a site like https://saltle.com/electrical-services-austin-tx/electrical-panel-upgrade-and-replacement/ to have your electrics updated so that you can efficiently cool the room. Once the room is ready, prepare your grains and pulses. Sun-drying is one of the oldest and easiest methods used to store food grains. Sun-drying removes any moisture and keeps it fresh for a longer time.
Here's a list of other quick methods to store your grains and pulses:
Dried Neem leaves – Pluck fresh green Neem leaves and dry them in the sun. Spread these dried neem leaves in the bottom of the container.
Dried Red Chillies – Add 2-3 dried red chillies in the container holding your lentils and legumes and it will keep away the insects.
Roasting – The best way to store semolina or broken wheat is to roast it on a low flame for few minutes. Cool it and store in an airtight container. You can store it in freezer too.
Camphor – Small pieces of camphor tied in a piece of cloth will keep away the worms from rice.
Boric Powder – Mix boric powder with rice and pulses to keep away the insects.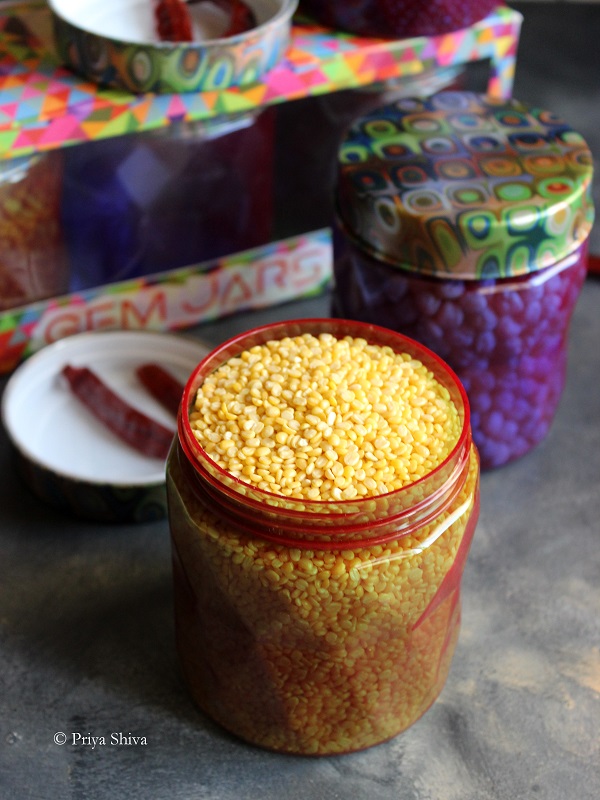 Your kitchen racks and shelves can very easily become chaotic if you are not careful. Organize things neatly in your kitchen. One of the quickest and simplest way to organize your kitchen shelves and make it look neat and tidy is to transfer food items into matching jars. It is important to keep your pantry clutter free and store grains in clean jars. I recently came across these Gem Jars by Nani. These gem jars are so vibrant and make your kitchen look pretty too! I love these Gem Jars and would recommend them for your kitchen too. So, Click here to know more about their products and place order for Gem jars. These plastic gem jars are BPA free and light weight too!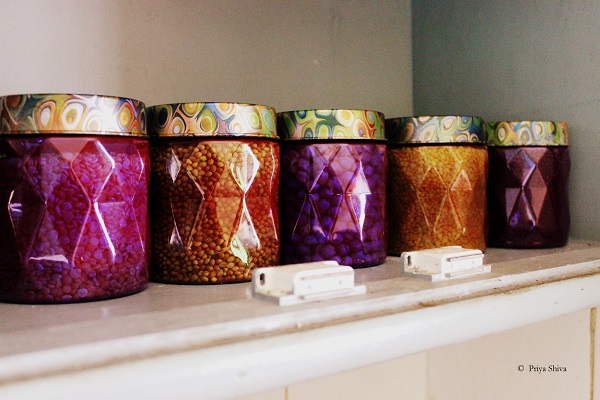 How to Store Herbs for a longer time:
The two most common herb used in the kitchen are Coriander leaves and Curry leaves. I use Nani Lock & strong containers to store these herbs. These containers are made with tritan plastic and BPA free. It is light weight and leak proof. These boxes can be used for various purposes.
How To store fresh coriander leaves:
– Trim the ends. Remove any damaged or dried stems and leaves from the bunch too.
– Spread it on a paper towel and let it dry.
– Place a dry paper towel in an airtight container.
– Arrange layers of coriander leaves.
– Place another dry paper towel over it.
– Close the container and refrigerate.
– It stays fresh for 2 weeks.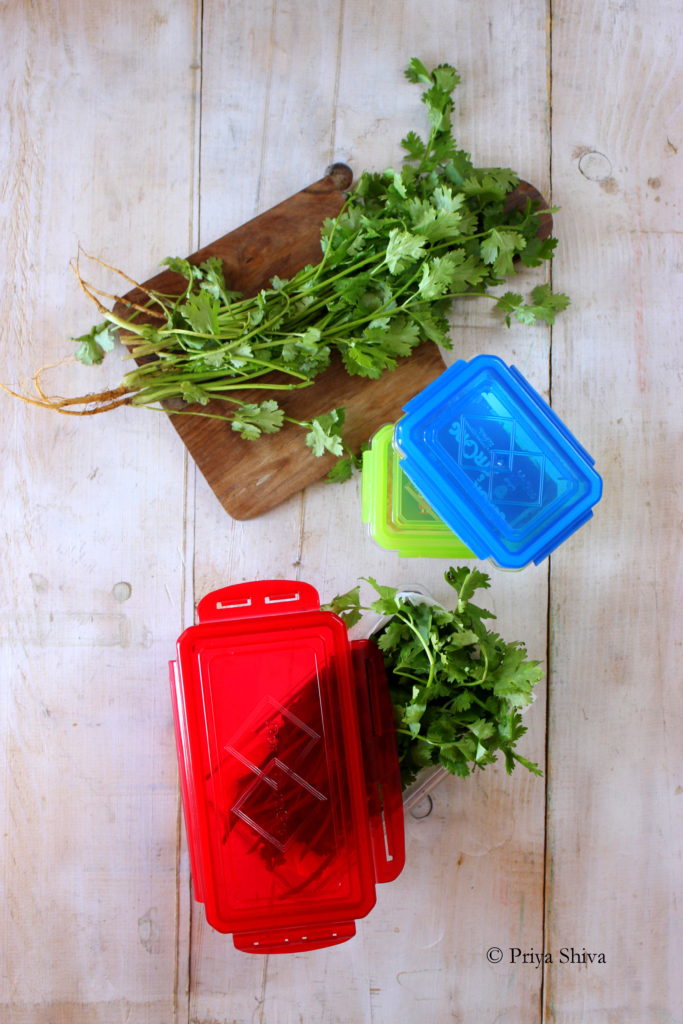 How to store fresh curry leaves:
– Separate curry leaves from the stems. Remove any damaged or dried leaves from the bunch.
– Spread it on a paper towel and let it dry.
– Place a dry paper towel in an airtight container.
– Add all curry leaves in it.
– Close the container and refrigerate.
– It stays fresh for 2-3 weeks.
I also use Nani Lock and strong containers to store freshly scraped coconut. I'm a South Indian and coconut is used in our diet every day. It could in sides like chutney or for main dishes like kozhumbu and curry. Nani Lock and Strong containers are so handy to are easily to clean and durable too! These Nani lock and strong containers are microwave safe. So, I can store scraped coconut in freezer in these containers and directly microwave them to defrost it. These containers adjust to any temperature without breaking! Click here to check out more details and order these containers for yourself.
How to Store Scraped Coconut:
Break a coconut and scrape out complete coconut from it.

Store this freshly scraped coconut in Nani Lock & Strong and freeze it.

Use when required and it stays good for upto 3 months.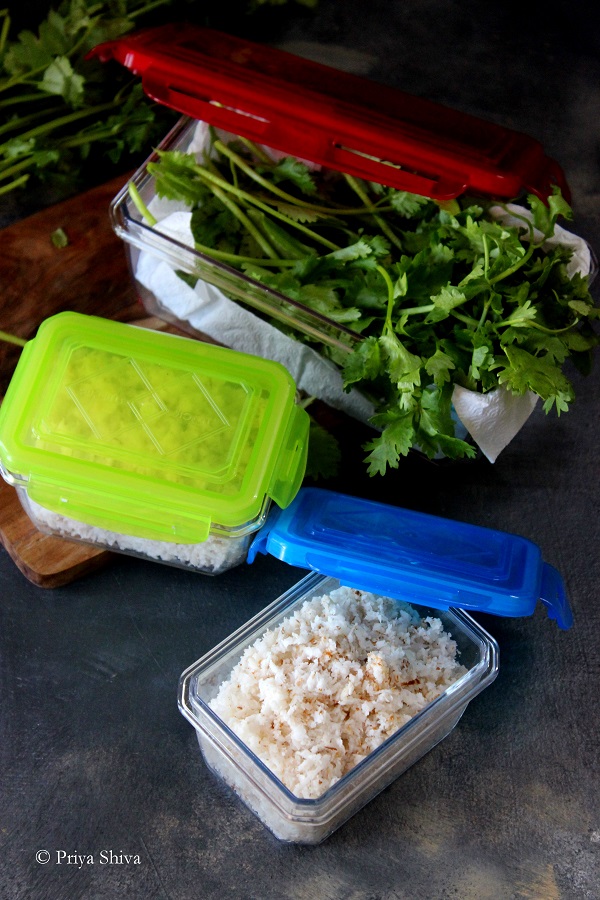 These Nani products are easy to clean too. Use soft or microfiber scrubs to clean these jars and containers. Use dish washing soap or liquid soap and rinse under water to clean them. I hope you find these Food storage tips useful. Please do share your feedback and kitchen tips with us too.
****** I received free products but the opinion shared are completely mine ******
Yum