A wholesome breakfast is a good way to start your day. I love to eat seasonal fruits and add them into the dishes I cook too! I got these juicy jackfruit from the market and thought of cooking something with it today. So, I made these Eggless Whole Wheat Jackfruit Blueberry Muffins for breakfast which turned out to be so delicious that I had to share the recipe on my blog immediately.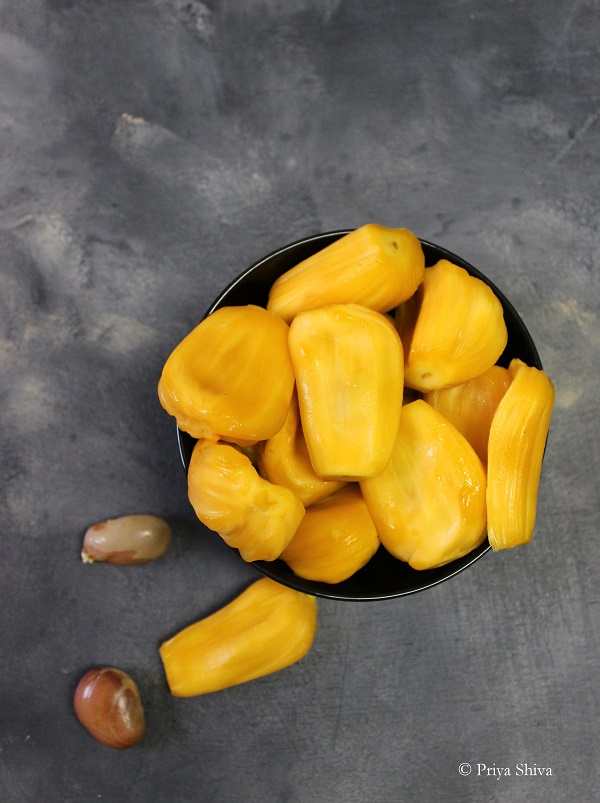 These Eggless Whole Wheat Jackfruit Blueberry Muffins are made with whole wheat flour and fresh fruits. You can even avoid adding blueberries in these muffins and add nuts like walnuts, cashews etc. Jackfruits add natural sweetness and flavor to these muffins. If you love jackfruit like me, you can click here to try this jackfruit mango breakfast smoothie bowl too.
Check out the recipe and treat your family with these Eggless Whole Wheat Jackfruit Blueberry Muffins..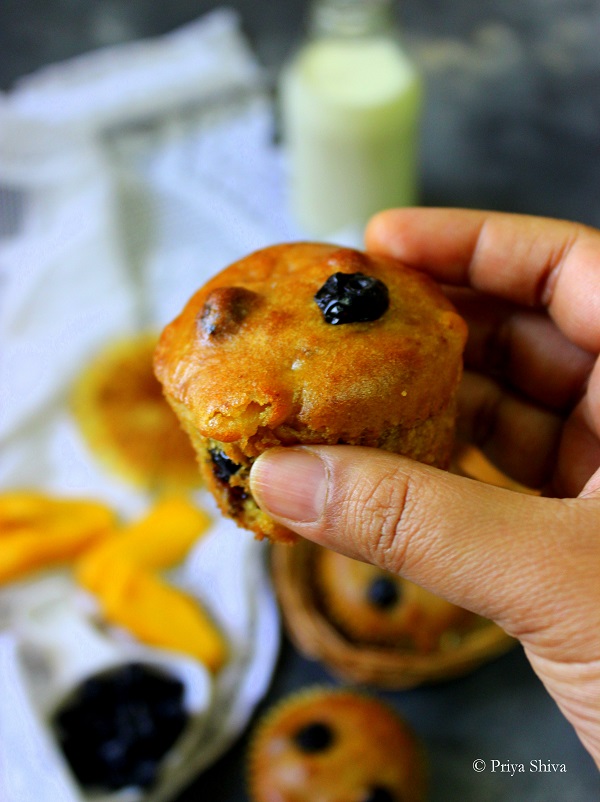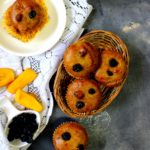 Eggless Whole Wheat Jackfruit Blueberry Muffins
Ingredients
Whole wheat flour - ¾ cup

Jackfruit – 1 cup (remove seeds and chopped)

Ripe Banana - 1 (big one)

Olive Oil - ¼ cup

Sugar - ¼ cup

Baking powder - ½ tsp

Baking soda - ½ tsp

Vanilla essence - ½ tsp

Blueberries - ½ cup

Milk – 2 tbsp.
Instructions
Preheat the oven at 180 C/350 F.

Sift flour, baking powder and baking soda together.

Add banana, milk and jackfruit to your food processor and prepare fruit puree.

Add oil, banana-jackfruit puree, and vanilla essence in a mixing bowl and mix well.

Add sugar and mix well. Now add sifted flour slowly to the bowl and fold. Do not over mix.

Keep 2 tablespoons of blueberries aside and add the remaining in the mixing bowl. Give a quick stir.

Grease the muffin cups evenly with little oil or use liners and pour the batter in each cup. Make sure you fill only ¾Th of each muffin cup. Add few blueberries on the top.

Now bake in the oven for 25-30 minutes. Remove from the oven and allow the muffins to cool completely. Muffins are ready!
Yum