Every food has a story to tell or a love-hate relationship. For example – Chai has a love relationship with pakora, strawberry for cakes, bread with jam and butter and so on. Some are sweet and some are sour just like our real life relationships.
Coffee and cookies are made for each other and that's why I decided to combine the best into a delicious Eggless Coffee Biscuit Pudding. You don't need any gelatin to set the pudding and you can prepare this Coffee Biscuit pudding in flat 15 minutes. I used some Marie biscuits but you can use any cookie of your choice. I have shared Eggless chocolate pudding recipe earlier on my blog and just made few changes to the recipe to make an Eggless Coffee Pudding.
Just crush the cookies, cook coffee and milk together for few minutes, layer it in a glass and drizzle some chocolate syrup. Yes, its that easy! So, make some Eggless Coffee Biscuit pudding today and enjoy.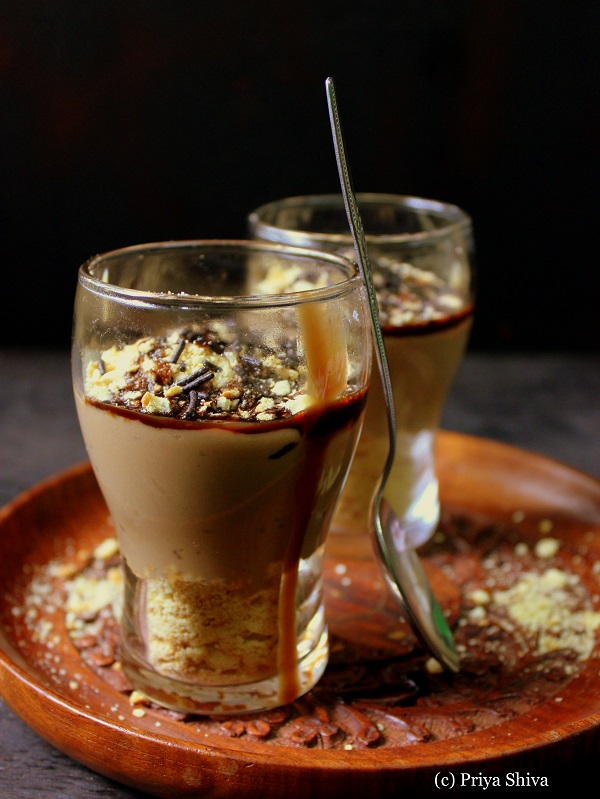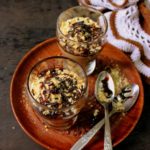 Eggless Coffee Biscuit Pudding
Ingredients
2

cups

Milk

2

tbsp

Instant coffee powder

2

tbsp

Corn flour

1/4

cup

Sugar

1

tsp

Vanilla Extract

8

Marie Biscuits

2

tbsp

Chocolate vermicelli

4

tbsp

Hershey's chocolate syrup
Instructions
Crush marie biscuits of your choice and keep it aside.

Add instant coffee powder, corn flour and ½ cup hot milk in a pan and mix it well. Make sure there are no lumps.

Add remaining milk, sugar and cook it on low flame for 4-5 minutes or until the sauce thickens. Keep stirring.

Cook and stir until the mixture thickens enough to coat the back of the spoon. Remove from the flame and add vanilla essence and mix it well and keep it aside and let it cool down completely.

Now take a glass and add one layer of crushed cookies. Add a layer of pudding on top of it.

Again add a layer of crushed cookies, add Hershey chocolate syrup and top it with chocolate vermicelli.

Refrigerate it for 2 hours and enjoy!
Recipe Notes
I have used marie biscuits but you can replace it with any cookie of your choice.
You can also use chocolate chips instead of chocolate vermicelli. 
Yum