Its always fun to cook for friends and family. I had a potluck lunch with friends today and decided to make some Chane ke Kababs or better known as Shami kebabs. Shami kebabs are small patty made with minced meat, black chickpeas and egg is used to hold it together. I being a vegetarian decided to substitute meat with potato and used corn flour so that it holds together.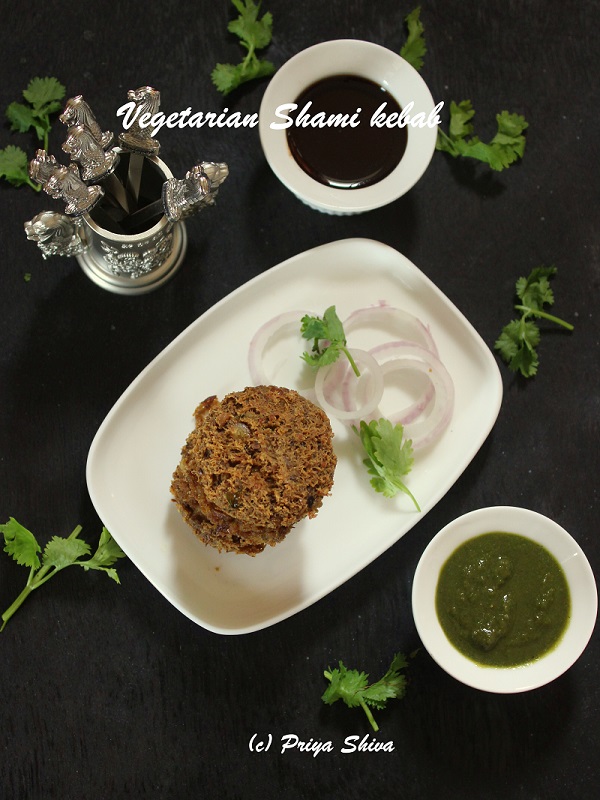 Chickpeas are power food and I love them. I have shallow fried these kebabs on a griddle by using minimum oil. You can deep fry them if you want it more crunchy. The addition of spices lifts the flavours of these kebabs and I served them with some Mint chutney and Sweet tamarind chutney. These kebabs can be served as a tea-time snack or a lovely party starter. So, sharing the recipe and hope you all try and share the feedback with me.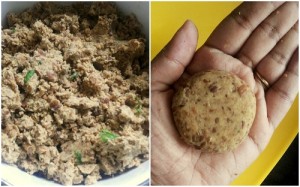 Enjoy these kebabs with some  Mint Chutney and Sweet Imli Chutney.
Tips:
1) You can replace corn flour with gram flour.
2) Do not throw away the water used to boil chickpeas. You can use it to make soup etc.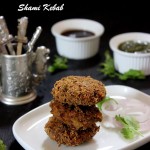 Vegetarian Shami Kebab / Chane Ke Kebab
Delicious Kebabs made with chickpeas and blend of spices!
Ingredients
Black chickpeas – 1/2 cup

Boiled potato – 1

mashed

grated ginger – 1 tbsp

Green chili – 1

finely chopped

Dry coriander powder/Dhaniya Powder – 1/2 tsp

Red chili powder - 1/2 tsp

Cornflour – 2 tbsp

Salt to taste

Coriander leaves/Cilantro - 2 tbsp

Finely chopped

Mint leaves - 6

finely chopped

Vegetable Oil for shallow frying – 4 tbsp
Instructions
Soak chickpeas overnight or minimum 6 hours. Drain the water and boil chickpeas with 2 cups of water till it is nicely cooked.

Drain the water and mash it nicely with a potato masher or you can even coarsely grind it.

Add mashed chickpeas, mashed potatoes, ginger, green chili, chopped coriander leaves, mint leaves, coriander powder, red chili powder, corn flour, salt in a bowl and combine.

Take a portion of this mix and shape into a ball. Then press it between your palms to give it a flat disc shape.

Shallow-fry the kebabs on a griddle/tawa by adding little oil.
Yum