These eggless beetroot cashew cupcakes are for a special occasion today. I complete two years of my blogging journey and what an amazing journey it has been which I can celebrate with joy and happiness. The first year was all about crazy blogging marathon where I successfully completed 365 recipes by posting one recipe a day. Second year was all about awards and acclaims. I appeared in Tv shows, received a prestigious award from India Books of records, started taking projects as food consultant and social media consultant. I have started experimenting with food styling, photography and thoroughly enjoying it.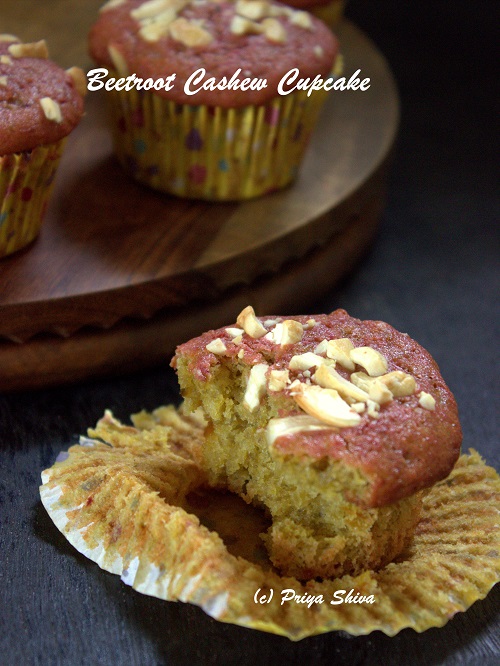 Everyone rates their success differently and I will rate my success with the love and support I received from family and friends. I got connected to many foodie friends and bloggers. Some of them are my closest friends today. I still feel my journey has just begun and I have miles to go. I have no idea what is in store for me in the coming year, but I'm hoping it to be successful.
You all know that I have a big sweet tooth. So, sharing some cupcakes to celebrate my second blog anniversary. I wanted to do something extravagant for the anniversary but last few weeks have been crazy and I have not been keeping well. So, I decided to make these healthy cupcakes filled with goodness of beetroot and cashew. I have just made few changes to the carrot cake recipe I have already shared in my blog. My family loved it and hope you all try and share the feedback with me.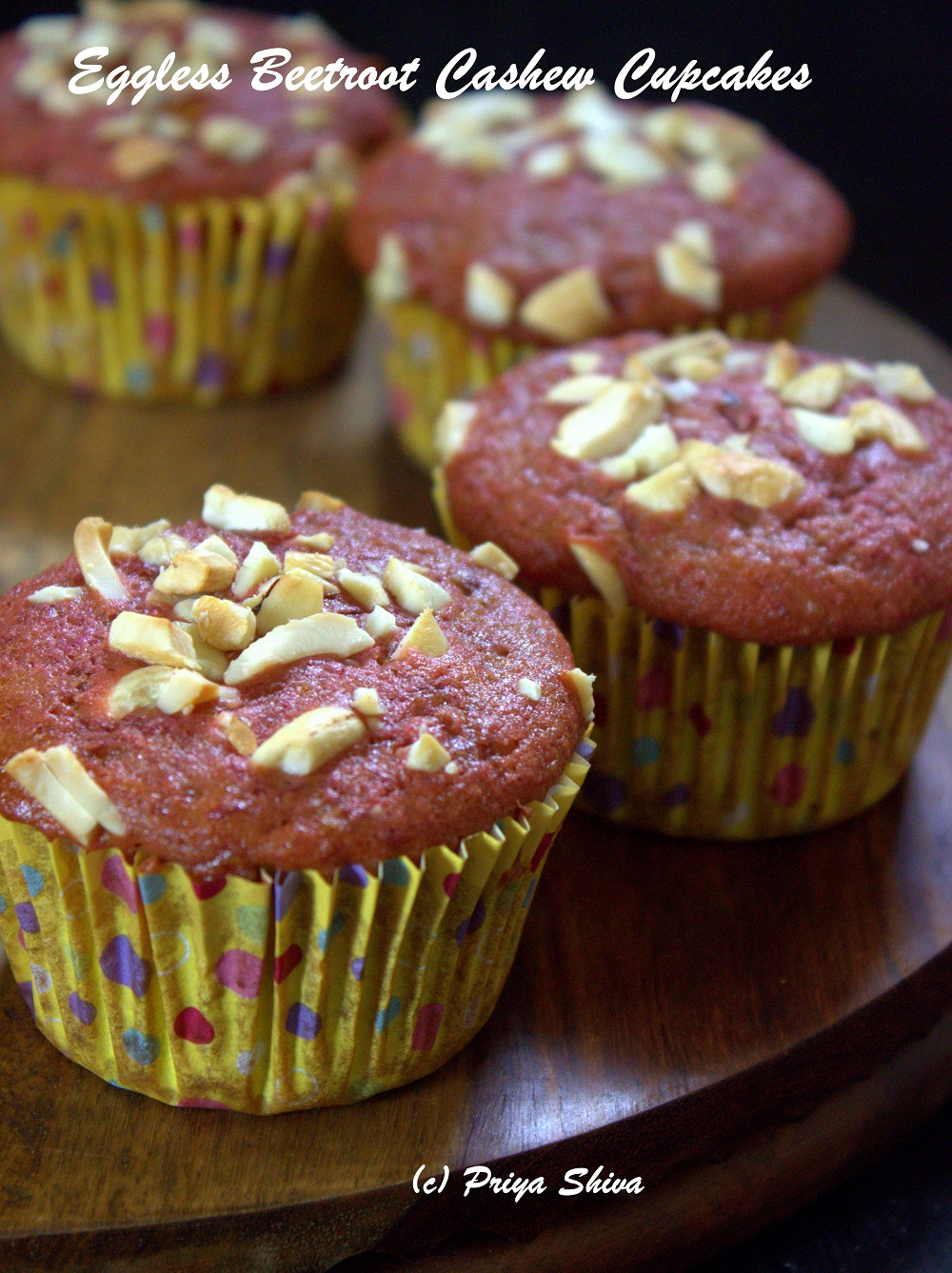 Eggless Beetroot Cashew Cupcakes
Author:
Prep time:
Cook time:
Total time:
Delicious cupcakes made with wheat flour and goodness of beetroot!
Ingredients
Whole Wheat flour – 3/4 cup
All purpose flour/Maida – 1/4 cup
Grated beetroot – 1/2 cup
Yoghurt/dahi – 3/4 cups
Olive oil – 1/4 cup
Milk – 3 tbsp
Granulated Sugar – 3/4 cup
Vanilla essence – 1/2 tsp
Baking powder – 1/2 tsp
Baking Soda – 1/2 tsp
Salt -1/4 tsp
Broken Cashew nuts – 2 tbsp
Instructions
Preheat oven at 180 °C
Sift all wheat flour, all purpose flour, baking soda, baking powder all together twice and keep it aside.
Add oil, yogurt, milk and sugar in a bowl and mix it well.
Now add flour mix, vanilla essence, grated beetroot and mix it well to form a smooth creamy batter.
Grease a cupcake pan with oil or line it with cupcake liners.
Fill each cup and sprinkle the broken cashews in each cup.
Bake at same temperature for 20 minutes. Check after 20 minutes by inserting a toothpick at the center of the cake. If it comes out clean, then your cake is done or else continue baking for 5 more minutes and keep a watch on it.
Let it cool down completely before you eat them and enjoy!!
Yum