Goddu Rasam or Instant rasam is very popular in Iyer homes in South India. You can call rasam as an Indian clear soup. The soup is known as Rasam in Tamil Nadu and Saaru in Karnataka. This simple, watery and flavorsome soup can be enjoyed before any meal. Grandmas always have handy recipes which are so useful.
One of the quickest recipe which my grandma shared with me is this quick and Instant Rasam recipe. Enjoy this goddu rasam as a soup. You can also pour this instant rasam over some steamed rice, add a tsp ghee, mix and enjoy.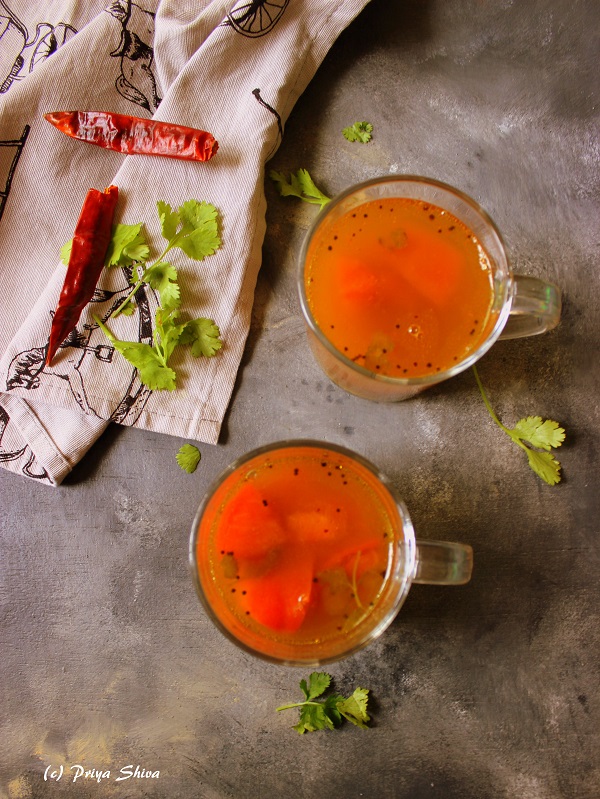 Goddu Rasam / Godsaaru / Instant Rasam
Author:
Prep time:
Cook time:
Total time:
Ingredients
Tamarind/ Imli/Puli – A medium lemon size ball
Split pigeon peas / Tuvar dal – 1 tbsp
Tomatoes – 2 (chopped)
Powdered jaggery – 1 tsp
Mustard seeds – 1/2 tsp
Pepper Corns – 5-6
Cumin seeds/jeera – 1 tsp
Dry Red chillies – 2
Turmeric powder – 1/4 tsp
Asafoetida – 1/4 tsp
Salt as per taste
Curry leaves – 1 sprig
Ghee – 2 tsp
Coriander leaves for garnishing
Instructions
Soak tamarind in 1 cup of warm water for 15 minutes. Extract the juice by removing the pulp and seeds and keep it ready.
Heat a frying pan and dry roast pepper corns and cumin seeds for 2 minutes. Let it cool down and lightly crush it.
Heat a frying pan and add ghee and mustard seeds. When mustard seeds splutter, add asafoetida, red chillies, curry leaves and tuvar dal and fry them on low flame for 2 minutes.
Add tamarind water and chopped tomatoes in the pan and bring it to boil. Lower the flae and let it simmer for 2 minutes.
Add turmeric powder, jaggery, crushed pepper-cumin seeds mix, salt to taste and mix well. Add 3 cups of water and mix well.
Let it simmer for 8-10 minutes. Remove from the flame and garnish with coriander leaves.
Yum