Seeraga Samba Rice is an aromatic rice from Southern India and I'm sharing a recipe for Chettinad Vendakkai Sadam. I have always been fascinated and loved to increase my knowledge in different cuisines. One of the most popular cuisine in South India is Chettinad Cuisine. Chettiar hospitality is legendary and their feast is vast and mouth-watering. The dishes are usually blend of spices, colorful and exotic. I'm sharing one of the easiest dishes today from Chettinad Cuisine. It is a Rice dish rich in spices and you will love the combination with okra. So, enjoy some Chettinad Vendakkai Sadam made with seeraga samba rice today. You can simply serve it with raita and papad.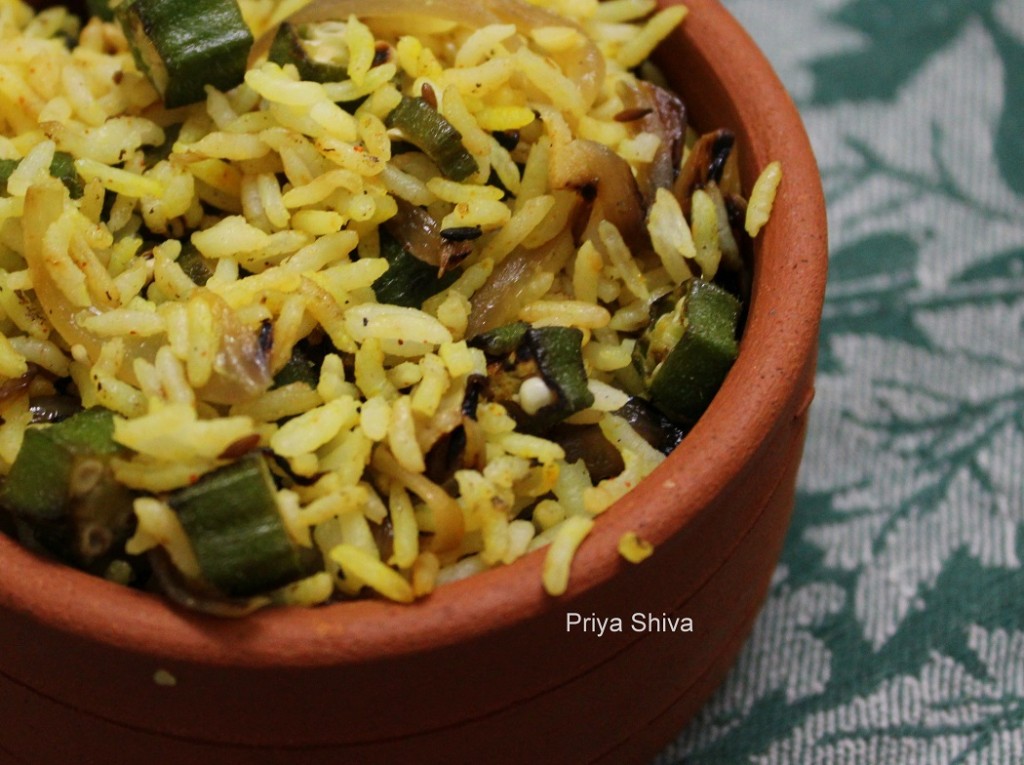 Seeraga Samba Rice – Chettinad Vendakkai Sadam
Author:
Prep time:
Cook time:
Total time:
make a delicious Chettinad rice with okra and seeraga samba rice.
Ingredients
Seeraga samba Rice – 1 cup
Okra (vendakkai) – 12 (chopped)
Onion – 1 (sliced)
Tamarind – a ball (small gooseberry size)
Turmeric Powder – 1/2 tsp
Black peppercorns – 6 (roasted and lightly crushed)
Dry Red Chilies – 2
Bengal Gram – 1 tsp
Cinnamon – 1/2 inch
Mustard Seeds – 1 tsp
Curry Leaves – 1 sprig
Vegetable Oil – 1 tbsp
Salt as per taste
Instructions
Wash and soak rice in some water for 30 minutes. Drain the water and keep it
ready.
Pressure cook rice with 2+1/2 cups of water. When pressure comes down, spread the
rice on a plate.
Soak tamarind in some warm water. Now drain the water in a separate bowl by
removing the pulp.
Add oil in a heavy bottom pan and add mustard seeds. When they crackle, add
red chilies, curry leaves, onion, Bengal gram, cinnamon and sauté till onions
get translucent.
Add chopped okra, crushed black pepper corns and saute for 2 minutes.
Add turmeric powder, salt, tamarind extract and mix well.
Reduce flame and cook for few minutes. Keep stirring.
Add cooked rice and mix gently.
Serve hot with some raita.
Yum